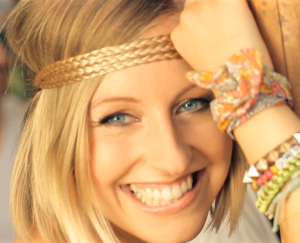 Mista's success continues with a new official summer video of her latest single, Feel The Breeze.  It is using the summer latino dance version which is included on the maxi single release.  Mista has also supported top American act, Ke$ha, in concert in Prague.
Mista have come a long way since finishing in the silver medal position in the 2010 Slovakian national selection with Emotions.  She is now enjoying massive success in Europe and Asia.  The latest single, Feel The Breeze, was released recently and has already topped the charts in Czech Republic and Slovakia and is currently number one on the German Bunch tv charts.
Because of the success in Germany the production and record label team decided to make a new summer video and use the latino summer dance version.  The new video clip is expected to make Feel The Breeze on the summer hits in 2013 around Europe and will be launched on the music markets of Asia and Central America.  So, Mista is going even more global with her sound.
Mista had the honour recently of supporting American pop/dance act, Ke$ha, in her concert in Prague, Czech Republic.  It was also revealed that one of Mista's big hits, Cash Out, was originally written for Ke$ha by the production team on Wawa and Marius Moga.  The success of Cash Out was massive in Europe and broke Mista in to the lucrative Asian market for tours and releases.
You can see the new summer video of Feel The Breeze below.  For more information about Mista check out the official website. 
You may also like to read –