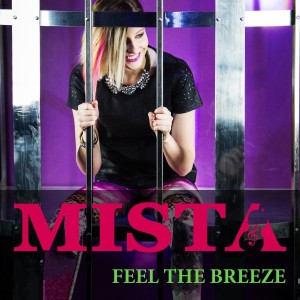 Mista have returned with a brand new song, Feel The Breeze, which is all set to be a big summer anthem around Europe and also in Asia. Mista have come a long way since participating in the Slovakian national selection in 2010 with Emotions.
Mista have had many hits since the 2010 Slovakian Eurovision selection including Rock It, Never Hide and Ca$h Out. They have had hits not only in Slovakia and Czech Republic but in Germany, Austria, Switzerland and Spain as well the lucrative Asian market.  Mista has already toured China and Hong Kong in recent months.
Mista's new song, Feel The Breeze, is published by CAP Music Publishing from Germany.  The same publishing team were behind this year's Eurovision songs from Azerbaijan, Hold Me by Farid Mammadov, and Belarus, Solayoh by Alyona Lanskaya.  They have also been associated with some Maltese acts at Eurovision in the past such as Fabrizio Faniello. The publishing team are in the race also to possibly work with future acts from Czech Republic and Slovakia if and when they return to the Eurovision Song Contest in the near future.
Feel The Breeze, is composed by Frank Bülow (who is behind big hits from Culture Beat and ATC) and Leon Calvin Campbell.  The song is produced by Stano Šimor and WAWA and mastered at Globe Studio, Belgium.  The video was mainly recorded in the popular night spot, Club Pantheon, in Pilsen, Czech Republic.
Mista is currently preparing a new stage show for the summer to promote Feel The Breeze. There will also be another summer video for the song in the coming weeks.  In the autumn Mista is preparing to take her music to Central America for extensive promotion.
Everything is going great now for Mista, and Feel The Breeze has already hit the V Chart in Asia. Her ambition is to take her music and energy to the Eurovision stage as soon as possible.
You can read more about Mista at the official website and the official Facebook page. 
You can see the video for Feel The Breeze below. 

You may also like to read: