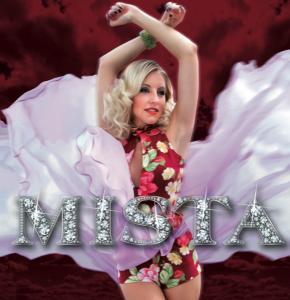 Mista has released a new album and single.  The new song, Show Me, is accompanied by a glamourous video clip.  This has been a very busy time for Mista which has also included a tour of China.  The former 2010 Slovakian national selection singer has been increasing popularity around Europe and Asia.
Mista has just released her fourth promo video clip with Show Me.  This follows her last single, Cash Out, which has been successful in Czech Republic, Slovakia and other countries including China.
Mista's success in Asia has taken her on an extensive tour in China.  She has been extremely busy commuting between China and Prague and preparing also for the release of her brand new album.  Check out the official website for even more news.
The video was recorded in the Miura Hotel in Moravia in Czech Republic.  The record company, Universal Music/Singlton, decided to make Mista a sexy new image with a business look and sexy seductress in the pool.  She had a lot of fun making the video clip and making several costume changes throughout.
Mista is also completing her Cash Out Tour and this finishes on 22 December in Prague.  The album has just been released and contains four big radio hits that have been popular in Czech Republic, Slovakia, the Netherlands, Belgium, Spain, Romania and Malta.
Mista was asked by a Slovakian Eurovision fan club if she would like to represent her country in Malmo. She admitted that if asked she would consider it.
You can see the video for Show Me below.