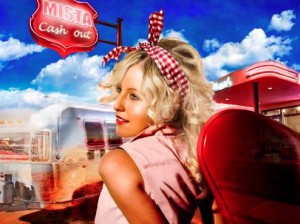 Mista, who finished runner up in the 2010 Slovakian national selection, has just released her brand new single. The song is called Cash Out and is written by Marius Moga from Romanian act, Morandi, and UK producers, Wawa.
Mista finished in second place in the 2010 Slovakian national final with the song, Emotions.  She is now based in Prague.
She released her first radio single in 2011 with the song, Rock It!  This became a massive hit in the Czech Republic and became the most downloaded single that year.
Earlier this year Mista released Never Hide.  This also became a massive hit and from January 2012 and is in the top 6 most played domestic song on Czech radio and clubs.
The new single Cash Out is receiving really positive feedback and is set to be a big hit around Europe.  Marius Moga from Morandi and UK producers Wawa are behind this single.  Wawa have produced and mixed songs for Beyonce, Ke$ha, Lenny Kravitz and Kylie Minogue.
The official video will be released later this month.  EuroVisionary will bring you the video as soon as it is available.
Many fans would love Mista to represent Slovakia in the Eurovision Song Contest.  Maybe 2013 might be the year!
For more news about Mista check out the official website.