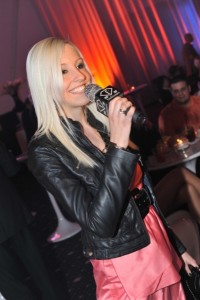 Mista from Slovakia has released a brand new single, Rock It! The song is tipped to be a big summer hit.  Mista was runner up in the 2010 Slovakian national selection with the song, Emotions.  She was also shortlisted to represent Slovakia at this year's Eurovision Song Contest.
Mista is a popular singer and instrumentalist from Slovakia.  Music has always been her passion since a young child.  As a 7 year old she won the first of 5 national violin championship prizes.  She plays classical music but turned to pop music.  She is now had several hits in Slovakia and Czech Republic and is now turning her attention to worldwide success.
Her greatest success came with the song, Emotions.  This came very close to representing Slovakia at the 2010 Eurovision Song Contest in Oslo.  She then recorded her album, also entitled, Emotions.
She is currently recording her 2nd album which will include her recent hit, Vendetta, and her new song, Rock It!
Mista has recently been promoting Rock It! on several tv stations and night clubs in Slovakia and Czech Republic and is now turning to other countries to promote her music.  She was recently in Malta performing and making radio and tv appearances.  She will also take her promotion to the USA this summer where is interest in her is growing fast.
For more information on Mista and to listen to her music check out www.mista.sk .