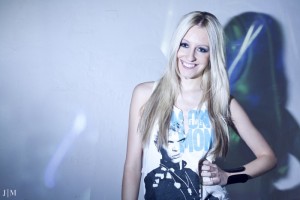 Mista was runner up in the 2010 Slovakia national selection with the song, Emotions.  Mista is back with a brand new single and video clip.  The song is called Never Hide.  Mista said she previously had dedicated herself to classical music but now she is concentrating on modern pop and dance songs.
Mista had a big summer hit with Rock It (United) and her new song, Never Hide, is her tribute to the 90s.
The video was shot in Berlin and Prague.  It was directed and scripted by respected dancer and choreographer, Yemi AD.  He has won MTV Video Awards in 2010 and 2011 for Kanye West's European and Australian tours.
Slovakia today confirmed their participation at the 2012 Eurovision Song Contest in Baku.  There are many fans who would love to see Mista represent Slovakia.
For more information about Mista you can visit her official website.
You can see the video for Never Hide below.