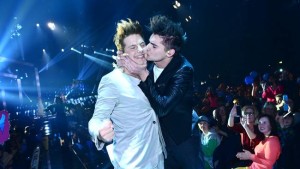 Fans might disagree, but on paper Sweden have already selected its eight strongest songs to compete in next weeks's final of Melodifestivalen. It has also gotten rid of its weakest songs and tonight eight songs in the socalled midrange part then fought for the last two spots in the final. 

The previous four heats of Melodifestivalen 2013:
First heat held in Karlskrona on the 2nd of February. 
Second heat held in Gothenburg on the 9th of February. 
Third heat held in Skellefteå on the 16th of February. 
Fourth heat held in Malmö on the 23rd of February. 
The songs:
Song number 1: Robin Stjernberg – You
Robin haven't had much time to get nervous as he qualified from the fourth and last regular heat held last Saturday. Here he lost to Ulrik Munther and Ralf Gyllenhammar, but managed to knock out the internationally well known Army of Lovers and also Melodifestival veteran Sylvia Vrethammer with a song written by Thomas G:son.
This is Robin's first appearance in Melodifestivalen.   
Song number 2: Eric Gadd – Vi Kommer Aldrig Att Förlora
Eric participated already back in the first heat, a month ago giving him plenty of time to make small changes to his act if nessasary. In his heat he was by far the most experienced participant, but lost the direct final qualification to David Lindgren and Yohio.
Despite having been an established artists in Sweden since the late '80's this is Eric's debut at Melodifestivalen, which mainly has to do with him several times publicly declining an interest in taking part.
Song number 3: Caroline af Ugglas – Hon Har Inte
Carolina went to this second chance heat via the third heat where the direct qualifiers were State of Drama and the big surprise Ravaillacz. 
This is Carolina's third attempt at becoming Sweden's Eurovision representative and in 2009 she was close when she came second with the song Snälla Snälla only losing to Malena Ernman, despite that she also here had to go via the second chance round. 
Song number 4: Behrang Miri – Jalla Dansa Sawa
Many Eurovision fans were singing along to Behrang Miri's entry in the fourth heat of Melodifestivalen despite never having heard the song before. The chorus was simply very similar to Jessy Matador's French entry in 2010; Alllez, Olla, Olé. Behrang Miri lost to Ulrik Munther and Ralf Gyllenhammar in the regular heat.
Behrang Miri, who is Irani born, has not previously participated in Melodifestivalen, but should he win this year he will be on homefield in Malmö.  
Song number 5: Erik Segerstedt & Tone Damli – Hello Goodbye
This Swedish/Norwegian duo secured their spot tonight only losing to Sean Banan and Louise Hoffsten in the second heat of Melodifestivalen, where they among others were able to beat fan favourite Swedish House Wives.
Erik had his Melodifestivalen debut in 2009 as a part of the group E.M.D, where they finished third in the final with the song Baby Goodbye. Norwegian singer Tone hasn't previously taken part in the Swedish selection, but – also in 2009 – she participated in the Norwegian Melodi Grand Prix, where she came second with the song Butterflies, losing the Eurovision ticket to Alexander Rybak.
Song number 6: Anton Ewald – Begging
Anton Ewald qualified for this second chance heat via the second heat where he lost the direct qualification to Sean Banan and Louise Hoffsten. He has with this entry been criticized for not singing enough himself, leaving it mostly to his backing singers, while he concentrate on dancing.
Anton is a professionel dancer and has at such been on stage twice before in Melodifestivalen and also one time as a backing singer. As a front singer Anton haven't previously participated in the Swedish selection. 
Song number 7: Cookies N Beans – Burning Flags
From heat number one David Lindgren and Yohio went straight to the final, while Cookies 'N' Beans together with Eric Gadd were given another chance.
This girl trio also participated in Melodifestivalen in 2009 with the song What If. Back then they however didn't go further from the preliminary heat. 
Song number 8: Martin Rolinski – In And Out Of Love 
Martin Rolinski was beforehand tipped among the favourites to qualify for the final from third heat, where he however lost to State of Drama and Ravaillacz.
As a leadsinger in the succesful group BWO Martin had previously participated four times in Melodifestivalen, this his 5th attempt is his first solo participation. BWO's best MF result came in 2006 where they ended up second in the final with the song Temple Of Love, only losing to three times Eurovision participant Carola. 
Changes made compared to the preliminary heats:
Many of the acts had trimmed their performances to just have a little bit more, which might be what would bring them to the final. Some made smaller changes only like Eric Gadd, who got himself a new guitar and Martin who got rid of his suspenders and tonight looked as we know him; as a very attractive classic dressed nice young man.
For others the changes made gave a whole new feeling to the performance like Anton Ewald where the new lighting gave a warmer atmosphere and then he dropped the somersault, probably to meet the critic about him being too much of a dancer.
And Behrang Miri where the choreography was changed a bit and silver confetti was used at the end of the song. The audience was also included in this performances via pieces of fabric in different colours being waved throughout the song to make it look like one big birthday party! Another act with a significant change was Caroline af Ugglas, who had gotten rid of the choir and was now alone on stage.
Erik Segerstedt and Tone Damli was also using confetti at the end of their song almost making it look like they were standing in snow. There had been doubt about which dress Tone would wear tonight, but at the end it turned out she was wearing the same short white dress with a deep clevage as we saw in the preliminary heat. 
Cookies 'N' Beans gave us an almost exact copy of their performance from first heat down to every little step – but also they couldn't resist to use a lot of confetti at the end of the song. That – and plenty of colours – was very much used by many of the acts tonight.  
The show:
Tonight's Second Chance heat took place from Karlstad, which is located between the Swedish and the Norwegain capital; 300 km west of Stockholm and 220 km east of Oslo.
Just as in the four preliminary heats it was hosted by Gina Dirawi and Danny Saucedo, but for tonight a third host was added; Josefine Sundström. Josefine is not unfamiliar with Melodifestivalen either as she hosted it in 2001 together with Henrik Olsson. Tonight she was responsable for the green room talk.
Tonight the show started with showing us clips from the last heat, this both included Army of Lovers and Sylvia Vrethammer who didn't qualify, but also the great interval act by Alcazar.  
As interval acts the Swedish broadcaster, SVT, treated the audience and the TV viewers with performances from both former Eurovision and Melodifestivalen participants:
– Jedward represented Ireland at the Eurovision Song Contest in 2011 and 2012 with the songs Lipstick and Waterline. Tonight they were being challenged as Gina and Danny decided to make a duel with Jedward in the song Lipstick and together all four of them gave an unusual performance.
– Peter Jöback has previously taken part in the Swedish selection twice; in 1990 with the song En Sensation and again in 2010 singing Hollow. Tonight he however went on stage singing Music Of The Night from the musical Phantom Of The Opera, which he will also be starring in at Broadway.
Clips from the already qualified songs was also shown making us all in the mood for the final of Melodifestivalen next Saturday.    
The voting:
Things were a little bit different in the second chance heat this year as we didn't have an evening just with duels as known from the past few years. Instead things started out just like with the previous four heats; eight acts performed and five of them went through to the next round of voting.
These five were (in the order they were announced): song nr. 6, nr. 4, nr. 5, nr. 1 and 8.
In Sweden they are not afraid to show who came 6th, 7th and 8th so just as in the previous heats they were also announced tonight. This result is:
6th place: Caroline af Ugglas
7th place: Cookies 'N' Beans
8th place: Eric Gadd
Instead of continuing in that line and just announce the two with most points as finalists it was time for the duels. Two duels only requires four acts, so first the 5th placed act would leave the competition.
For the duels it was already decided that the song with most points would be up against the 4th placed with the 2nd and 3rd placed meeting each other in the other duel. First the two acts for first duel was announced:
– Behrang Miri against Anton Ewald
And the winner is…. Anton Ewald
Among the remaining three acts one would be out, while the remaing two would meet in a direct duel:
– Robin Stjernberg against Martin Rolinski
And the winner is…. Robin Stjernberg
This means that Erik Segerstedt and Tone Damli ended 5th.
Sweden at the Eurovision Song Contest: 
Sweden debuted in the contest in 1958 and has an impresssive record in the contest with five wins: 1974, 1984, 1991, 1999 and 2012. The country has many top 5 finishes, but had some rather disappointing results in the end of the 00's until Eric Saade restored some of the glory by taking the 3rd place with Popular and the year after the success was a fact with Loreen's Euphoria. 
You might also like to read: