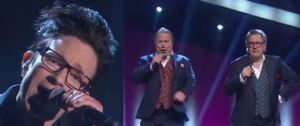 We are now more than halfway through Melodifestivalen and this has been yet another week of sensations. This week the sensation consisted of four men singing an ironic song about Swedish Melodifestivalen. No one thought they would stand a chance, but they apparently made their way into the hearts of the Swedish viewers.
Two weeks ago, the Swedish viewers voted David Lindgren and Yohio to the final, read all about it here. You can also read about last weeks sensation when Louise Hoffsten and Sean Banan qualified to the final here.
This week several famous Swedish artists participates in Melodifestivalen. Caroline af Ugglas finished as a runner up behind Malena Ernman when she participated in Melodifestivalen 2009. Also Martin Rolinski have participated before though not as a solo artist but as a member of the band BWO in 2005, 2006, 2008 and 2009. Another famous artist this week is Tommy Körberg, not only has he participated in Melodifestivalen twice before (1969 and 1988), he also won both times.
Through the years there has been quiet a few participants from Swedish Idol in Melodifestivalen, this weeks semi final is no exception where you find Eddie Razaz and Amanda Fondell in the line up.
You can read more about this weeks participants here.
The songs 
Song number 1: Eddie Razaz  –  Alibi
(Peter Boström, Thomas G:son)
This is truly an up-beat and up-tempo song in the same genre as Eric Saade's Popular, Danny Saucedo's In the club David Lindgren's Shout it out though Alibi is not as immediate as the other songs in this genre. In the beginning of the performance Eddie is accompanied on stage by
two dancers. At the end of the first chorus four more dancers joins them. Eddie is wearing black pants and a black jacket with a black t-shirt underneath. His dancers are wearing different black tank tops and
grey jackets or vests.
This is a party starter which certainly gets the audience in the arena going.
Song number 2: Elin Petersson – Island
(Elin Petersson)
Elin Peterson sings this weeks first ballad. She stands alone on stage on a podium with a guitar in her hand with smoke surrounding her feet. The choir you hear stands backstage and will not accompany her on stage. Elin won "Allmänhetens tävling" where non established composers could compete for a spot in Melodifestivalen. Despite this being her debut in Melodifestivalen Elin seems secure and relaxed on stage. Elin wears a pink trouser suit.
Song number 3:  Ravaillacz – En riktig jävla schlager
(Kjell Jennstig, Leif Goldkuhl and Henrik Dorsin)
This is a mid tempo song which makes fun of the typical catchy Melodifestivalen entries, kind of like Markoolio and Linda Bengtzing's song Värsta schlagern which was a hit a few years ago. The four men Tommy Körberg, Claes Malmberg, Johan Rabaeus and Mats Ronander stands next to each other on stage while they are singing and though half of the group actually are comedians and actors they have a little choreography. They all have three-pieced suits, Johan and Claes wears red vests and Tommy and Mats wears purple and blue ones. Despite the fact that this song probably is meant to be ironic the audience in the arena seem to like this and cheers a lot after the performance.
Song number 4: Amanda Fondell – Dumb
(Freja Blomberg, Fredrik Samsson)
This is a mid-tempo song with a sad feeling to it. Amanda is alone on stage, only accompanied by five mirrors which is moved around on stage during the performance. The mirrors, the soft lights and Amandas dark clothes all enhances the sad and dramatic feeling of this song. Amanda wears black trousers, and a black and grey sweater which actually looks like it's a jacket and sweater in two pieces not in one. Amanda won Swedish Idol in 2011 and clearly has a lot of fans supporting her which also can hear tonight as the audience in the arena gives her a lot of support after her performance.
Song number 5: Martin Rolinski – In And out of Love
(Thomas G:son, Andreas Rickstrand and Martin Rolinski)
Martin Rolinski starts his performance in a cage which is hoisted up to the ceiling. Four of his six female dancers are standing in two glass cages and the two others joins Martin on stage towards the end of the song. The four dancers in the cages throws coloured yogurt onto the glass walls during the performance and then messes about with it throughout the performance. In the middle of the song Martin walks out on the catwalk for a while, when he comes back to the stage he is accompanied by two female dancers. Martin i wearing black trousers, white shirt and a black tie. The dancers all wears white body suits.
Song number 6: Caroline af Ugglas – Hon har inte
(Heinz Liljedahl, Caroline af Ugglas)
Caroline af Ugglas does this weeks second ballad. This song is in the same genre as her Melodifestivalen entry Snälla snälla from 2009 but with much more emotions. Caroline starts off all alone on stage and throughout the first half of the song all of the focus is on her. Those of you who saw Caroline in 2009 will recognize her gestures and performance. Towards the end of the song she is accompanied on stage by a female choir. Caroline is wearing black trousers and a white tank top which is made of bandage and all of the girls in the choir are wearing the exact same thing as her.
Song number 7: State of Drama – Falling
(Göran Werner, Sebastian Hallifax, Emil Gullhamn, James Hallifax)
Just like Elin Petersson and Caroline af Ugglas, State of Drama's song is a soft ballad. The members of the band stands on podiums that alternates in red and white throughout the entire song.
This is a quiet performance where the band lets the song speak for itself. There is not much happening in this performance except for when the singer and the guitarist steps down from their podiums towards the end of the song. All of the guys in the band wears black clothes.
Song number 8: Janet Leon – Heartstrings
(Fredrik Kempe, Anton Malmberg Hård af Segerstad)
Janet sings an up-beat and up-tempo song with lots of energy. In the beginning of the song she stands alone on stage with what looks like a long black skirt on. The skirt is actually fabric, or more exact 110 square meters of fabric which is billowing over the stage floor. During the first chorus Janet drops the fabric which is hoisted up to the ceiling, after which Janet is accompanied by four female dancers. Underneath the black skirt Janet wears a dark blue body suit with lighter blue details. The dancers wears silver colored body suits with a blue stripe on the side and grey jackets with blue details on them. Janet gets a lot of support by the audience in the arena.
The show
As usual the show starts with a recap of last weeks semi final. But there are no actual opening act this week, instead host Gina Dirawi heads off on a journey to Italy to find out why they didn't give Sweden any points during last years Eurovision Song Contest.


After all of the artists have performed there is a recap of all the songs with information about which telephone numbers to dial if you want to vote. During the time the votes are counted we're going back to Gina in Italy and her quest to find answers about why Italy didn't give Sweden any points.
After that, the five songs through to the next round of voting are announced and the viewers get another chance to vote for their favourite after a second recap of the songs. While the second round of votes are being counted the viewers hosts Gina and Danny in a performance inspired by Hollywood during the 40's together with dancers Karl Dyall and Rennie Mirro.
The result
Five songs went through from the first round of voting:

1. State of Drama – Falling
2. Caroline af Ugglas – Hon har inte
3. Martin Rolinski – In and out of love
4. Ravaillacz – En riktig jävla schlager
5.
Janet Leon – Heartstrings
After a second round of voting State of Drama and Ravaillacz was announced as this weeks finalists.
Martin Rolinski and Caroline af Ugglas will have to go through the Second chance round in Karlstad on March 2nd.
The rest of the result:
5. Janet Leon – Heartstrings
6. Eddie Razaz – Alibi
7. Amanda Fondell – Dumb
8. Elin Petersson – Island

Sweden at the Eurovision Song Contest
Sweden debuted in the contest in 1958 and has an impressive record in the contest with five wins: 1974, 1984, 1991, 1999 and 2012. The country has many top 5 finishes but had some rather disappointing results in the end of the 00's until Eric Saade restored some of the glory by taking 3rd place with Popular and the year after the success was a fact with Loreen's Euphoria.