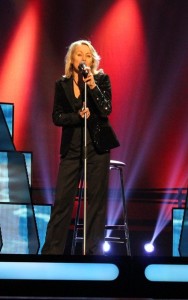 After tonight's semi final in Gothenburg EuroVisionary were able to get a few words with finalist Louise Hoffsten.
Congratulations, how do you feel right now?
I feel very good! It feels great!
Did you expect to go right through to the final?
No, I didn't expect that, no.
What was your first thought when the hosts announced that you were the second finalist?
They said the wrong name or something like that. I did not expect that I was going to go to friends arena.
How will you celebrate tonight?
Tonight I will just kiss my husband and my son, and we are just going to enjoy and take care of each other.
What question that I didn't ask you would you like to ask yourself and what would the answer be?
A question to myself? What can I say? I just feel very thankful and I'm very grateful for everybody that worked with this because I know what a huge job to make this happen. So I'm very grateful that I was part of it.
EuroVisionary would like to thank Louise Hoffsten for her time.