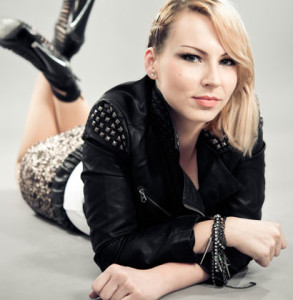 Manuella Brečko has just released her brand new single accompanied by a promo video for her new song, Zadnji ples (The Last Dance).  Manuella also competed with the song at the annual Slovenska Popevka 2013 festival in Slovenia and proved a top hit.
Manuella Brečko was a popular contestant at the Slovenian Misija Evrovizija competition, where she was a semi-finalist in 2012.  Eva Boto eventually went on to represent Slovenia at Eurovision in Germany with Verjamen.  
Manuella has been busy since the Eurovision qualification selection where she has released a couple of singles and videos, V tvojem ognju (Inferno), and Il Futuro.  She also found time to make a song with Stereo Tipi called Raztrgaj me nežno.
The annual Slovenska Popevka 2013 contest has seen Manuella return with a new song.  It is called Zadnji ples and she finished in a successful fifth place in the festival.  The show was broadcast on  Radio and TV Slovenija, Radio Koper, Radio Maribor and online at RTV Slovenia website.
Manuella has now released Zadnji ples as her new single.  She has recorded a beautiful video for the song.  The music is by Marjan Hrvala and Iztok Melanšek.  The arrangement is by Boštjan Grabna and music production by RTV Slovenija.
For information about Manuella check out her official website and her Facebook fan page.  
You can see the promotional video for Zadnji ples below.
You may also like to read –