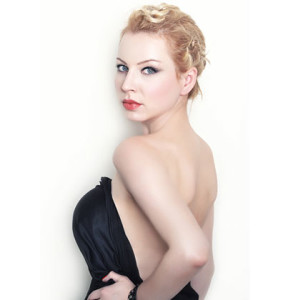 Former Misija Evrovizija star, Manuella Brečko, has just released her brand new single.  It is called V tvojem ognju (Inferno).  Manuella will also compete in the popular Slovenska Popevka festival in the autumn this year with another song, Zadnji ples (The Last Dance).
Manuella Brečko was a popular contestant in the search to find the Eurovision representative for Slovenia at the 2012 Eurovision Song Contest.  She was a semi-finalist at Misija Evrovizija and won over many viewers hearts with her huge variety of songs and performances through the series.  She even sang a former Eurovision winning song during the shows, Take Me To Your Heaven by Charlotte Nilsson from 1999.
Manuella's first project after Misija Evrovizija was a song together with the band, Stereo Tipi, Raztrgaj me nežno. Manuella released her first official solo single in March 2013.  It was the rock/pop song, Il Futuro.
Now Manuella returns with her new song, V tvojem ognju (Inferno).  It is composed and produced by Marjan Hvala, Iztok Melanšek and Manuella herself.
Manuella has also been selected to take part in the Slovenian music contest, Slovenska Popevka 2013.  The festival will take place later in the year during the autumn period.  The song Manuella will perform is Zadnji ples.  It is also composed by Marjan Hvala and Iztok Melanšek.
Manuella release an official promo video soon for V tvojem ognju (Inferno).  In the meantime you can hear the song below.  For more information about Manuella you can visit her official website. 
You may also like to read –