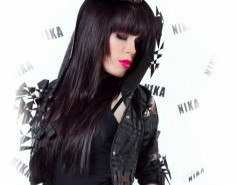 Nika Zorjan got all the way to the final of the Slovenian Eurovision selection in 2012, Misija Evrovizija.  Now she has released her second single since the competition. It is called Problemom sredinc.  She has also just completed the official promotional video for the song.
Nika is 19 years old and has been singing from a very young age.  She first came to the spotlight in 2010 in Slovenia's Got Talent tv show where she impressed with a version of Lady Gaga's, Poker Face.
The big opportunity came for Nika when she decided to enter the Slovenian search for a Eurovision performer for 2012 via the hit tv show, Misija Evrovizija.  She went to the final and finished in third place and just missing out on the EMA final competition to Eva Boto and Eva & Nika Prusnik.
Nika's first single was her version of the Misija Evrovizija theme, Čas za nas.  Now she is back with her follow up song,  Problemom sredinc.  The song begins with guitar and goes in to a rhythmic and upbeat dance song.  It has a strong production. The song is a Raay Production.
You can read more about Nika on her official website (in Slovenian) and you can see her first two promotional videos below.