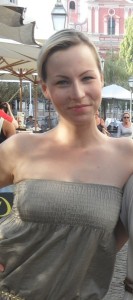 Manuella Brečko went all the way to the semi finals of the Slovenian 2012 Eurovision Selection, Misija Evrovizija.  Now she is set to release her debut single and promotional video.
Manuella was a popular star of the 2012 Misija Evrovizija show and was unlucky not to make it to the EMA final.  Since the Eurovision selection show, Manuella, made a song with the Slovenian band, Stereo Tipi.  The song was called Raztrgaj me nežno.
Now Manuella has revealed her solo debut song will be released in September.  She is currently filming the video to accompany the song.  EuroVisionary will bring you the video as soon as it is ready.
Manuella gave some outstanding performances in the Misija Evrovizija series.  She did songs such as Perfect by Pink, Like A Prayer from Madonna and the 1999 Eurovision Song Contest winning song, Take Me To Your Heaven by Charlotte Nilsson. 
Manuella is aiming to try for Eurovision again when the opportunity arises.
She is currently touring around Slovenia playing some concerts of original and cover songs and some 'Evergreen' music.
Eva Boto went on to win the 20120 EMA and represent Slovenia at the Eurovision Song Contest in Baku with Verjamem.
You can see Manuella's performance of Take Me To Your Heaven below and you can check her official website for more information.