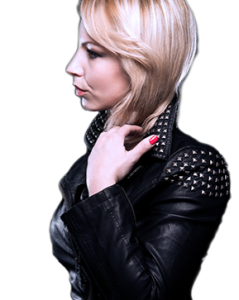 Manuella Brečko was a very popular contestant in the search for the Slovenian 2012 Eurovision entry in the tv show Misija Evrovizija.  She has now released her official debut single and video for Il Futuro.  
Manuella Brečko was a semi-finalist in the Misija Evrovizija competition to find the 2012 Eurovision entry for Slovenia.  Manuella narrowly missed out making it to the final where Eva Boto went on eventually to win with Verjamem.
Manuella has just released her brand new single.  It is the pop/rock style song, Il Futuro.  It is composed by Kevin Koradin and Manuella wrote the text herself.  The song was produced by Clifford Raymond Goilo.
Manuella had these words to say about the lyrics and meaning of the song – "Simply talking about the struggle of 'ordinary' people and feelings that we all experience from day to day … When I wrote the text for the song Il Futuro I felt that in our society and the world in general, a lot of uncertainty and fear for the future. We all know what the situation is in our country … I wanted people to say that we should not be afraid of the future and we should not allow it to alter our shape.
Fate must take into their own hands! Love for fellow human beings, whether we lead, it can only help to improve the world for themselves and for all that we love".
You can see the official promotional video of Il Futuro below.  If you want to read more about Manuella visit her official website. 
You may also like to read –