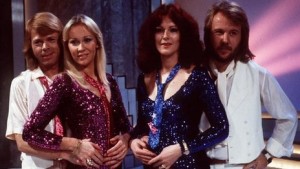 Christmas is getting closer, and with preparations for next year's Eurovision Song Contest in Malmö in full swing, there is one Christmas present both SVT and many of us had hoped to find under our tree – the news that ABBA would be reunited on stage for one last time at next year's contest.
The last time SVT hosted the contest back in 2000, speculation reached fever pitch as to whether or not many of the viewers worldwide would get to see their idols on stage once again. Although members of the supergroup were present in the audience, ABBA the phenomenon weren't to be seen. The closest fans got to seeing the fab four reunited once again was at the Eurovision Song Contest in 2004 with four charicature puppets of Anni-Frid, Benny, Björn and Agnetha in a satirical sketch, celebrating 30 years since their victory.
From the moment ABBA swept to victory with Waterloo in 1974 and went on to give us hit after hit such as Fernando, Dancing Queen and The Winner takes it All, it seemed that the entire planet had succumbed to their charm. Hopes have therefore been high, that, 13 years on, the foursome would reunite for one evening in May, in a show where their fairytale career all began to pay a fitting tribute to the world's most successfull music event. Whether or not SVT have made attempts this time around to involve ABBA in the project have yet to be confirmed, but any hopes were recently dashed with statements made by Benny Andersson to the Swedish media, who says that a reunion of the foursome was "not on the cards".
With renewed interest in the supergroup, the hope of seeing ABBA on the Eurovision stage once more was ignited by the news that Agnetha Fältskog was in the process of recording new material, and this, coupled with the news that a new ABBA museum was to be opened in Stockholm made the prospect of a much longed for reunion that little bit closer. When asked about the chance of a reunion, Andersson replied "the possibility of a reunion has never been further away, light years away, even." When told that many had hoped to see the four together again at Eurovision, Andersson replied "Why would people want that? Just because Eurovision is in Sweden? Well, since 1974 we've hosted it twice and we didn't participate in those years, either."
Judging by Andersson's remarks, SVT will are still on the lookout for an alternative interval act for next year. With such a high standard of production that we have become accustomed to from SVT, we won't be dissappointed.
You might also want to read: 
Agnetha Fältskog to record new material for the first time in 25 years
Melodifestivalen tickets on sale from 25th of October