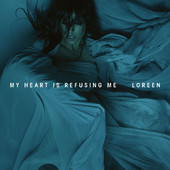 Prior to the release of Loreen's debut album Heal on the 24th of October, the Swedish songstress releases not one, but two singles simultaneously, making her fans undoubtedly even more euphoric.
Following her sweeping victory at this year's Eurovision Song Contest with the monster hit Euphoria, Europe seemingly can't get enough of the Sweden's newest pop export. This is great news for team Loreen and so
a simultaneous single release sees the brand new single Crying Out Your Name released in her native Sweden, while her previous Melodifestivalen entry My Heart is Refusing Me finally gets the release it deserves
internationally, albeit in remixed formats.
Her newest Swedish release provides us with a nice continuum of the Eurovision theme, as it is written by Moh Denebi, Ana Diaz, Niklas Jarl, Gino Yonan, Svante Halldin and Jakob Hazell, Jarl having been co-composer of this year's Irish entry Waterline. Calling Out Your Name is also produced by SeventyEight, the same producer behind her Eurovision smash. The single was given an exclusive release on Spotify on the 6th of October.
Her latest international release My Heart is Refusing Me is familiar to most, as it was her entry from the 2011 Melodifestivalen which only made it as far as the Andra Chansen round. It was released domestically last year, peaking at number 9 on the Swedish charts. Following the success of Euphoria, My Heart is Refusing Me was subjected to a revamp and the new version was performed at the Elämä Lapselle event at the former Eurovision venue Hartwall Areena in Helsinki on the 12th of September. This cool, pulsating number was co written by Loreen together with Moh Denebi and Björn Djupström and was given its international release on the 8th of October.
Her freshest Swedish single will be the fourth to be taken from her debut album prior to it's release, indicating that there are still single releases in the pipeline. Her highly anticipated album Heal was also recently leaked via the internet; no doubt immensely frustrating for the artist, but at the same time she should perhaps be flattered that there is such an enormous interest and huge hype surrounding her upcoming album release.
You might also want to read:
Agnetha Fältskog to record new material for the first time in 25 years 
Loreen causes furore by singing for dictator