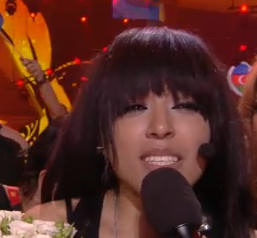 Winner of this year's Eurovision Song Contest Loreen almost sparked a diplomatic crisis whilst in Baku as she made her views known against the regime in Azerbaijan, taking part in the Sing For Democracy rally. Since then however, the artists appears to have softened her stance somewhat, choosing to perform for one of Europe's most notorious dictators.
Swedish tabloid Aftonbladet revelaed this morning that Loreen will on all accounts make an appearance on a TV broadcast in Belarus performing her winning entry Euphoria. Loreen will be one of the headliners of the art festival Slavianski Bazaar held in the town of Vitebsk with dictator and Belarussian president Alexander Lukashenko opening the event.
A number of other participants are also scheduled to take part in the festival, namely Alexander Rybak (who was born in Minsk and who is a massive star in his former homeland) as well as the Buranovskiye Babushki, the Russian grannies. According to Aftonbladet, organisers of the festival have made a statement on the website of the event, syaing that the Swedish flag will also be flown outside of the main arena. This news as well as that of Loreen's decision has met with a storm of protest in her native Sweden, both from human rights organisations as well as from a host of public figures and celebrities.
Former Melodifestivalen participant Magnus Uggla has been a campaigner for human rights for some time and deems Loreen's decision to perform as "questionable". He goes on to tell the press just why he is opposed to Loreen performing at the festival: "he is a dictator in the true sense of the word and rules the country with an iron fist. There's no shadow of a doubt that Belarus is a dictatorship. Lukashenko strives to control all aspects of daily life and never hesitates to resort to violence when neccessary."
Press Secretary for Amnesty International in Sweden, Elisabeth Löfgren also considers the artist's involvement to be problematic, voicing concerns that Loreen is running the risk of explotation: "If Loreen takes a stand and comments on the human rights situation, then something positive can come out of the visit. If she doesn't make her views known, then she risks becoming part of some PR stunt for the president. Artists should always bear in mind that they can be exploited by a surpressive regime."
Loreen's manager, Torbjörn Sten was confronted by Aftonbladet about the appearance in Belarus and had seemingly no qualms about confirming her participation. When asked to comment about the controversy surrounding her TV appearance, Sten had this to say: "Loreen is acutely aware of the situation in Belarus, and she is unchanged in her views on human rights and democracy. She won't be making any statement whilst in Belarus but will however be commenting on the matter when she returns to Sweden." When pressed further for a response on the decision to perform and confronted with the dubious connection of Lukashenko to the festival, Sten had no other comment than that Loreen would discuss these points when she made a statement after her arrival back home.