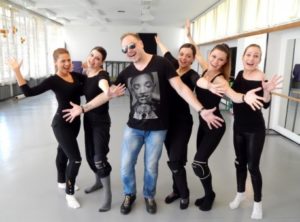 We now know more details about how the Montenegrin performance will be at the upcoming Eurovision Song Contest. The artist has revealed that the staging will be very emotional and he will be accompanied by a five-member choir of talented women.
The moment of truth is getting closer and, after the promotional concerts in Amsterdam and Moscow, Knez is back home and working hard on rehearsals for Vienna together with his five backing singers. Dunja Vujadinović, Lena Kuzmanović, Ivana Vladovic, Jelena Pajić and Ksenija Knežević are the five experienced professionals chosen by Knez to join him on stage on the big day.
Dunja Vujadinović has been working as a professional backing singer with many recognized artists since 2008. She was one of the backing vocalists for Moje 3 at the 2013 Eurovision Song Contest. She has also participated at the first season of the talent show Prvi Glas Srbije.
Lena Kuzmanović studied at the Academy of Music in Belgrade where she graduated in violin. She is a member of the National Theatre Opera from Belgrade and she has performed alongside several popular artists such as the Spanish tenor José Carreras or the Italian one Luciano Pavarotti. She has also worked as backing vocalist for many regional artists and former Eurovision representatives such as Željko Joksimović, Sergej Ćetković or Zdravko Čolić. She has participated at other projects for tv shows, music videos or music for films.
Ivana Vladovic is an experienced vocalist who has worked alongside many regional artists well known for having participated at the Eurovision Song Contest such as Severina, Toni Cetinski or Marija Šerifović. She has worked at several tv projects and commercials.
Jelena Pajić studied management in the USA. She began her music career as a backing singer for Hari Mata Hari who represented Bosnia & Herzegovina at the 2006 Eurovision Song Contest and since then she has recorded more than two hundred studio albums alongside artists like Marija Šerifović among many others.
Ksenija Knežević has studied music and nowadays she studies Design in Belgrade. She participated at the Serbian national selection for the Eurovision Song Contest, Beosong, back in 2013 as one of the members of the girl group Sky's and they finished 5th.
Knez's Eurovision entry, Adio, is composed by Željko Joksimović who, besides having represented Serbia & Montenegro at the 2004 Eurovision Song Contest and Serbia in 2012, has composed the entries Lejla in 2006 for Bosnia and Herzegovina and Oro for Serbia in 2008.
Montenegro will compete in the second semi-final on the 21st of May. You can watch Knez's official video for Adio below.