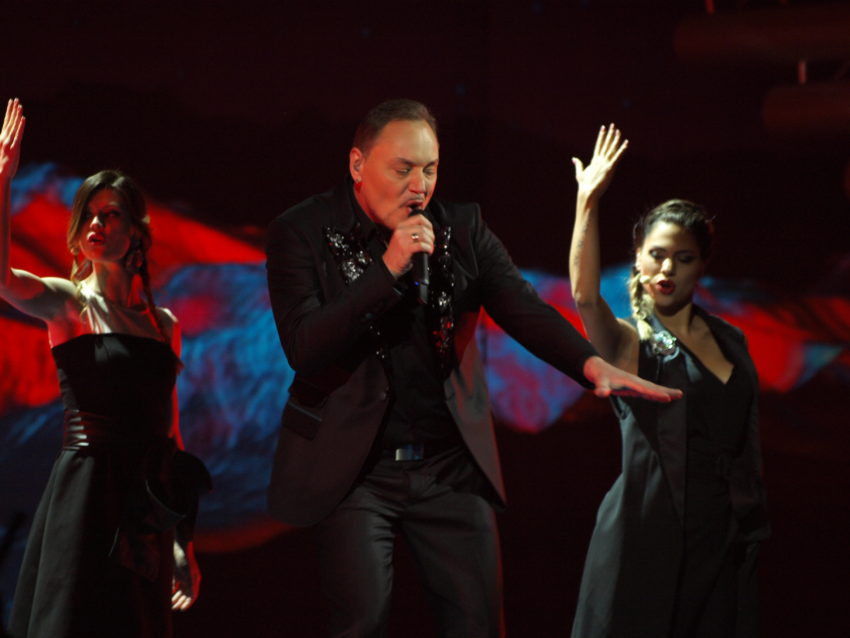 Knez brought Montenegro their so far best Eurovision result when he finished in 13th place in 2015. 'Adio' written by legendary Željko Joksimović, is a traditional Balkan ballad of the kind many Eurovision fans love.
In October 2014, Knez was internally selected to represent Montenegro at the 2015 Eurovision Song Contest. The song, which is written by Željko Joksimović, Marina Tucaković and Dejan Ivanović, was presented to the public in March 2015 as one of the last songs for that year's contest. Songwriter Joksimović represented Serbia & Montenegro in 2004, also composed Bosnia & Herzegovina 2006 and Serbia 2008. In 2008, he also hosted the Eurovision Song Contest held in Belgrade.
When Knez and his Adio qualified from the semi-final, it was the second year in a row, Montenegro reached it. Unfortunately, they haven't since been able to make it. In the final, the song scored a 13th place with 44 points. That result is today, Montenegro's best ever achievement at the Eurovision Song Contest. The 44 points included the maximum 12 points from Serbia, and 10 from North Macedonia. Before you think it's all neighbouring voting, they did receive 8 points from France.
Adio – opinions from fans
In order to find out what Eurovision fans today think of this Montenegro entry from 2015, we asked our Eurovision Fan Panel. It includes team members as well as fans from all over the world.
🇳🇴 Robert I. – It's a beautiful Balkan ballad. I love that he sings in his local language. This is a really good entry, one of the best from 2015.
🇷🇸 Miljan T. – Being from the Balkans, I knew Knez from the 90s already, and though I liked a few of his songs, I was never fond of his voice – too nasal for me. But when 2015 rolled around and he was announced as the artist for Montenegro, with Joksimović penning the song – I was intrigued. I was in awe with the result. Knez gave his best to not be as nasal as usual, the song is like a mountain fairy tale and the presentation in Vienna was perfect. I'd even go as far and claim this is the best Eurovision song by Joksimović, or at least the second best.
🇫🇷 Bernard D. – Knez with Adio offer us a classic Balkans ballad. Good voice and nice music which is going stronger at the end. The whole is harmonious and beautiful to hear. 7/10.
🇸🇪 Jill R. – The song and the staging are beautiful and I really like the ethno sound and the strings. But it lacks something for me, and it wasn't one of my favourites in 2015. The song doesn't have an apparent chorus that makes me remember it. It´s a bit too similar to other Balkan ballads (which I usually like), and the singer lacks charisma. I think that 13th place is fair.
🇬🇧 Ashleigh K. – This is a bit of a mixed bag for me. The violin instrumental opening is beautiful and the Montenegrin dancing is stunning. Until the key change following the dance I wasn't feeling the song but then came the key change and it really lifted the song up. I'd love to see more traditional Montenegrin at Eurovision.
🇧🇦 🇩🇰 Elvir P. – Adio is my second favorite entry from Montenegro only bitten by Moj Svijet from 2014. It is a quality entry – no doubt about it. Knez is a good singer, and "Adio" is a typical Balkan ballad, which I am fond of. Having said that, this is the weakest entry that involves Željko Joskimović in my opinion, as it appears a bit too calculated and rigid.
🇳🇱 🇩🇰 Wouter V. – From the get go, this song delivers on everything I hope for and expect in a Željko Joksimović song. Unfortunately, it doesn't take long before things go south, and Adio starts to sound quite a bit too Swedish-Eurovision-schlager infused. Adios!
🇭🇺 Vangelis M. – So about Knez and Adio, I know this song is bringing to the contest Balkan sounds that are loved by many fans, but for me it is just an okay song. I do not have it on my playlist and I have only listened to it fully twice during the semi-final and the final of Eurovision Song Contest 2015. In Greece "Adio" means "goodbye" so I am saying Adio to this song.
🇨🇿 Josef Š. – Adio is an archetype of a perfect Balkan ballad. There's nothing I can complain about. Melody, main singer, backing vocalists, the whole performance, the power and energy, harmonies… After Žejlko Joksimović, Hari Mata Hari and Sergej Cetković, Knez is another of the same group of Balkan best recent entries on my playlist. I just love this one!
🇩🇰 Charlotte J. – This is soft, gentle, and very beautiful. A well deserved place in the final, and probably should have been awarded more points than the 44 it got.  – And yet, it's not my favourite entry from Montenegro. I prefer Highway from 2016, but this from the year before, I like too. Although, I somehow ends up missing some 'honesty' from other Balkan ballads.
🇬🇧 Michael O. – I was delighted that Montenegro finally made the final in 2014, but this one was just a little too close in sound to the previous year and I wasn't quite so taken with it. In fact I feel that at this time , some of the ex Yugoslav countries were coming out with the same type of entry time and again. Nothing offence about it by any means, and I was OK with it in the final, but it's not a highlight.
🇨🇴 🇫🇮 Alvaro S. – When I go back to see Montenegro's entries from 2014 and 2015 I cannot help myself, but to wish we see more entries like this. Knez' Adio is so sober, so elegant, so traditional and so enchanting. This is the type of Balkan ballad, fans like me enjoy to listen to. I also love the aesthetics of the performance. There is something charming in this traditional sound and dance. I could not take my eyes out of the screen when I played this song again.
🇬🇧 🇮🇪 William S. – Well it's definitely dramatic, and I understand why it qualifies, Knez performs the heck out of the song. Although for some reason it really doesn't grab me or give me a desire to want to watch it again. Well done on achieving the best result, so far, for Montenegro, although I could name a few of their other entries I prefer more.
Knez – a mini biography
Nenad Knežević, better known as Knez, was born in Podgorica on December 5th 1967.
In the beginning of his career, he played in several bands, before he went solo in 1992. As a solo singer, Knez has released 7 studio albums and 3 compilations. He is best known for his 1994 hit "Dal' si ikada mene voljela" (Have You Ever Loved Me), which was one of the most popular pop-dance songs in the region back then.
Additionally, Knez took part the reality TV shows Survivor Srbija VIP: Philippines (2010) and Tvoje lice zvuči poznato (Your Face Sounds Familiar) seasons one (2013) and five (2019).
Between 1995 and 2013 he was married to Ninoslava Knežević, with whom he has two daughters.One of them is Ksenija Knežević from the girl group Hurricane, which was supposed to represent Serbia at 2020 Eurovision.