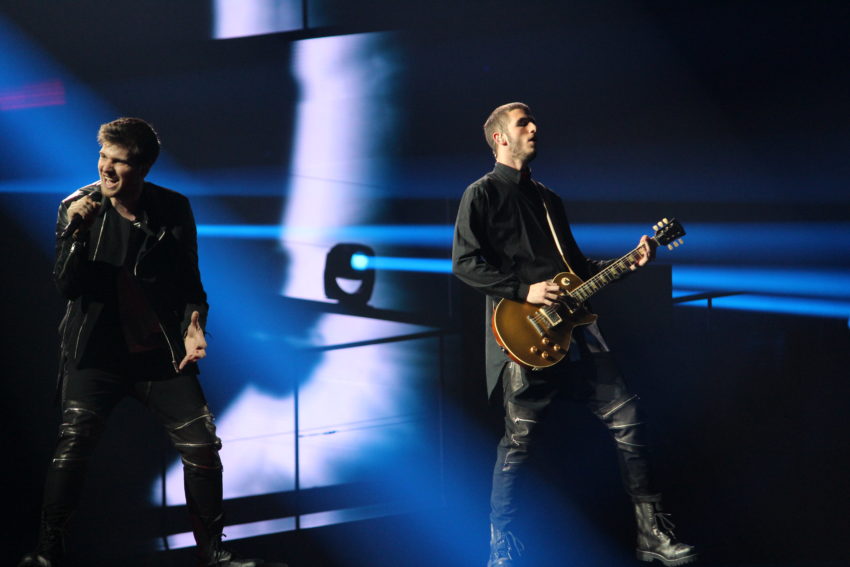 It was an unusual entry for Montenegro, and despite the band putting on their best charm, Highway failed to reach the final in 2016. Today's Eurovision fans are quite mixed in their opinions when it comes to this entry 'The Real Thing'.

Highway had been internally selected by the Montenegrin broadcaster; Radio i televizija Crne Gore (RTCG). Looking at the previous entries from the country, this rock band was quite an unexpected choice.
After five years of never reaching the final, Montenegro had done so in 2014 and 2015. For the 2016 contest, unfortunately three wasn't a charm. Highway finished 13th in it's semi-final. From the televote, only the two neighbouring countries Bosnia & Herzegovina (8 points) and Croatia (6 points) gave points to Montenegro. The juries were a bit kinder with a total of 46 points from 7 different countries. This included the second highest, 10 points, from Armenia and San Marino.
The Real Thing – opinions from fans
In order to find out what Eurovision fans today think of this Montenegro entry from 2016, we asked our Eurovision Fan Panel. It includes team members as well as fans from all over the world.
🇬🇧 Michael O. – Always good when a country tries something different. These were a great bunch of people, but who really thought this ever stood a chance? I usually listen to it for its what the heck factor.
🇩🇰 Charlotte J. – I love this entry. It's my favourite entry from Montenegro. Personally, I would have staged the performance differently, and not used the female dancer. The energy from this band is strong – both on and off stage. Meeting them for a game of Would You Rather (You have to watch that video!), I totally fell for their humour and their charm. To me, it was a disappointment that they didn't qualify for the final.
🇳🇴 Steinar M. – IF ONLY – the expert juries had their way, this song would have qualified instead of Austria… IF ONLY… This is truly another GREAT rock song – among many – in the story of Eurovision. And my favourite from Montenegro along with Igranka. This is a great, innovative, interesting and daring song. With hints of rock, indie, electronica and new wave. Great mix. Great flow, excellent melody, strong melodic vibes, good guitar riffs, and a lovely chorus. Very well done.
🇧🇦 🇩🇰 Elvir P. – The Real Thing is a powerful rock track with a very good production and lots of noise. As I am not a huge fan of rock music, there is very few rock songs that appeal to me. Unfortunately, this one is not one of them. Saying that, I find the live performance very professional and authentic.
🇦🇺 Michael R. – This song is actually quite good. It is let down by the lyrics and the disinterested delivery of the vocalist. The staging is very effective and really lifted the song, But this was never going to qualify in such a strong year.
🇹🇷 🇫🇷 Egemen O. – Such a nice attempt from Montenegro! Their style and rhythm remind me of Muse. I think they have got some quality as a band. But for sure, there was room for improvement for two things that pulled them down. First: the mismatch between the vocal and the playback volumes disables me to understand what he is saying. Second, the staging and the cameras are amazing for a band, but the number of frames is way too much. This is Eurovision, not Mission Impossible. 5/10.
🇬🇧  Aaron S. – The camera usage of this song and the lighting gave it a really cool vibe, then the song came along and it was just so boring, and I struggled to make it all of the way through. With all the talent in the 2016 contest, I'm not surprised this song failed to qualify, while it wasn't terrible and had its good points, it just didn't cut it for me in a very strong semi-final.
🇨🇴 🇫🇮 Alvaro S. – I appreciate to see a diverse range of genres in Eurovision. Montenegro, Georgia, and Cyprus sent some really strong rock entries. In that sense I think that Montenegro deserved a place in the final. The lyrics are minimalistic but I like that they come with a simple, direct message. Similarly, I think that the band only accompanied by a dancer are enough to create this "hard rock atmosphere" that the band wanted to create.
🇷🇸 Milosav T. – I totally forgot about this song, and it's no wonder. I do like some good old rock'n'roll in Eurovision, but this is a kind of song I would probably use for getting snacks or taking a bathroom break. The lyrics are kinda hard to understand, the staging is confusing and the singers are somehow too quiet? This doesn't do anything to me, sorry Montenegrins! The only positive thing I find in this is the versatility that I always like to see in Eurovision. 1 out of 5 stars.
🇬🇧 Ashleigh K. – Usually I like rock songs at Eurovision but not this one. For some reason I don't connect to it. I don't think the front man has much charisma. It's not holding my attention, and I'm not surprised this didn't qualify. It's an OK entry but there have been some great rock songs at Eurovision and this unfortunately doesn't cut it.
Enjoy Highway's performance from the 2016 Eurovision Song Contest in the embedded video. Below the video, you can read more about them.
Highway – a mini biography
Highway, which currently consists of singer Petar Tošić and guitarist Luka Vojvodić, was formed in 2015. The same year, they finished in fourth place in the second series of X Factor Adria. In the beginning, At that time, the band had two more members: Marko Pešić and Bojan Jovović. If the name of Jovović sounds familiar, it's because he represented Serbia and Montenegro in the contest back in 2005 as a member of the group "No Name".
Since Eurovision Song Contest 2016, Highway have released a number of singles. Their latest song Svjetlija Strana Ulice (The Brighter Side Of The Street) was launched in June 2020. The band was planing to release their debut album this spring, but the project has been delayed because of the Coronavirus pandemic.