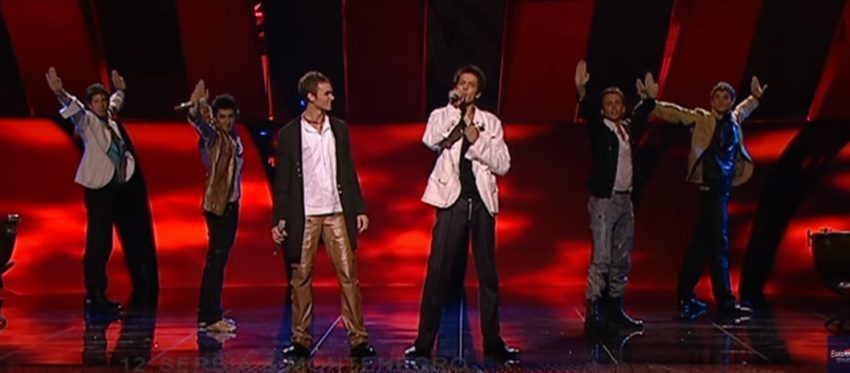 After a big success in Istanbul in 2004, Serbia & Montenegro was very eager to send another successful entry in 2005. The powerful mid – tempo song with Balkan ethnic sound influences 'Zauvijek Moja' by the young Montenegrin boy band No Name received many applauses from fans.
Serbia & Montenegro's National Final Evropesma 2005 was held in Podgorica on the 4th of March 2005. The participating entries consisted of 10 songs selected from Serbian National Final Beovizija 2005 and 10 songs selected from Montenegrin National Final Montevizija 2005. Familiar artists showed up in Evropesma 2005 like Maria Serifovic (Serbia 2007, winner) Jelena Tomašević (Serbia 2008), Stevan Faddy (Montenegro 2007) and Andrea Demirovic (Montenegro 2009).  After many conflicts, Montenegrin qualifier Zauvijek Moja (Forever Mine) by the Montenegrin boy band No Name eventually won the Evropesma 2005 and earned the right to represent Serbia & Montenegro in Kyiv.
In Kyiv, Serbia & Montenegro was automatically qualified to the grand final as they were top 12 the year before. No Name took the stage 12th in line, sang their powerful ethno – pop song and received 137 points thus finished 7th overall.
Zauvijek Moja – opinions from fans
In order to find out what Eurovision fans today think of this Serbia & Montenegrin entry from 2005, we asked our Eurovision Fan Panel. It includes team members as well as fans from all over the world.
🇹🇷 Gunec G. – I loved the enthusiasm that the boys showed while singing this anthem like song on stage. They reflected their enthusiasm to me and many other fans, I believe. I loved the violins and all the other ethnic sounds as well.
🇨🇿 Josef S. – As Serbia and Montenegro took part only twice before they split up, it is difficult to do some comparison with other entries. But it doesn't matter at all. Zauvijek Moja is a perfect Balkan ballad which deserves to be remembered. And, so I am glad it served as a basis for 2016 Eurovision interval act Love Love Peace Peace and therefore it became known also for the ones who did not watch Eurovision in 2005.
🇫🇮 🇨🇴 Alvaro S. – The boys from No Name are singing with emotion which is good but I do not find their voices particularly likeable, they are rather amateurish. But the instrumental part of the song sounds wonderful.
🇩🇰 Charlotte J. – This is one of those song that doesn't quite deliver what it promises in the beginning of the song. It starts out really good, but unfortunately they don't keep it up and it becomes a bit of everything, an odd mix which is lost on me.
🇪🇸 Mária P. – It's one of my favourite songs of 2005. I like the song and the instruments, with beautiful Balkan sound and performed in the lovely Montenegrin language. The guys' voices are OK, and I don't dislike their odd choreography. I just missed some kind of homogeneity in their clothing.
🇬🇧 Michael O. – This was quite the spectacle, making good use of the stage, and a great entry to boot. Wish both these now separate countries would still send more entries like this one.
🇩🇪 Andrew G. – I'm in love with the opening intro. Very dramatic and powerful. Then the singing kicks in a suddenly a pop vibe takes over. The boy band style dampens my full love for the song. The staging would have been so much better with each member in the same outfit. So giving music a 10. And the rest a 4.
🇭🇺 Vangelis M. – So I kinda like the Serbia and Montenegro back in 2005. The song is quite good. The only thing that I have to say from my point of view is… THANK GOD fashion is better now. Haha.
🇮🇪 John D. – Zeljko Joksimovic certainly had an influence on this boy band and the style in which it was performed. I remember thinking this would do well even though it wasn't as good as Lane Moje the year before. You'd expect this type of song to be sung by an older group. It seemed to be mismatched sung by a boy band but enjoyable nonetheless.
🇵🇱 🇯🇪 Pawel J. – I do like the song because of the strong Balkan elements you can clearly hear in it. With only few exceptions I always enjoy the entries from former Yugoslavian countries. With this one – I like to listen to it – the performance itself was messy and I can't stop thinking they could've done much more – not just walk around pretending there's some kind of stage routine.
Enjoy No Name's performance from the 2005 Eurovision Song Contest in the embedded video. Below the video, you can read more about them.
No Name – a mini biography
The Montenegrin boy band No Name consisted of Marko Peric (2003-2006, bass guitar), Marco Prentic (vocal, solo guitar), Danijel Alibabic (vocal), Branco Nedovic (keyboards), Dragolijub Purlija (drums) and Bojan Jovovic (keyboards, back vocal).
They represented Serbia & Montenegro in 2005 with their ethno – pop powerful song Zauvijek Moja. They are best known for the controversies caused by their receiving high points from the jury appointed by RTCG between Serbian and Montenegrin Eurovision fans in 2005. They have tried for Eurovision again in 2006 with Moja Ljubavi and finished 2nd in Montevizija 2006.
Over the years, they have participated in many festivals and released many singles.