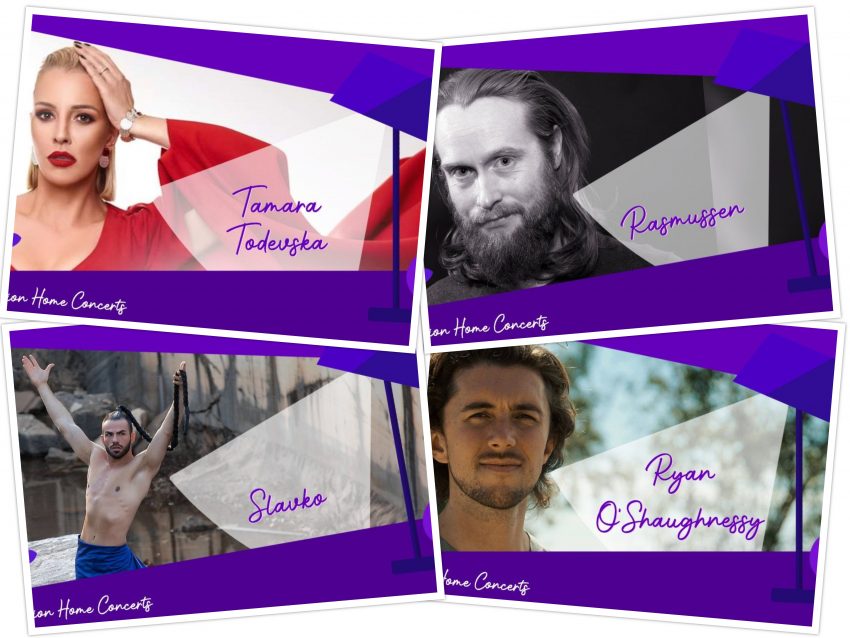 In these scary unknown times, we live in now, Eurovision Home Concerts can bring us joy upon the cancellation of the 2020 contest. Ryan O'Shaughnessy, Tamara Todevska, Rasmussen and Slavko Kalezić took part in the first episode aired today.
Let's face it, no matter what happenes for the rest of the year, 2020 will still stand out as one we'll remember, probably for the rest of our lives. At the moment, most of us live more or less isolated. Many work from home, and can only go our for essential shopping. We are restricted to only meet family and friends online – and on top of that, we are scared. We are scared for ourselves, our loved ones and for the world in general. How will the world look like when we are through this? Will things ever be the same again? We don't know. But we know that we need some joy in our lives right now, and some hope.
Today, starting at 17:00 CEST, we saw the premiere of the first edition of Eurovision Home Concerts. It's not Eurovision, and not meant to be either. But it's reminding of that our favourite artists are going through the same things as we are right now.
Ryan O'Shaughnessy
Irish Ryan took part in the 2018 Eurovision Song Contest with the song Together. He finished 16th. Today, he performed that entry as well as what was to be this year's Icelandic entry Think About Things.
We first met Ryan in an intimate setting from what might be his backyard. He had two musicians with him; a keyboard player and a violin player. They sit noticeable close to each other, but it's hard to judge if it might just be within or outside the social distancing of two metres.
For the second performance, he was joined by two more, all standing in the backyard – certainly no social distancing this time. Is Ryan a Whitney Houston fan? He might just be so as he appeared in a t-shirt with her pictured on it.
Rasmussen
Just like Ryan, Rasmussen also took part in the 2018 Eurovision Song Contest. He represented Denmark with the song Higher Ground, and finished 9th in the final. Today, he brought to us his own entry and another Danish entry; the Danish winning entry from 2013, Only Teardrops.
Rasmussen was alone in what might be his living room. The only company was his guitar. Beatles fans will immediately recognise the Abbey Road t-shirt. Equipment failed a little bit in Rasmussen's case as the sound for this setting wasn't optimal – but he really lived himself into these acoustic versions, which totally makes up for it.
Tamara Todevska
She was last year's darling. Tamara provided her country, North Macedonia, their best ever result as she came 7th – but won the jury voting – with the song Proud. This was Tamara's second participation after failing to reach the final in 2008. In today's Eurovision Home Concerts, she entertained us with Proud as well last year's Italian entry; Soldi.
Tamara came into our living room sitting on the floor in a corner of a room with the music playing in the background – no acoustic performance from her today today. She dedicated her entry Proud to all the doctors doing a fantastic, but hard job at the moment each day in their fight against Coronavirus.
Big applause to Tamara for throwing herself into a song in another language like the Italian Soldi. She was the only of the four acts today doing that – and she managed quite well.
Slavko Kalezić
With his long braid, Slavko surely stood out in the 2017 contest where he represented Montenegro. He failed to reach the final with the song Space. Today, it was no competition. Besides Space, Slavko also performed the 2018 Cypriot entry Fuego.
The braid is no longer there, we saw today, but to make up for it, Slavko had a braid in each hand. He also danced around with his Eurovision bag and a hand fan. For his second performance, he was wearing kangoo jumping shoes and moved around like he was in an exercise video. He was dressed for it also, so maybe that's his way of keeping fit while staying indoors?
Eurovision Home Concerts
Coronavirus and it's COVID-19 disease is affecting most of the world at the moment. When the Danish Melodi Grand Final on the 7th of March was held without audience, we all knew that it was just the beginning, and that the Eurovision Song Contest would be affected too. On the 18th of March came the news that the 2020 contest was cancelled. Not postponed. Not organised in a different way, but cancelled entirely.
As Eurovision fans were in shock, EBU came up with this idea called Eurovision Home Concerts where artists, 2020 acts as well as former participants, will perform their own entry plus a cover song – from their own homes. Just like the rest of us, they are isolated too.
Keep an eye on Eurovision Song Contest on Twitter where they will announce artists for next edition, and as well as asking you to vote for which other entry you would like them to cover.
In the video below, you can watch the first edition of Eurovision Home Concerts: