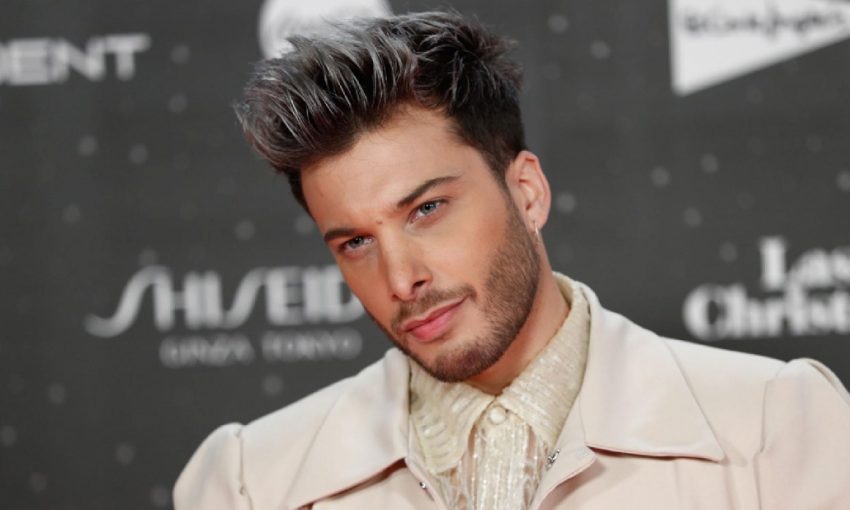 We would normally be discussing about the Rotterdam 2020 results if the event had not been cancelled due to the Coronavirus pandemic. Here at EuroVisionary, we thought we would keep the conversation going despite the cancellation. Today, we are revisiting Spain's Blas Cantó and his song, Universo.
Blas Cantó's first encounter with Eurovision started as a child when he entered the Spanish national selection for the Junior version of the contest. Blas had come second to María Isabel, who eventually went on to win the 2004 Junior Eurovision Song Contest.
As part of the boy band Auryn, the artist had found himself a national selection runner up to Lucía Pérez, who went on to represent Spain in the 2011 Eurovision Song Contest with Que Me Quiten Lo Bailao (last place in the Grand Final).
This year, Blas Cantó was internally selected to represent Spain with Universo. In the meantime, he had achieved a number one album as a solo artist in his country. One would have thought that 2020 would have been a Eurovision third time lucky for the 28 year-old but, alas, Rotterdam 2020 was cancelled. Still, Blas Cantó has been confirmed as one of the artists that will be returning for Rotterdam 2021.
Universo was co-created by Cantó himself, Dan Hammond, Ashley Hicklin, Dangelo Ortega and Mikolaj Trybulec. Ashley Hicklin had also collaborated on past Eurovision entries Me and My Guitar by Tom Dice (Belgium 2010, 6th place), Run With The Lions by Jurij Veklenko (Lithuania 2019, 11th place in Semi-final 2) and Mother by Axel Hirsoux (Belgium 2014, 14th place in Semi-final 1). Mikolaj Trybulec previously collaborated on Friend of a Friend by Lake Malawi (Czech Republic 2019, 11th place).
Spain was ranked at an unfavourable 33rd place in the betting odds for what would have been Eurovision 2020. But what do we here at EuroVisionary think about the entry? These are some of our views:
Álvaro – 'I am sorry for Blas, his voice is good but the song is just not the right one. The chorus is annoying and this "uni-universo" sounds repetitive and even silly to me. Blas said that his 2021 song will be completely different. I wish him good luck
.'
Theo – 'When I had first heard Universo, it had sounded distinctly middle-of-the-road and, as such, slightly indifferent to me. Having listened to the song just now, I appreciated elements in its musical production as well as phrases in its melody. Judging by the live performance video of the entry, though a little tense onstage, Blas Cantó can sing well live. The entry is now much higher in my estimation than it had been before even though I still think it is unlikely that it would have done really well…'
Charlotte – 'I am sorry Spain. I had high expectations. Having disliked your entries for the past five years, I figured you possibly couldn't get it wrong for the sixth time. I was wrong. This is repetitive, uninspiring and boring. There's a reason you have seen yourself placed last, or very close to, the past few years. I am afraid, it would have been 6th with this. For next year, please don't disappoint me again. I quite like the voice of Blas Cantó, so that part at least isn't working against you being able to deliver a song I can cheer for.'
Michael – 'Unfortunately this is not a song to be judged in a competition as it has no stand out factor. Take it away though and, as a stand alone, it's a yummy piece of perfect pop that will way outlast, some of the slightly novelty songs that probably would have won this year. A classy piece indeed.'
Ashleigh – 'Michael is absolutely spot on. As a regular song, Universo is a very good song but when it's competing against the likes of On Fire, Solovey, Répondez-moi, then Universo just doesn't stand out. As with recent years, Spain gets extra points from me for singing in their native language.'
Güneç – 'People had much expectations for Blas when he was first announced as the Spanish representative for Eurovision 2020 in Rotterdam. His entry Universo was revealed at an early date but didn't meet those expectations. Universo is considered to be a mediocre song. I personally expected some Spanish flavour in the song, perhaps some guitar sound.'
Elvir – 'Poor Spain! I love this country so much, but it really pains me to say that they manage to disappoint me very often. This year is no exception. Blas is a good singer and his vocal is on point, but the song is quite forgettable. Universo sounds like a song that is building up to a grand climax that never happens. Better luck next year.'
Josef – 'Blas Cantó is a good looking Spanish singer. I loved the era of boyband Auryn and also his solo career after their split-up. But Universo somehow does not fulfil my expectations. It is not bad completely, but not great either. So actually this is one of the cases where I am glad the same songs will not be used next year. As Universo is not my favourite this year, maybe the next song by Blas will be better.'
Stay tuned – tomorrow, we will be discussing another entry for what would have been the Eurovision Song Contest 2020!
In the meantime, you can revisit Blas Cantó and Universo in the following video:
This reflection article is based on the author's own personal experience. Views expressed belongs to him or her, and are to be seen as unrelated to EuroVisionary.com.