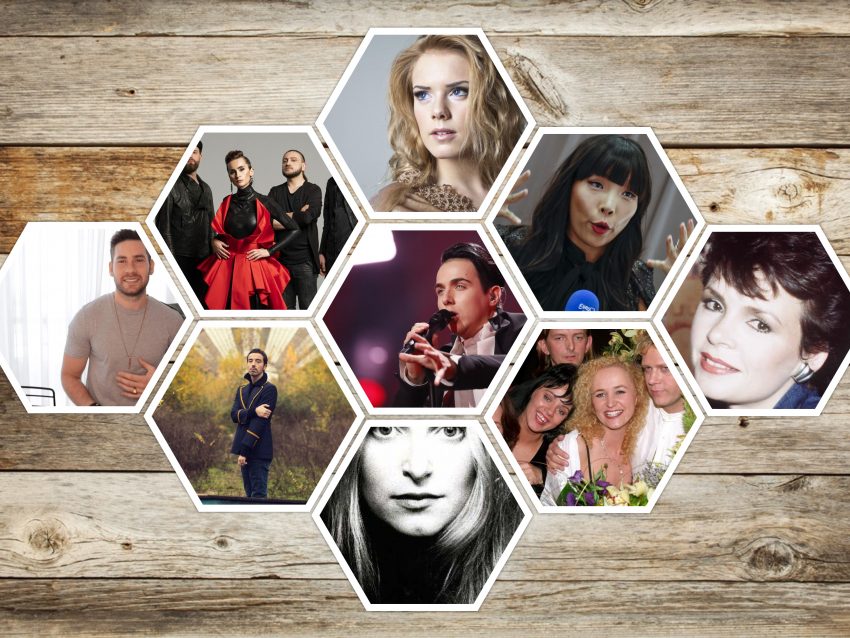 All good things must come to an end and sadly, this week meant the last week for Eurovision Home Concerts. This was the seventh week Eurovision artists, past and present performed Eurovision hits from their homes.
For the final week, the online show saw two favourite runner ups perform, as well as two more of this years contestants. Rounding up proceedings were three past winners, including the first, and so far last winner from Ireland, and two popular male artists from 2017 and 2018. Whoever can we mean?

Go_A 
Go_A should have represented Ukraine this year but plans were changed due to Coronavirus. On all these Eurovision shows Go_A have  performed their entry Solovey really well. Today they were on top of a rooftop overlooking Kyiv, as they performed their song, which translates to Nightingale. The group are scheduled to represent Ukraine next year.
Go_A was asked to perform Verka Serduchka's legendary Ukraine entry from 2007, Dancing Lasha Tumbai and they were great. This group are way more than Solovey.
Eimear Quinn
Eimear was the last person to win for Ireland, when The Voice was the winning song of 1996. Today Eimear seemed to be in a real good mood, although the British entry from 1996 is nominated in the BBC's upcoming vote for best Eurovision song of all time while Eimear has been ignored. The Voice is a song which doesn't need many instruments and todays minimalistic version was as good as it was performed at the contest proper.
Eimear could have also given us a Nocturne performance tonight, which would have been interesting as to what she'd have done between verses. Luckily Gjon's Tears, Swiss entry 2020 was chosen and Eimear was very endearing in her rendition. Eimear proved she could hold a note.
Imri Ziv
Imri represented Israel in 2017 with I'm Alive. Imri was joined by his buddy, Michael today as he gave us an acoustic version of his 23rd placed Eurovision entry. Michael's T-SHIRT had the slogan Happiness Looks Gorgeous On You, while Imri just went for a plain grey one. Imri 's singing was surprisingly good, much better than when he was at Eurovision.
Imri could have sung Jade Ewen's It's My Time from 2009 from the U.K, but winning out was Il Volo's Italian third placer from 2015, Grande Amore. This was the first year, Imri had done backing vocals at a Eurovison Song Contest for Israel so he knew the song well. He was able to traverse through all three Volo's parts with ease.
Dami Im 
Dami placed second in 2016 with Sound Of Silence for Australia. Dami was hoping to return to Eurovision next year, but won't be able to since Montaigne is coming back. Dami could be back then in 2022. Dami performed her beloved Eurovision entry accompanying herself at the piano and indulging in a few musical swirls. Her awards were clearly displayed on the wall behind her, particularly for her album, Alive.
Dami's fans wanted her to perform Austria's winning song from 2014, Rise Like A Phoenix, originally performed by Conchita Wurst. So she duly did, still sitting at her piano. Vocally perfect as always she was able to do the song more than justice.
Diodato
Diodato was meant to represent Italy this year, with Fai Rumore. Today he showed us round his studio before giving us a version of the Sanremo 2020 winner. Italian songs are so so good, what a language and of course Diodato's song was a joy to the ears. An invisible pianist added to the entertainment.
Diodatao returned to his home to sing his chosen song. Diodato dived way back in to the annals to give a performance of Italy's 1959 entry from Domenico Modugno's  Piove (Ciao Ciao Bambino). This was a very nice lullaby like version.
Secret Garden
Secret Garden won the Eurovision Song Contest in 1995 for Norway, with the song Nocturne, breaking Ireland's run for a year, although the violinist, Fionnuala Sherry, was indeed Irish. The band became very popular after Eurovision, especially with the song You Raise Me Up, with fellow Eurovision entrant Brian Kennedy. Fionnula played on her vioilin again , while fellow member Rolf Løvland played on the piano. The vocals were not used today.
Yohanna
Yohanna placed second for Iceland with the song Is It True in 2009. Yohanna was born in Copenhagen, did you know that? Yohanna performed Is It True today in a really barren looking room, She was accompanied by an acoustic guitarist. All in black she performed in front of an empty mantle piece, which didn't even have as much as a clock on it. Perhaps this is a new house she's just moving into.
Today is was Love Shine A Light's turn to be defeated again, by guess what – yep Euphoria. So Yohanna gave the song a go, as good as any, but seemed to struggle a bit, perhaps with the poor acoustics in the room. Still you can't end a series without Eurovision's favouriite song.
MELOVIN
For some odd reason MELOVIN placed last with the jury in 2018 with the contest's opening number, Under The Ladder , ending up 17th thanks to the public. Today his song was stripped to the bones with no fancy fires or coffins. Instead this unusually satisfying version of the song had no gimmicks bar the four piece band that joined him on different video screens, although it was very dark, except for a few red lights.
MELOVIN also gave a performance of Rise Like A Phoenix. If you are a fan, this was Conchita heaven for you, others perhaps too much, but MELOVIN was actually born to perform the song.
Dana
It has now been fifty years since Ireland first won Eurovision, with All Kinds Of Everything by Dana. Of course Dana isn't going to just sit at home and run through a rendition of her song. No, instead Dana has been joined on-line by a choir of singers from all over Ireland. The performance was made for the RTE documentary Dana – The Original Derry Girl, which you may still be able to watch on TV.  The video was made in Australia. This was a fitting way to also end the Eurovision Home Concert series, although it was performed in the middle of the show. Nevertheless it is an appropriate way of wishing all  this years contestants well.. looking forward to next year.
Enjoy the final show below.