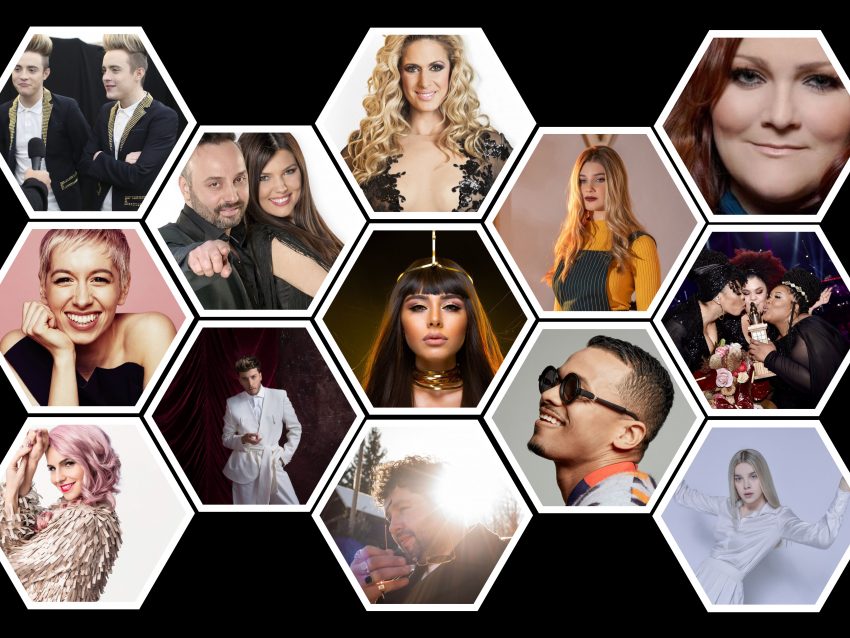 Today's bumper show of Eurovision Home Concerts featured no less than 13 acts from the present and past. They came with one aim – to entertain us with their Eurovision entry and a past classic – and entertain us they did
Eurovision Home Concerts is a show devised by the EBU as a consolation prize for Eurovision 2020 being cancelled. Today six of this years hopefuls joined entrants from 2010 right up to last years challengers. Who took part? – Find out below.
The Mamas
The Mamas should have represented Sweden this year with the song Move. The gals were all in their own homes to perform a special version of the uplifting song. We were told how well the trio motivate each other, when they are feeling down. Of course this performance was perfect vocal wise. Eurovision sure does need our Mamas. Ashley was in an electric blue dress, Loulou was in scarlet and Dinah was in a lilac jacket. Very soothing.
In an ironic twist one of the songs the Mamas could have performed was Proud (North Macedonia 2019) which pushed John and The Mamas down the juries score board last year. However it was Toy, Israels' winning song from 2018 from Netta that they performed. The ladies can sing anything and this was another showcase of luscious harmonies.
Hera Björk
Hera represented Iceland in 2010 with Je Ne Sais Quoi. For the show today she told us that she was in Iceland and she was accompanied by her guitarist who has been with her since 2006. He played with Bobbysocks (Norway 1985). A volcano could be seen from the window and she had Madonna's Live To Tell CD on display. She gave a nice gentle version of her Eurovision hit.
Hera chose two more traditional songs to sing, All Kinds Of Everything, Dana's Irish winner from 1970. However the song viewers wanted her to sing was Spain's second placer from 1973, Eres Tu, originally sung by Mocedades. Fab.
Efendi 
Efendi was meant to represent Azerbaijan this year with the song Cleopatra. Efendi was just a little too close to her backing group, but gave a faultless stripped back version of the song. She is a really good singer and this song can obviously be performed in many styles. Shout out to my friend Alan Roy Scott for helping to write such a great song.
Efendi's choices were her countries winner from 2011, Running Scared by Ell and Nikki but it lost out to the previous years entry Drip Drop by Safura. It was great to hear this song again and Efendi gave a perfect performance.
Lea Sirk
Lea Sirk performed for Slovenia in Lisbon at the 2018 contest. At the time when she sang Hvala, Ne she had pink hair, a colour that shocked her father, but Lea said it has been an accident but that's how it turned out. Tonight she was a more natural blonde, while singing quite an uptempo version of her song. She was accompanied by a keyboardist and at times helped him along too. She was wearing a lemon dress and black mesh top.
Dami Im with Sound of Silence (Australia 2016) was one of the songs Lea could have sung. The chosen song though was the song that finished two places lower in fourth place for Bulgaria. Lea gave us a new and fresh version of If Love Was A Crime, originally performed by Poli Genova. Lea added a little Slovenian to the song.
Jedward
Jedward represented Ireland two years in a row. In 2012 their song was Waterline. However today it was time for their more popular entry, Lipstick from 2010. Jedward were all in bright red for the performance, while John, or was it Edward played along in the guitar.
We avoided yet another version of Heroes tonight, and instead Jedward performd the song that won the year before they first entered. Lena from Germany's winning song Satellite was given a reading, with the twins now in black sparkling jackets.
Arilena Ara
Arilena should have been representing Albania this year with Fall From The Sky. For the Home Concerts show, we were shown a previously published performance from a square in Tirana. Arilena's band were suitably scattered throughout. Arilena had a leather jacket and gloves on to keep her warm, hair was up in a bun.
For some reason, Arilena also got to sing Germany's winning number, Satellite, which she did in a more uptempo funky manner, than Lena and indeed, the few moments ago, Jedward. Don't these singers know any other Eurovision songs, although she did do a respectable performance of it.
Michela
Michela came 14th for Malta last year with the song Chameleon. It was 2:50 in Michela's house while she performed in an army like jacket. Michela's video quality was perhaps not as good as some of the other acts tonight, but there was no problem telling what a powerful singer she is.
Michela chose two unexpected songs to sing. Love Kills (Belgium 2013) and Where I Am by Anja (Denmark 2017) which made for a nice change from the regular songs. Again Michela had to shout a bit to be heard, but again showed what a great voice she has, and why she won X-Factor Malta last year.
Benny Cristo
Kemama is the song, Benny had planned to sing at Eurovision this year. The song is about Benny's childhood and is very special to him. Benny has now been on the music scene since 2009. Today's performance was as low key and acoustic as could be, as he was accompanied by his piano playing friend, but in its own way it worked well.
Benny offered two entries from this year to sing, Iceland and Germany. The winner was Ben Dolic's German song, Violent Thing, and Benny turned the song into something more suitable to his performing style.
James Newman
James would have represented the United Kingdom this year with My Last Breath. James is the first Brit to appear in this series. Today all in black he performed an acoustic version of his song, accompanied by his two backing singers. They seemed to be in a recording studio and all three were great vocalists. Helping things along was a guitarist.
James could have sung Rock N Roll Kids (Ireland 1994) which would have been fine, but could a better song have been chosen for him than Anouk's Birds (Netherlands 2013). With a mass of birds flying behind him, this song so suited James's voice. Perfect.
Blas Cantó 
Blas would have tried to improve Spain's results at this years contest with Universo. Today he submitted the version he performed at last weeks RTVE show which celebrated the last ten years of Spanish entries. This song works really well in a slimmed down acoustic version. Blas was accompanied by two guitarists and used the trick to have five Blas's on screen at the same time, when required. He did not perform a Eurovision classic, or maybe he did with Universo.
Paula Seling & Ovi
Paula and Ovi have represented Romania twice, the second time being with Miracle in 2014. Today though it was the third placed Playing With Fire from 2010 that got an airing. The duo decided to give the song a jazz-swing feel. Ovi sat by the piano, while Paula shimmered in her silver/light blue dress at the microphone.
Hold Me Now (Ireland 1987) could have been the song Paula and Ovi sang. Instead it was the winning Fairytale by Alexander Rybak (Norway 2009) that was picked. No violins insight though this time, as Paula replaced it with a flute liuke wind instrument. Paula likes to show off how high she can sing. This was a little different from most cover versions of the song.
Suzy
Suzy sadly failed to make the 2014 final for Portugal in 2014. Today she gave a slowed down version of her entry, Quero Ser Tua. It was great to see Suzy again but she was singing along to a karaoke machine, with the words of the song scrolling behind her. Surely she hasn't forgotten the words to her own song?
Suzy chose Invincible by Carola (Sweden 2006) or Polina Gagarina's second place Russian entry, A Million Voices from 2015 to sing. Polina won out and Suzy dressed up like good old Polina, as the words scrolled across the screen. To add to the effect a lady performed the song in sign language at the bottom of the screen.
Surie
You wait six weeks for an act from the United Kingdom, and then two come along at the same time. Surie represented the United Kingdom in 2018 with the song Storm. Her performance today wasn't spoiled by a stage invader, although there were five separate Surie's on show, so there was always the possibility one of them would grab leading Surie's microphone. This was another fresh new approach to the song, which Surie sang a cappella. In the second verse, a piano came in, and the backing Surie's disappeared for a while. However they returned to finish another chorus.
Surie chose to go wild with her choices, first Daz Sampson's Teenage Life (U.K 2006) and in a surprise twist Hard Rock Hallelujah, Finland's 2006 winner from Lordi. Now that she has performed this at her special piano, it is clear there is nothing that this woman can't perform. She turned this racket into a power ballad.
You can watch the sixth episode of Eurovision Home Concerts below.