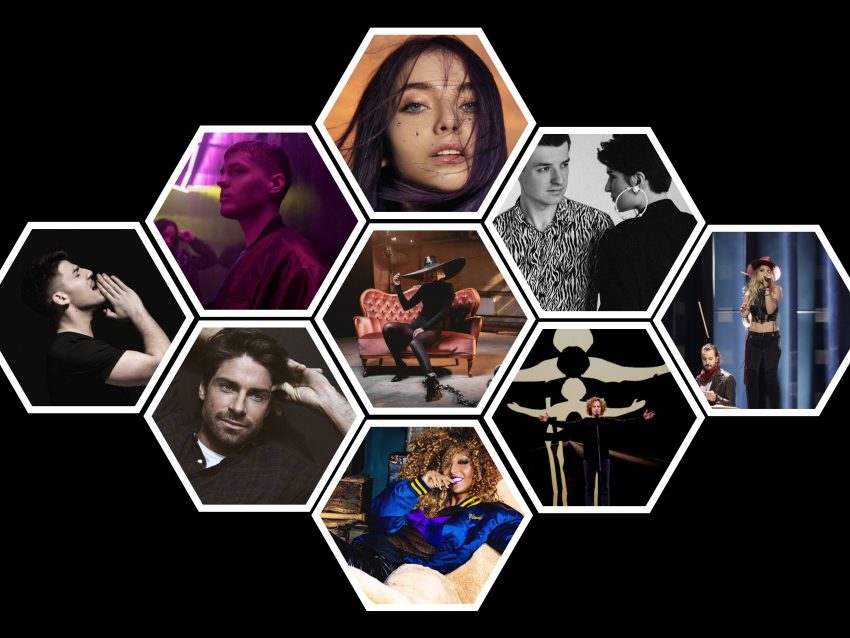 Tonight, seven more of this years proposed Eurovision acts took part in Eurovision Home Concerts, an on-line series where Eurovision acts, past and present, sing their Eurovision entry, along with a fan voted pre-selected classic.
This was the fifth show in the series, which saw Michael Schulte and Zibbz from 2018, join another seven of this years hopefuls, in a sing along from their respective homes. This show is a gift from the EBU and the acts, as part replacement for the cancelled Eurovision Song Contest 2020.
Tom Leeb
Tom should have represented France this year with his song Mon alliée (The Best in Me). Written by Tom along with Amir (France 2016), John Lundvik (Sweden 2019) and Léa Ivanne, who as yet has not represented any country, this is a song that cries out for an acoustic performance. The announcer pronounced Tom's last name as Lebb, but Tom himself said Leeb. Tom's performance was heart felt as he sang into his microphone, while strumming his guitar, in front of his book case, from where a couple books seemed missing.
We could have had Tom sing another Tom's Me And My Guitar (Belgium 2010), but sadly, and it's his own fault for nominating it, but it was Duncan Laurence's Arcade that won out again. He did well with it though, a very subdued version.
Senhit
Senhit is back for San Marino this year with an extra 'h' in her name, but has returned with the bouncy Freaky, a complete turn around from 2011 when she last represented the tiny nation. Stand By was not one of the choices of classics she could have sung this evening. Senhit is a master of the eye make up, which she has done from her home in Bologna, Italy. Every colour was represented.
Senhit's performance was well snap chat filtered with lots of coloured lights. Heck she could have even been on the Eurovision stage. This was a very upbeat and fun performance, which also incorporated lots of videos of others getting Freaky. Senhit was all in black and it's hard to imagine that this would not have qualified to the Eurovision final. Excellent.
Senhit chose two Italian numbers. Insieme 1992 lost out to the 2013 entry L'Essenziale by Marco Mengoni. Insieme losing out meant a winner for us, as this cover was terrific. Senhit really put a lot of effort into this, surrounded by a mess of candles. Very well sung indeed. A violinist in the shadows accompanied her.
VAL
The duo VAL were meant to represent Belarus at this year's contest with the song Da Vidna. Tonight VAL were in full colour with pastel shades of light blue and yellow, while sitting on a couch. Vlad was in shorts, is it that warm in Belarus just now? This song adapts very well to an acoustic version, and is actually better than the original dance version. It feels more personal. Valeria sang really well.
VAL had Loïc Notett's Rhythm Inside (Belgium 2015) to sing, and this song really show cased the duo well. Perhaps they have been underestimated this year. Vlad sang slong with Valeria whenever requires, which begs the question, what would an acoustic Loïc and Surie sound like.
Zibbz
The Swiss siblings, Corinne and Stefan Gfeller missed out on the final in 2018 with their song Stones. Still they are back today to throw some at those who didn't help them qualify. Corinne showed of her recently born baby at the beginning of tonight's performance. Gfeller played his piano while Corinne moved around the living room. It looked a little misty outside the back door.
Another United Kingdom entry Love Shine A Light, lost out again. This time Zibbz sang Nobody But You, their Austrian rival from Cesár Sampson from 2018, which finished in third place. This version was a little chaotic, but it was good to hear the song again.
Samanta Tīna
Still Breathing and carrying her disinfectant, Samanta should have represented Latvia this year at Eurovision.  Samanta doesn't do anything by half measures, even an acoustic performance. Here she was on an apartment roof in Riga, with her backing gals, giving it everything she has. How she doesn't get a sore head with that dance. All in red she gave all as usual.
One of Samanta Tina's first performances was singing Come Back by Jessica Garlick (UK 2002) but today it lost out to Shady Lady by Ana Lorik (Ukraine 2008). Samanta was back inside her house for this one, aware of her neighbours. She had the karaoke machine out and gave it all she had.
Sandro
This lad from Cologne, Germany, should have been representing Cyprus at the Eurovision Song Contest 2020. Today he performed his song, Running, with a well shorn haircut. Sandro accompanied himself on an unseen guitar. There didn't seem to be a microphone around either, but Sandro is a great vocalist. His song droned a little, without the dance beat, but good attempt nonetheless.
Sandro could have chosen My Last Breath, James Newman's British entry this year, but instead he did Tonight Again, Guy Sebastian's Australian entry from 2015. Sandro was joined by a friend on guitar and seemed to shout a bit to be heard, but you can really tell what a great singer he is.
ROXEN
ROXEN, who seems to now have adopted the all capital letters. like Bulgarian VICTORIA, should have been on the stage this year representing Romania. Fortunately she has been selected to represent the country again, next year. ROXEN is a great singer and powered through a version of her song, Alcohol You, in front of a dark back wall full of clouds. The most colourful part of the performance was the multi coloured hat she wore. Very atmospheric and clever.
Undo by Sanna Neilsen (Swden 2014) won out for ROXEN and she hit the nail on the head with this one. It was ideal, though admittedly you could hardly see her for all the visuals.
Michael Schulte
Michael came in fourth place in 2018 representing Germany with the song You Let Me Walk Alone. He told us that he was to be the German commentator this year. The guitar appeared again as Michael ran through his entry. Still great.
Michael chose to maybe sing Fly On The Wings Of Love by the Olsen Brothers (Denmark 2000), but instead the winner was Together by Ryan O'Shaughnessy from Ireland 2018. Michael had performed an acoustic version of the song in Lisbon already, so he was well used to this song.
Michael will soon release a song with Isle De Lange (Netherlands 2014).
Ben Dolic
Slovenian Ben should have represented Germany this year with the song Violent Thing.In front of an enlarged reed  Ben sang into a microphone, in front of a violet coloured wall. Someone's been taking the sheers to his hair, it looks like. Isolation is a terrible thing. The vocals though were really good.
We escaped yet another cover of Euphoria here, as the chosen song for Ben was Beautiful Mess, Bulgaria's second placer from 2017 by Kristian Kostov. The song was perfect for Ben, and he too could have placed high, had this been his entry.
Below you can enjoy tonight's show.