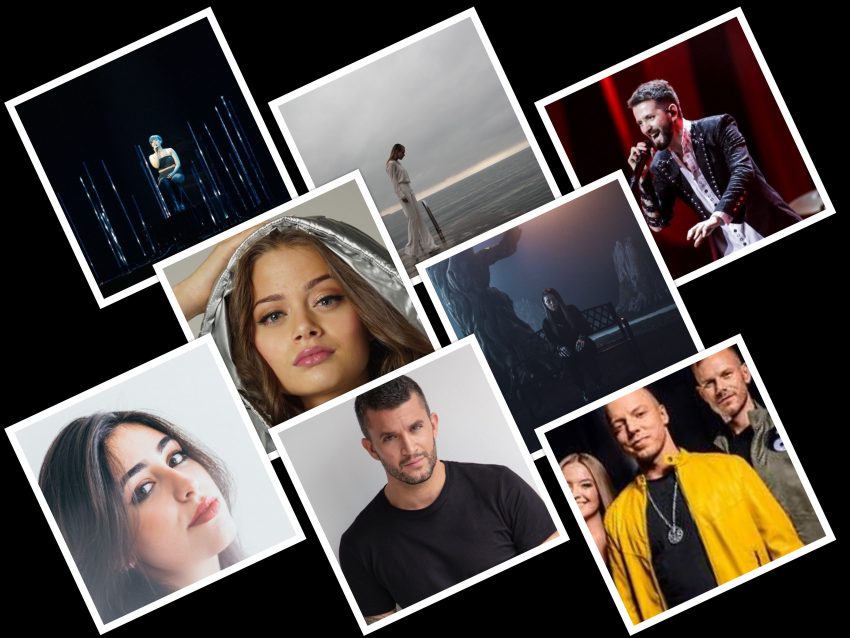 The very popular Eurovision Home Concerts  continued again this afternoon with the fourth episode. Five more of this years candidates were joined by past favourites from Norway, Albania and Austria.
The format of the on-line entertainment show is that a contestant sings their Eurovision entry, and then performs another classic, as chosen by on-line viewers throughout the week. For those of you who don't know, these shows are taking place as part replacement for the Eurovision Song Contest 2020, which has been cancelled.
So let's take a deeper dive into who performed for us, this evening.
Eugent Bushpepa
Eugent represented Albania in 2018 and did very well with his song Mall, after he gained 184 points and finished in 11th place. You could call him tonight's veteran act. He performed Mall in his home studio, accompanying himself on his electric guitar. Eugent is a really good singer, he can reach some notes way out of the stratosphere.
Silent Storm, Norway's 2014 entry by Carl Espen, was the chosen cover for Eugent tonight. North Macedonia's Proud(2019) and Azerbaijan's The Truth (2019) lost out. Lucky they did, as Silent Storm was perfect for Eugent. This was probably one of the best performed classics so far in the series.
Damir Kedžo
Damir was supposed to have represented Croatia this year with the song Divlji Vjetre. The clock in Damir's bedroom said eight o'clock so there went any impressions that the show is live. Damir had five females backing him on separate video screens, one which looked very much like Lighthouse woman, Nina Kraljić from 2016. Damir is another great singer, which may explain why he is the most listened to male singer in Croatia.
Damir was the only act tonight to have two prior winners to choose from, and no Molitva (Serbia 2007) was not chosen. Instead we got another version of Euphoria. Damir sang it really well, great artist that he is, but come on, what a wasted chance with Molitva. The clock in the background had now turned to 8:15.
Elisa Silva
Elisa was supposed to represent Portugal this year with the song Medo De Sentir.  She performed her lilting number sitting on her bed in a really nice lemon dress. She strummed along using her mini guitar.
For her cover, one of the choices was the obvious Amar Pelos Dois, the Portuguese winner by Salvador Sobral from 2017, but instead, even Sobral met his match when pitched against the might that is Waterloo by Abba from 1974. Elisa surprisingly sang the song quite well, but naturally it was totally different from the winning Swedish combination. Not quite sure if it would have become a sing a long anthem with this version though, but highly listenable.
VICTORIA
VICTORIA, all in capital letters, was supposed to represent Bulgaria this year with the song Tears Getting Sober. She will be back next year with another tune. Tonight VICTORIA was in a different living room, that she was in when she did her home concert a few weeks back. Strange but her tears were definitely getting sober with a backing band of four musicians, with no social distancing. This is a super little tune though, which we will never know how it would have done at Eurovision.
VICTORIA sang last year's winning song Arcade by Duncan Laurence, and who knows what room she was singing in this time. Arcade was the perfect song for VICTORIA  to sing, but remember Bulgaria's best placing to date, Beautiful Mess (2017) lost out, and she'd have done well with that one too.
Stefania
Stefania should have represented Greece this year with Supergirl and will be back next year. Stefania had her headphones in while she sang Supergirl straight to the camera. The window blinds were reflecting from a cupboard in the background. Stefania can hit some really low notes. A piano featured well.
Stefania landed a real gem to sing when she got You Let Me Walk Alone, Germany's entry from 2018. She did really well again in her living room, we have here, a star in the making.
Pænda
Pænda represented Austria last year with the song Limits, in Tel Aviv but failed to qualify to the final. The piano setting in this home concert was perfect for the song. Pænda's blue hair is washing out a little, but this was the perfect tune for the afternoon.
Calm After The Storm (The Netherlands 2014) lost out to Latvia's Love Injected, originally performed by Aminata (2015). As it turned out this was a great choice here. Our Austrian gave an excellent performance at the microphone, and was obviously pleased with her selection. Well done.
KEiiNO
KEiiNO represented Norway last year, winning the televote, and finishing sixth with Spirit In The Sky. The group's new album, OKTA, is now due out on May 15. An acoustic version of their Eurovison entry opened tonight's show from Tom and Alexandra's homes, which was out of sync, but never mind. Fred was out in the great Norwegian open, complete with fir trees and roaming buffalos.
For their Eurovision classic, the choice was between Only Teardrops, Emmelie De Forest's Danish winner form 2013, but since we've already seen them do that one, rejoice that their song was their rival trio from Iceland last year. Yes, one Nordic trio performs another with Hatari's Hatrið mun sigra. There is nothing this trio cannot cover. Hate prevailed a little less in KEiiNO's version, which actually sounded quite loving like. Fred's rap has to be heard.
Ana Soklič
Ana was supposed to represent Slovenia this year with the song Voda. Ana sang her song from her back yard which has the best lake and mountains you would ever see, when hanging out your washing. Very dramatic.
Rapsodia (Italy 1992) lost out again to Albania's Suus from 2012. This song was made for Ana. Again in her beautiful back yard, she gave a passionate performance of the song.
You can watch the fourth episode of Eurovision Home Concerts below