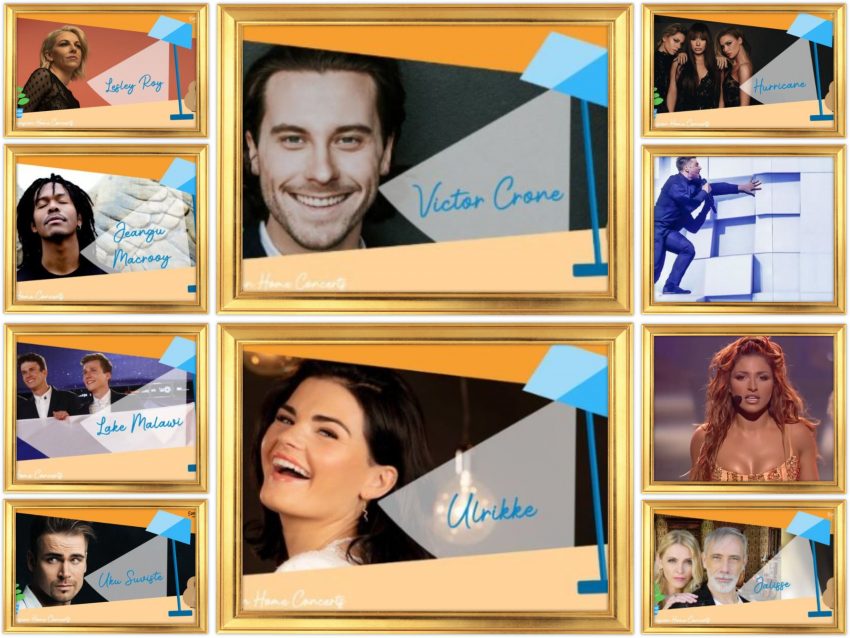 With a lot of acts, the third episode of Eurovision Home Concerts was tight packed. The concept remained the same. We are all more or less isolated due to the Coronavirus pandemic – and so are our favourite Eurovision stars.
Late afternoon today, at 17:00 we tuned into the third edition of Eurovision Home Concert. After the previous two episodes, we have become familiar with the concept – and love it! It's no replacement for Eurovision, but it's just what we need right now. We are all more or less isolated – and thus, the artists that we love, are too.
Lake Malawi
We started in Czech Republic. This band represented their country at the 2019 Eurovision Song Contest. They finished 11th in the final, and by that achieved the second best result ever for the country. Here the fans had two previous entries two choose between: Say Na Na Na (San Marino 2019) and If I Were Sorry (Sweden 2016).
Two of the band members joined us from each their location in form of a split screen. The line in the lyrics "when we were 13" was for today changed to "when we were in quarantine". Great performance. For their cover version, we were treated to Serhat's Say Na Na Na. It's impossible to make that version boring, and it wasn't either in their version, though it did lack some of Serhat's energy.
Ulrikke
Heading over to Norway. Here we meet Ulrikke. She was selected to represent her country this year with the song Attention. She joined us in what appears to be a lovely room with bricks on the wall and intimate lighting. Ulrikke wasn't alone as a keyboard player joined her. The professional microphone provided great sound, but most of the time, it unfortunately covered her face a bit too much. With a perfect clear voice, it however doesn't hide the fact that she is vocally extremely strong.
As cover version, fans had decided that she should sing Måns Zelmerlöw's Heroes from 2015. The same  lovely staging was used, but this had, a backing singer had joined them.
Victor Crone
He is actually Swedish, but Victor Crone represented Estonia at the 2019 Eurovision Song Contest. He finished 20th with the song Storm. Today, he served us that and a cover version of another Estonian entry; Goodbye To Yesterday from 2015.
The setting for Victor tonight was what looks like a fishing cave with equipments on the wall behind him. Victor was sitting down with his acoustic guitar. Very personal, intimate – and a joy to watch. It wasn't perfect as Ulrikke, but it's not suppose to be either in these shows where the personal aspect means a lot. The setting for Goodbye To Yesterday was the same, but recorded at a different time where it was more dark, and thus more light was added.
Hurricane
From Serbia, we met this girl trio that selected to represent the country in the now cancelled 2020 contest. They had given the fans tw options for a cover; Golden Boy (Israel 2015) and Qele Qele (Armenia 2008).
Not much social distancing from these three girls. They tuned in from a living room with one sitting on a red sofa and the other two on the floor in front. It was very rehearsed, and unfortunately also suffered from sound issues. The cover version of Qele Qele was recorded with them being on different locations. It was quite a shorter version of the original, we got.
Jeangu Macrooy
This year's Dutch participant, already confirmed for next year too, gave the fans two choices for his cover version, both of them 2020 entries. The Bulgarian Tears Getting Sober and the Icelandic Think About Things.
First he was to sing his 2020 song Grow. The setting was a little living room looking room, but might be a studio. Jeangu was sitting on a sofa with a microphone on a stand in front of him. He was joined by a piano player. Should anyone be in doubt about which country this is, they just need to look at the tulips in the background. Really good performance. The setting was the same for the cover version, which was Bulgaria's Tears Getting Sober. It had winner potential in the original version, but the same might have been the case had it been Jeangu's version only we knew.
Jalisse
The Italian duo Jalisse represented Italy at the 1987 Eurovision Song Contest where they finished fourth with the song Fiumi Di Parole. Fans had been able to choose between three other Italian classics – and decided for the 1987 entry Gente De Mare. It was originally performed by Umberto Tozzi and Raf, and achieved a third place.
The duo joined us from a living room with a TV turned in the background showing us an Italian waving flag. If you, like me, is a sucker for the "old" classic entries, it is really good to have Jalisse with us tonight. The setting was the same for the cover version, although this time, the TV showed recordings from various seas to stick to the original theme of the song. Umberto Tozzi and Raf's version is fantastic – and so is this cover!
Uku Suviste
Moving on to an artist from this year's cancelled Eurovision Song Contest. Uku won the national selection Eesti Laul, and thus were selected to represented Estonia at the 2020 contest. For his cover song, the fans had to choose between two Scandinavian winners; Euphoria (Sweden 2012) and Fairytale (Norway 2009).
We met Uku in his well equipped home studio. With that much stuff tight packed together, he is probably spending a lot of time there producing his own music. During the performance of his 2020 entry, Alexander Rybak suddenly appeared on video playing the violin. Great surprise. The setting remained the same for his cover, which had been decided to be Euphoria. At the end of the song, he was joined by two extra versions of him – fun.
Lesley Roy
This year's Irish participant joined us too. She performed what should have been her Eurovision entry Story Of My Life. Fans had been able to vote between Too Late For Love (Sweden 2019) and In Your Eyes (Ireland 1993) as her cover song.
From her home in New York City, USA, Lesley turned in. A home stage with a glittery sheet behind her, drum mashine, a computer, a keyboard and an acoustic guitar, and yet, she managed it all alone with multi cameras set up. It was like watching a DJ in function at a private party. Interesting, and actually quite fun. For her cover, Too Lote For Love, she had moved to another room. This time, no instruments or computers took away attention. It was a simple blue background, but it wouldn't be Lesley, if it didn't stand out. She was wearing a blue glitter Adidas outfit. She wasn't quite spot on with this version, though it was still entertaining.
Sergey Lazarev and Helena Paparizou
As special surprises announced shortly before the show, we saw Russian Sergey Lazarev and Greek Helena Paparizou. Sergey represented Russia twice. First time in 2016 where he finished second with the song You Are The Only One. In 2019, he managed almost as good; Scream came third. Helena also has two participations behind her. In 2001 finishing third as part of the duo Antique, and then in 2005 where she won with the song My Number One.
They entertained us with Sergey's 2016 entry You Are The Only One. 
In the embedded video below, you can watch today's third edition of Eurovision Home Concerts: