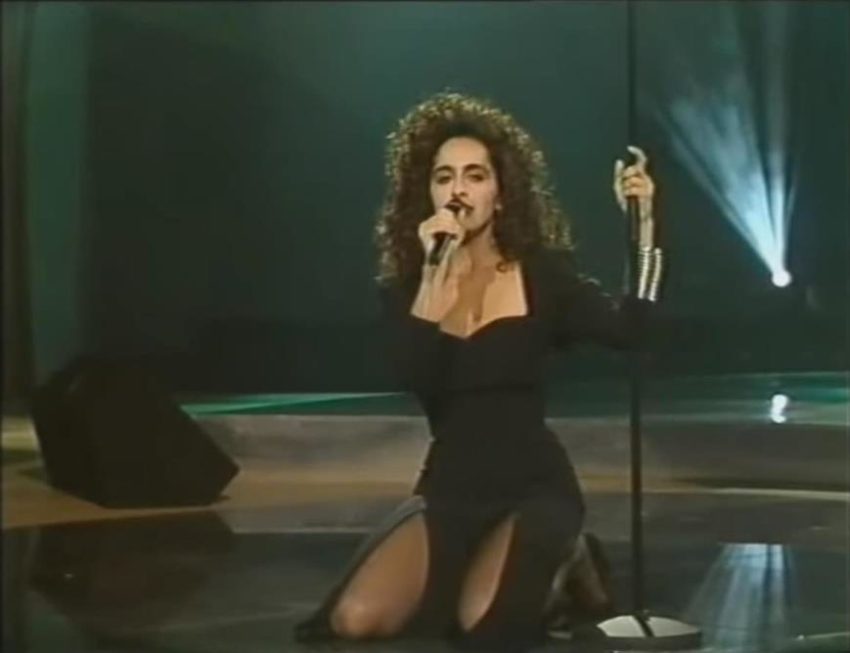 Rita was Israel's Singer of The Year and attention to detail had been paid to the song and performance. Still, the country only ranked 18th in Eurovision 1990. Did the entry aim too high in terms of sophistication or was the result simply justified?
Israel had chosen one of its top stars to represent it in Zagreb's Eurovision 1990. By the time of the contest, Rita had already been really successful with multi-platinum record sales as a singer as well as a career in acting and musical theatre.
Starting with the promotional video for the song – filmed in a single-camera, continuous shot – as well as the style of the song itself, it was evident that the creative team was prepared to try something different with Shara Barkhovot  (Singing In The Streets). On the night, classy camera shots framed a dramatic performance that closed with Rita kneeling onstage, which was quite a daring move for the time.
Juries did not warm up to the entry nevertheless, with Israel left in 18th position and Italy's Toto Cutugno lifting the Eurovision 1990 trophy with inspirational Insieme: 1992 (Together:1992).
Shara Barkhovot – opinions from fans
Robert I. – 'Israel has got many Eurovision classics. This is not one of them. It is not bad, but it's a song I had forgotten, and it won't appear on my playlists.'
Charlotte J. – 'I feel I have to apologise to the entire population of Israel. I am a fan of many of your entries, but not this one. I unfortunately struggle to listen to it all the way through. In order to write this piece, I tried three times, and never got more than half way before I had to turn it off. Again, I am SO sorry. I send you the best of love from Denmark though.'
Michael O. – 'On the surface, this is quite an unremarkable song, but as with so many Eurovision songs the live performance gave it a new life. The sizzling staging was eye catching and Rita sold the song very well. As a result I gained a new appreciation of the song. Nothing ground breaking, and the song may not deserve lots of listens but the performance is always worth repeat viewings.'
Vangelis M. – Israel in 1990 is definitely not one of my favourite entries from this country. No wonder why it finished in the 18th place. It is not one of the songs that sticks in your head so you want to listen to it again and again like all the Israeli winning songs. It's a little below the average for me .
Alexander S. – 'In 1990 Israel chose Rita who is diva in her own country….1990 was a competitive year in the contest….Rita sang in Eurovision a beautiful ballad which ranked very low… It is not a favourite entry for me.On the one hand, I do recognise she delivered a good performance, simple but elegant ,she has a good voice .On the other hand I find a dull, hard song among so many happy, gay songs.'
Álvaro S. – 'An interesting discovery for me. The thing that got my attention after I reviewed this song is Rita's performance and her interaction with the microphone (Laura Rizzotto were you taking notes
). To find that the lyrics were about an empowered woman leaving a toxic relation was a bonus to me. The one negative thing I find is that the intro sounds too long and solemn.'
Ashleigh K. – 'This is the first time I've seen the performance. Unfortunately this song isn't for me. I liked the intro and the opening of the song but I found the choreography a bit odd, it didn't seem to fit the song and didn't really like the melody either. I couldn't imagine myself singing along to it in the car. But I liked the meaning of the song and in that respect it seemed quite ahead of it's time.'
Theo V. – 'To me, this is Eurovision at its most sophisticated. The beautiful orchestration builds up to a dramatic crescendo while sounding all along as in conversation with the sung part. The lyrics start with an almost cinematic sequence in the day of a woman resolute to end a foundering relationship. Everything, from the song itself, to the performance, the camera shots as well as Rita's styling and armography have an essence of passion, sensuality and class. Admittedly, not an instantly catchy song but a slow burner for rewarding repeated hearings.'
Bernard D. – 'I must admit that I did not have an immediate "crush" on this song. In addition, the satellite link with Yugoslavia was extremely bad in France and it was difficult to appreciate the songs in these conditions. I felt that Rita was a great performer but I couldn't seem to like her song. Much later, I loved it. This song is different, sensual and powerful without a doubt. I always enjoy hearing it again, and I can say that today I consider it a classic of the competition. 7/10'
In the following video, you can revisit Rita singing Shara Barkhovot in Zagreb. You can read more about Rita further below.
Rita – a mini biography
Rita Yahan-Farouz is an Israeli singer and actress of Persian descent. Her singing career started in the 1980s while doing her military service and she first introduced herself to a wide audience when she participated in Kdam Eurovision 1986, the country's national selection for the contest at the time.
Even though Rita did not win on that occasion, her career went from strength to strength. Her great popularity and multi-platinum record sales had her named Israel's Singer of The Year for 1988 and 1989 by the country's national radio, whereas her career also included acting and musical theatre.
Her 1990 Eurovision entry Shara Barkhovot was composed by her then husband Rami Kleinstein. After Zagreb and her 18th place, Rita took a brief break. Her comeback was met with success and more platinum and gold certified records that further established her as one of Israel's most loved stars. Since 2011, the artist had had a lot of success in Iran, too, with Rita being hailed as somewhat of a cultural ambassador between the people of the two countries.
This reflection article is based on the author's own personal experience. Views expressed belongs to him or her, and are to be seen as unrelated to EuroVisionary.com.