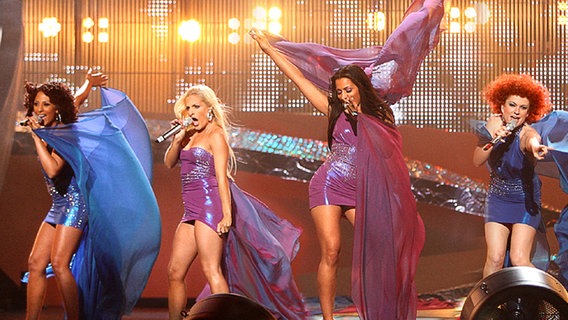 In 2008, Germany chose what had once been a popular girl band to represent them at the Eurovision Song Contest. No Angels were picked to sing the song 'Disappear', but unfortunately it all went horribly wrong. The band ended up sharing the least amount of points with Poland and The United Kingdom.
On March 6, 2008, German Television held the Wer singt für Deutschland? contest where five acts performed a potential entry and the German public voted for two to proceed to a sing off. The duel was between Carolin Fortenbacher with the song, Hintern Ozean, and the winners No Angels with the song Disappear.
Germany automatically qualify to the final and in 2008 were drawn to perform fourth, in host city, Belgrade.
With only 14 points, they had the same score as Isis Gee from Poland and Andy Abraham from The United Kingdom, so appeared to come last equal. However as they received 12 points once, and none of the other two countries did that, history has recorded them as coming 23rd out of 25 countries.
Disappear – opinions from fans
In order to find out what Eurovision fans think today of this German entry from 2008, we asked our Eurovision Fan Panel. It includes team members as well as fans from all over the world.
Pascal W. – The "No Angels" were among the most successful girl groups in Europe at the beginning of the millennium. Accordingly, they of course had some chart success here in Germany, for example with their single "Daylight In Your Eyes" that some of you might even know. And so they are the perfect example of the fact that you can send a well known artist to Eurovision and they will do poorly if the song is just rubbish. And in addition to a bad song (which, strangely enough, still has a little catchy tune), comes a student-level choreography and unfortunately also some wrong notes. So it is no wonder that we were tied for last place back then, but still ended up in 23rd place because we once received 2 points (from Switzerland) and 12 points from Bulgaria (because one of the singers is from Bulgaria … ).
Michael O. – I absolutely love this entry but knew it wouldn't do well in 2008, as this was when diaspora voting was at its peak. On the Eurovision stage the performance was very tame and part of the song was dropped, to ensure it met the three minute rule. The recorded version though to me, is a real treat and I think this is one of Germany's best ever entries despite its poor performance at Eurovision.
Ray M. – The song and vocals of the entrant from Germany in 2008 are weak and very disappointing. It seems like Germany was counting on the pouty looks, sexy outfits, and kitsch to move ahead in the contest. Judging by their low scores and 23rd place finish, they failed to impress.
Ashleigh K. – This isn't a bad song from Germany. It is pleasant and the live vocals were pretty good but the song is quite generic and forgettable.
  Martti I. – Germany one of the biggest areas in music business and lately they have lost the touch. No Angels sure had hits before Eurovision and sure even this might function in radios. Yes I disliked this despite their efforts visuals, pyrotechnics, but the most important was missing,star quality. They managed quite well in one task,not hitting the right note.  The live performance just shows all the weak parts. The song itself wasn't that catchy,which was surprise enough from these songwriters. These three minutes offered very little for eurovision history. 1 point for trying and second point for using the wind machine.
Aaron S. – I'm sorry but I didn't like this entry, while the song had potential, I was a little confused with the staging, especially the girls' costumes. I also found the sound production to let them down, at times it seemed a little off and perhaps a little loud. With improvements to the group togetherness in vocals and the sound production and slight adaptations to the staging, this could have done much better.
Alvaro S. – I find this song quite forgettable. Back in 2008 this Europop formula was already exploited too many times (for reference see Sweden 2008) that it would not help the girls from No Angels to distinguishes themselves from the crowd. Overall it is an okay song. Not too bad not good enough.
Antonio P. – I almost get angry when i write this. This must be one of the worst songs ever. Germany has good  talented artists, and send THIS! Why send a group, who has been disbanded, and together again for one year! On stage, they had no chemistry, bad choreography, no feeling in their song, The song was flat and boring! Well deserved last place. If this was a Semifinal it would have stayed there.
Charlotte J. – Written by two well known Danish songwriters, and a Norwegian ditto, I had high expectations back in 2008. In particular Remee as one of the songwriters got my attention. Unfortunately, I was disappointed. Listening to the song again, I am still disappointed. It's not X-Factor's first live show round. It's the Eurovision Song Contest. Remee explained how it was a surprise to him to see his own song suddenly appearing at Eurovision. To me, the surprise was that the song didn't have higher quality.
William S. – I remember Germans really thinking this could do well for them, the most successful girl group on mainland Europe entering for them with a song that was very much of its time. The live performance was somewhat lacklustre and the vocal left a lot to be desired. I enjoy the studio version, but this is far from what Germany does best.
  Theo V. – I had completely forgotten this entry. The song is sweet but nothing more than that for me. No Angles are trying to have a take on Motown, I think, though the fact that they cannot hold a harmony makes them no Supremes to my ears. The whole thing looks under-rehearsed and amateur. Still, thanks to the frocks and lighting, it must have made a light, colourful addition to the 2008 final (again, I have to admit I do not remember how I felt about it on the night).
You can re-watch or reassess No Angels with  Disappear in the video below.
A mini biography of No Angels
No Angels started out as a quintet in 2000 and were formed on the German version of the T.V. Show Popstars. In 2001 their debut single Daylight In Your Eyes topped the German charts.
During the next three years they continued their success, scoring another three number ones, including a cover of Eurythmics, There Must Be An Angel. In total they had 12 songs reach the German charts before they split in 2003.
In 2007, Nadja Benaissa, Lucy Diakovska, Sandy Mölling and Jessica Wahls reformed as a quartet to produce the album, Destiny. They entered the German selection for Eurovision 2008, and represented the country with the song Disappear.
Unfortunately the quartet were unable to reach the heights they did as a quintet, with member Vanessa Petruo. After releasing the album Welcome To The Dance, and performing an acoustic tour in 2010, No Angels split for a second time.