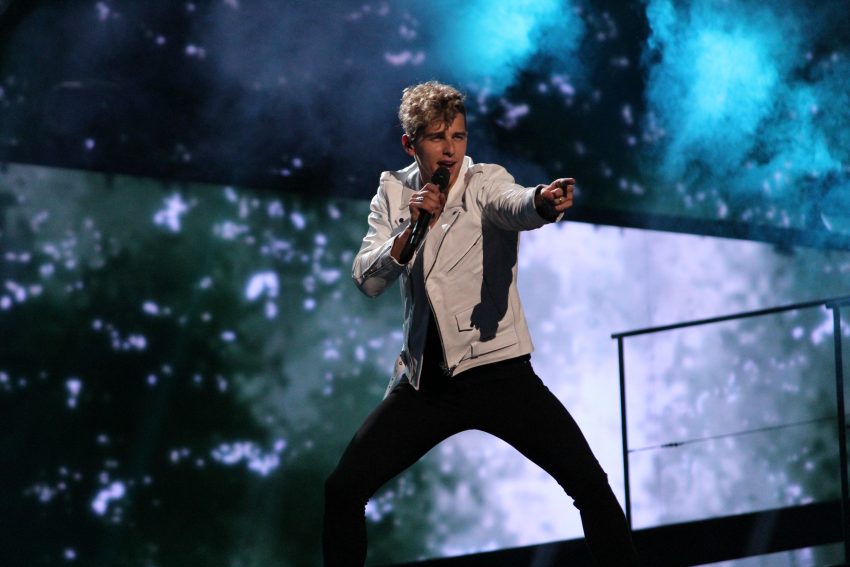 In 2016 Donny Montell represented Lithuania at the Eurovision Song Contest for the second time. The song was 'I've Been Waiting For This Night'. By finishing in ninth place he gave the country their second and, to date most recent finish in the Top 10.
Donny first represented Lithuania in 2012 with the song Love Is Blind and afterwards vowed that he would return for a future contest. In 2016 Lithuanian Television (LRT) announced the eight week  Eurovizijos Atranka to choose their entry that year. However the shows proved so popular at home that it was extended to ten weeks.
Familiar acts like Ieva Zasimauskaité reached the final with Life Not That Beautiful, and past entrant Erica Jennings from Skamp ended up second with the song Leading Me On. However after an exciting finale, it was the Jonas Thander and Beatrice Robinson composition I've Been Waiting For This Night, which took the prize, gaining top marks from both the public and the jury. Donny had placed 14th in 2012, so he was hoping to do better on his second attempt.

Lithuania was drawn 9th in the second semi of the Eurovision Song Contest 2016 and Donny ended up placing fourth. In the final he performed in 16th place. The Latvian jury deemed the song good enough to place it first, while The United Kingdom, Irish and Norwegian televoters also rewarded the song with 12 points. Donny finished in 9th place.
I've Been Waiting For This Night – opinion from fans
In order to find out what Eurovision fans think today of this Lithuanian entry from 2016, we asked our Eurovision Fan Panel. It includes team members as well as fans from all over the world.
🇬🇧 Michael O. – This was a great attempt by Lithuania to win Eurovision. Donny was unlucky to have to go against the might of Jamala, Dami and Sergey in 2016. The song may be a bit generic but who cares, it's a lively well composed song which to me has not dated. In fact I like it even better now than I did in 2016.
🇨🇿 Josef S.  – Donny Montell was amazing already in 2012, but I've Been Waiting for This Night is even better, catchier and has again some good dance moves. And he's cute. Good combination from Lithuania.
Mária P. – I don't find anything remarkable in the song, except the fact that it's catchy, like many others. But the staging was good and Donny is a talented performer who made the most of the song. Even so his placing in the top 10 surprised me. I liked better Donny's entry in 2012, though the result wasn't so good.
🇳🇱 Eric O. – This song really didn't do much for me, so wasn't my favourite at all in 2016. I actually think that Donny's previous Eurovision entry was slightly better than this one. In 2016, Bulgaria had a far better song and performance.
Alvaro S. – I can recognise that the song and the choreography is well elaborated and professional but the song itself does not tell me anything. For me it sounds like a generic soundtrack song for a Disney movie from the early 00s. However I like this song over Donny's first entry Love Is Blind.
Theo V. – A charismatic performer and a sleek presentation overall. What lets the entry down slightly for me is the song itself; though not bad, it sounded a bit dated and unoriginal, and, just like the presentation, evidently trying too hard to make an impression. Oh, I also have no idea why someone as good looking as Donny would impose on themselves that haircut (I know it was all the rage at the time but I think it did nothing for him).
Conor K. – With his blindfold removed and hair re-styled, Donny looked quite different from 2012 and his choice of song seemed to evolve with him. The somewhat cheesy but still very enjoyable Love is Blind was a surprise qualifier but there was no doubt in my mind the powerful pop ballad I've Been Waiting for This Night would reach the final. What did pleasantly surprise me was his consistent Televote/Jury score. I was glad to see the jury appreciated it, no doubt the impressive live performance contributed to this.
Michael R. – I've never really understood the hype for this song, It isn't bad by any means… I just don't find anything special about it. But it was well performed and it was nice to see Lithuania doing so well.
Antonio P. – I almost love all songs from Lithuania. Belive it or not, my absolute favourite is You Got Style by Skamp in ESC 2001, even the 1999 entry is awesome. Donny Montell was one of my favourites in ESC 2016. He had grown up, a better performance, better background an better choreography. Not so much nerves, more feeling. If you listening to the lyrics, it's a bit sad, he was happy for a moment. To quote Skamp "You Got (More) Style (than 2012)
Charlotte J. – Donny Montell appears fragile, yet very secure and I love when such opposites are united like this. This well produced catchy pop song might as well have been a Swedish entry – and had it been so, it would probably have finished in top 3. I've Been Waiting For This Night is catchy, easy to remember and to sing a long to. Donny Performs it well, and I like it. 8/10.
A mini biography of Donny Montell
Donatas Montvydas, born in 1987 attempted to represent Lithuania at Eurovision between 2009 and 2011 with From The Distance, Running Fast and Let Me. From The Distance came second in 2009.
In 2012 Donny took  Love Is Blind to Eurovision. He placed 14th in the final. All his Eurovision attempts feature on the 2012 self titled album.
In 2016, I've Been Waiting For This Night featured on the album #BLCK along with follow up Fly. The album, produced by Echoes, won album of the year at the M.A.M.A awards.
In 2017 Screw Me Up reached number 2 on the Lithuanian chart. In 2018 a collaboration with SEL, Žiūrėk ką padarei did the same.
On June 6 2020 Donny released the song No Strings.
Donny was a judge on The Voice Lithuania from season 2 to 8. He coached  winners, Justina Budaitė and Kotryna Juodzevičiūtė,  backing vocalists for the 2016 Eurovision entry.
Donny married his wife, Veronika in 2013 and they have two children, Adelę and Kajų.