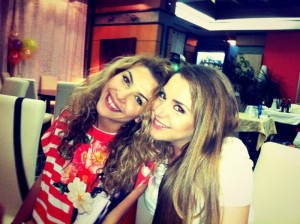 Kejsi Tola and Olta Boka performed at a special summer concert in Albania at the weekend.  It was at Durres near the sea.  The former representatives of Albania at Eurovision both sang a couple of songs each.
Kejsi Tola sang for Albania at the 2009 Eurovision Song Contest in Moscow with Carry Me In Your Dreams and Olta Boka performed in Belgrade in 2008 with Zemrën E Lamë Peng.
Both Kejsi and Olta are now popular and respected singers in their homeland and abroad.
They both performed at the special concert in Durres to celebrate the start of summer.  Kejsi performed her 2009 Eurovision Song and Me jeto from the 2011 Kenga Magjike festival in Albania.
Olta sang Anna also from the 2011 Kenga Magjike competition and she performed her 2008 Eurovision song.
You can see Kejsi and Olta's songs from Eurovision below and Kenga Magjike below.