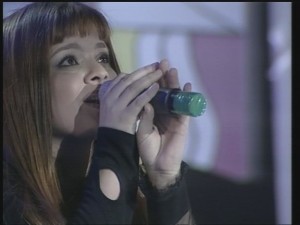 Hersi Matmuja has returned with a strong and upbeat dance song at the 2012 Kënga Magjike contest in Albania.  Her song is called Animon.  Hersi previously participated at the 2010 Festivali i Kenges to try and represent her country at the 2011 Eurovision Song Contest.
Hersi Matmuja performed Me Cilin Rri Ti Dashuri and finished in 11th position in the 2010 Albanian national selection.  Now Hersi returns with Animon.  The song is composed by Elgit Dodam and Genta Hodo.
The Kënga Magjike festival takes place over several weeks with some acts taking part from previous Albanian Festival i Kenges shows.  Already we have had Semi Jaupaj with her band Grifshat and Juliana Pasha is also taking part with more acts to come.
Hersi has been singing since she was eight years old and has spent time living and studying in Italy.
Animon is a commercial dance song with a strong production and stands a good chance of being a big success.
You can see Hersi's first performance of Animon below.