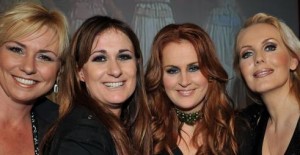 The annual event Eurovision in Concert attracts fans from far and wide in what is essentially a dry run for the forthcoming Eurovision Song Contest . Always with a jam packed list of artists, fans have more reason to look forward to the event this year as Dutch girl group Frizzle Sizzle reunite for a one off appearance in April.
Fans shouldn't get their hopes up at the prospect of the former girl group Frizzle Sizzle reforming as Maywood did last year for the Gerard Joling concerts in Ziggo Dome. Theirs will be a unique, one off appearance – all the more reason to secure a ticket and to see them live for this one off occasion – the first and only time in twenty five years.
Prior to representing the Netherlands at the 1986 Eurovision Song Contest with a barefoot performance of their lilting, vaguely tropical pop effort Alles Heeft Ritme, all four members Karin and Laura Vasblom, Mandy Huydts and Marjon Keller made their debut five years earlier featuring on an ablum released by children's choir Kinderen voor Kinderen. As a result to changes in the line up of the choir, the girls came and went, but regrouped again on the Kinderen voor Kinderen show to announce the formation of their new girl group, Frizzle Sizzle.
Eurovision beckoned in 1986 and the four girls secured a 13th placing for The Netherlands in Bergen, the single achieving moderate success on the Dutch charts, peaking at #21. Subsequent singles were released in the English language, such as Talk it Over, which fared slightly better, stopping just shy of the top 10. Four more singles followed over the next three years before Frizzle Sizzle officially disbanded back in 1990 and its members went on to pursue solo careers in the entertainment industry.
But the now mature ladies have decided to come together once more for all fans attending the Eurovision in concert event on the 5th of April in Amsterdam. Hosts Sandra Reemer (three time entrant for the Netherlands in 1972, 1976 and 1979) and Cornald Maas will welcome revellers from across the continent and will be joined on stage by Conchita Wurst, Herciana Matmuja and Valentina Monetta who have confirmed their participation so far. Last year, more than 24 acts appeared on stage at Melkeweg, so expect a similar number this year, as the event just keeps on getting bigger and better. Tickets are on sale costing €30 and can be purchased through the Ticketmaster website. Stuck for something to do the first weekend in April? Make a trip to Amsterdam along with many others – you'll be awfully glad you did!
You might also like to read:
Links