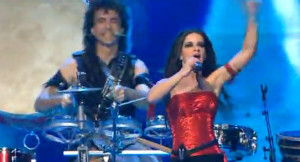 Today, it has been announced that Elitsa Todorova and Stoyan Yankulov will fly the Bulgarian flag once again. They are the most successful act in the Bulgarian Eurovision history reaching the 5th place in 2007, being the only Bulgarian representatives that ever made it to the final. Why not give them another try?
A few days after the celebration of the 2012 Eurovision Song Contest, the Bulgarian National Television decided to make an international survey to get a better entry for 2013. The answers from people who wanted to participate in the survey revealed, among other things, that they would prefer a song with ethnic elements with a combination of lyrics in Bulgarian and English language.
Today, Bulgarian broadcaster BNT has put an end to its quest to find an entry for the 2013 Eurovision Song Contest and it has been announced that the drumming duo consisting of Elitsa Todorova and Stoyan Yankulov will represent Bulgaria again six years after their previous participation. The decision has been made internally by an international committee including producers and music experts.
After the news broke, Elitsa has said that "it is an honour for us to show the hard work we have done, our music and our ideas at this prestigious European contest". She also thinks that this is a great platform for them and also for the image of their country and they will do their best to represent Bulgaria "with dignity and to be remembered as warriors of our time". She also stated that "Bulgarian music and our love for our roots and our folklore is the key to our success".
Meanwhile, Stoyan said that after their participation in 2007 he expected that sooner or later they will be invited again. "This is a great responsibility for us. I cannot guarantee that we will win, but we will do our best". He also hopes that all that people who voted for them six year ago will support them once again.
Elitsa and Stoyan will present five candidate songs and an expert committee, after listening to the five songs, will select three of them which will be officially presented in a live show called "Nedelya x 3" on the 17th of February.
The national final where the viewers and a five-member jury will pick the song that will represent Bulgaria in Malmö is scheduled to take place on the 3rd of March. The winning song will be the one which gets the largest number of points by the mix of jury and televoting.
Bulgaria has participated at the Eurovision Song Contest eight times since its debut in 2005, but it was only the duo Elitsa and Stoyan that brought success to the country and reached the final in 2007 finishing in the fifth spot.
You might also want to read:
In the video below you can watch Elitsa and Stoyan performing Water at the 2007 Eurovision Song Contest.