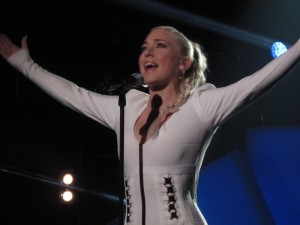 For Norwegians and Eurovision fans alike, a year is finally over. The evening has finally arrived where we will find out just who will be the successor of last year's winner, Tooji. There were some convincing performances earlier today that should make for compelling viewing and to make this a close race to the finish line.
Tonight's hosts Erik Solbakken and Jenny Skavlan welcome us to a packed Oslo Spektrum with an audience eager to get proceedings underway and to let the battle commence.  Just what will reach out of the screen and grab the audience's attention? Will teenage girls be swooning over boyish Gaute, or will viewers fall for the charms of the folk trio Fjellfolk? Perhaps heavy metal versus opera is what will wow viewers tonight or will the cool beauty of Margaret Berger win over the hearts of the nation? We're about to find out!
The songs:

Song 1: Paid My Way – Vidar Busk (L: Timothy Scott McConnell / M: Vidar Busk)
Veteran rocker Vidar Busk kicks things off with a cracking opener, asking people to kiss his ass. He should have gone easy on the foundation as this does not go well with the blue jacket he's wearing, but it does make the twinkle in his eye even stronger. A vibrant performance, complemented with a dazzling stage presentation of yellow LED screens and blue rays flashing in the background. The three dancers playing the saxophone and the two backing singers really do lift the stage presentation significantly. As in the rehearsals earlier, you really cannot fault Busk's vocals – and the crowd showed him their appreciation with rapturous applause. A real toe tapper to get things going.
Song 2: Ulvetuva – Fjellfolk (L & M: Trym Bjønnes)
Coming from the tiny village of Bykle with roughly 231 inhabitants, the mayor had managed to rally round, organising busloads of people from the village, 116 in total to take the trip to Oslo and cheer on their local heroes! Beautiful aqua green mirrors in the smoke covering the stage floor as the trio open their number. Ulvetuva is an interesting composition – with an almost tranquil intro before thumping drums set in. Good circular shots from the camera showed off Helga to a treat in her stunning stage outfit, the pale brown dress that we had seen earlier. Her voice fitted those of her two colleagues like hand in glove, making for some stunning vocal harmonies. An intriguing sound and an even more intriguing performance.
Song 3 : Bombo – Adelén (L & M: Ina Wroldsen / Quiz / Larossi)
The screams and cheers from the audience as Adelén's name was called out were almost deafening! Hopefully, this doesn't place too much pressure on the shoulders of this very young girl. The number opened with a touch of the Mediterranean with an accordion introduction. She convinced earlier today, with a marked improvement on previous performances and she continued the trend tonight with her enthusiastic performance. Shades of orange and yellow complemented her outfit, the brown short/top outfit, as she shimmied her way around stage, using the space well. The flames at the edge of the stage weren't needed, because Adelén wasmore than capable of raising the temperature in the hall considerably. She did however mess up vocally towards the end on a few crucial notes sounding quite out of breath, but would this cost her the chance of getting to the super final? A huge response from the hall, so they certainly didn't seem to mind!
Song 4:  Alone – Gromth feat. Emil Solli Tangen (L: Gromth /M: Emil Solli-Tangen / Sven Atle Kopperud) 
Emil Solli-Tangen certainly gives his older brother Didrik some fierce competition as he belts out the opening notes. Moving swiftly to the stage, where the mood darkens considerably, Emil stands back to back with the vocalist of the metal band Gromth as if they are about to have a sing-off. Smoke and flashing light effects make for a vibrant show. Where Emil struggled in the rehearsals vocally, he nailed this time aorund. Both singers stood at each end of the stage, before coming together to round off their number. Queue hefty pyro bursts of flame at the back of the stage and the visuals are complete. Still sounds unconvincing to this pair of ears, but metal does have its fans in Norway, and as seen with Keep of Kalessin, you can't rule out their chances.
Song 5 : Awake – Gaute Ormåsen (L : Gaute Ormåsen / Jesper Borgen / M: Fredrik Borgen)
Three dancers in black berets and strapless tops stand by in their white frames to open Gaute's number. LED screens alternate between yellow, orange and blues as Gaute stood there belting out his entry Awake. Just as convincing as in the rehearsals earlier on today, he turned in another stellar performance, only this time he managed to make plenty of eye contact when it mattered with the camera. This entry has plenty of drive, but his falsetto vocals may not be to everyone's taste. The only gripe with his entry is that it peters out rather quickly. His perfomance was met by screams from the audience. A number Gaute should be satisfied with, but can't see it making any serious challenge for the title.
Song 6 : Sweet & Heavy– Lucky Lips (L & M: Malin Pettersen)
Yeehah! Pink haired Malin opens Lucky Lips' Sweet & Heavy standing in a pink circle on stage. In contrast to today's rehearsal, Malin's vocals left a lot to be desired, sounding distincly off key for a great deal of the song. She danced around the stage, twirling the green lower part of her white flowery dress, clearly enjoying what she was doing. There were some pleasant enough harmonies in places in this very sweet, honest little tune, but unfortunately charm alone just wasn't strong enough to compete against what's on show tonight.
Song 7: Underground  – Datarock (L & M: Fredrik Saroea / Pål Myran-Håland)
The stage was then handed over to Datarock with the camera focusing on the dancers in their black catsuits and eye masks and the huge bulb panels which spelt out the name of the band in flashing letters. The red colour of the band's tracksuits was also reflected in the red colour of the backdrop.Vocalist Fredrik lacked punch in his vocals compared with earlier efforts. The dancers hopped around, as did the guitarist, releasing a huge energy from the stage. The infectious and catchy disco beat probably many a toe tapping tonight as people got into the party mode. Bonus points for the saxophone solo and no fewer than two key changes! A cool, different entry that should attract its share of votes. 
Song 8: I'm With You – Annsofi (L & M: Alexander Rybak)
Young Annsofi was up next, hoping to charm the socks off Norway with her Rybak penned entry. With flowing fiddle, this entry was quite reminiscent of the Corrs. To be such a young artist, she has such a grown up voice, and she sang her heart out tonight, with an engaging performance with plenty of intense looks into the camera. She looked so dainty with smoke at her feet, wearing her her baby blue satin dress. On the whole, a satisfactory vocal performance with a few duff notes here and there, but nothing too drastic. At times her voice almost drowned out the violins, but it was a captivating number. A simple staging with the four white frames in the background for a simple, sweet lovesong. 
Song 9: Feed You My Love– Margaret Berger (L & M: Karin Park / Robin Lynch / Niklas Olovson)
All eyes were on young miss Berger, who has taken Norway by storm since her victory two weeks ago. An industrial introduction before the thumping, driving rhythms get underway. Dramatic, flashing lights against blue LED screens set off her white dress a treat. She told us to feel the heat, as she kept on whipping the crowd into a frenzy with another fantastic performance. The temperature almost reached boiling point in Oslo Spektrum as she belted out what would have made a perfect James Bond theme. Norwegians have hade the chance of a potential winner of Eurovision handed to them on a platter but have turned it down time and time again – would they do it tonight? Margaret's performance was like a landslide, knocking everything over in its path; hopefully this is an indication of things to come when the televotes start pouring in later on tonight. 
Song 10 : I Love You Te Quiero – Sirkus Eliassen (L : Magnus Eliassen / Erik Eliassen / M: Magnus Eliassen)
The final song of the night is damned irritating! The two brothers deliver their declaration of love in a multitude of languages with a chorus that is more infectious than ebola. The duo start their routine by watching a TV from the sofa with popcorn in a mock living room, before the they turn to face the audience. They leapt around the flashing stage among a psychedelic display of green rays, red LED screens and four white bunnies. Given their previous success, it's impossible to say how this one will perform. Gold confetti fell from the sky as their number reached its climax. Vocally not one of the strongest efforts on show tonight, but they more than compensate for that by brimming over with enthusiasm. I'll stick my neck out here and say that Sirkus Eliassen will make the super final, but I'd love to be pleasantly suprised.
The show:

Jenny and Erik took to the stage with rapturous applause. Both hosts were elegantly attired, Erik sporting a modern purple coloured suit with complenting coloured shirt and Jenny wearing a plain, classy black dress. After a brief introduction, it's down to business. Each act is introduced by a brief clip with footage from their respective heats. After the fourth act, Erik went among the audience to present a lot of former participants sitting in the audience, including Bettan, Kate Gulbrandsen, Stella Mwangi and Knut Anders Sørum. Following Lucky Lips' performance, Jenny dived into the audience, and found the mothers of both Malin Pettersen and Adelén who were both given a short, light hearted interview. It has to be said that the couple have been criticised in the press for their apparent lack of stage presence and chemistry, but they put all such claims to shame tonight as they shone with fantastic scripting and buckets of humour!
Time for the interval act – where did the evening go? Loreen took to the stage, with a band of flash mob dancers. As in the rehearsal, she rose from below the stage on a feathered throne, dressed in black short sleeved jacket over a white blouse. She strode out on stage to give a mesmerizing, hypnotic performance of My Heart is Refusing Me with a hugely choreographed number. The sight of all the dancers standing in lines behind her, swaying from side to side was captivating. In familiar style, she fell to the floor, to deliver a highly some emotive and highly dramatic vocals.
Before handing over the Melodi Grand Prix crown, Tooji took to the stage to give a reprise of last year's winning entry Stay. The show and presentation was unchanged to the one shown in rehearsals with lots of cooing and aahing from the strong choir during the introduction. It certainly made for interesting listening and was a visual treat as Tooji was joined on stage with a whole troupe of dancers as flames leapt out behind him and the red images on the LED screens shone out over the stage. Before the result was announced, viewers were treated to a brief visit with host Erik Solbakken to Malmö, showing us what the host city has to offer.
The voting / result:
Lines were opened only once the tenth and final contender had performed their entry. Viewers had ten minutes to send in their votes and to choose the four acts which would battle it out in the super final. At the start of the super final, all votes cast were annulled, with viewers given a new time window of ten minutes in which to register their votes once again. Following the interval act by Loreen, a short thirty minute break ensued in order to collate all votes cast. The suspense became almost unbearable, as the moment edged closer to revealing the four finalists.  Erik and Jenny were back on stage, having changed outfits – Jenny now sporting a brown and silver dress with flower motif and Erik in a black blazer with bow tie. With all contenders gathered on stage, the hall erupted into rapture when Adelén was announced as the first super finalist! Once she had given us a reprise of Bombo, it was time to reveal the next act to make it through. Annsofi was the next succesful super finalist to be announced. The third name to emerge from one of the last two envelopes was Sirkus Eliassen, much to the delight of the audience. Nerves were frayed as we were waiting for the final name to be announced. Sweating palms and a raised pulse were probably quite widespread, and the scenes of relief in the press room were undescribable when Margaret Berger was the final name to be called out!
All votes that were previously cast were now wiped clean and we were given a new five minutes to vote once more while a recap of the four qualifiers was shown. In addition to the televotes, the host cities of Florø, Larvik and Steinkjer had a pot of votes to distribute. These would be combined with televotes announced from five areas of Norway. Margaret got the most votes from the first town jury. Margaret also received top marks from the Florø jury and was by now 3000 votes ahead of second placed Sirkus Eliassen. Larvik was the final host town to reveal its votes and Margaret yet again cruised to victory. Next up were the five regions to deliver their votes, which were announced by previous entrants of MGP. Carina Dahl delivered the first round of votes from Mid Norway. Yet again, Margaret received 11,000 votes more than the second placed act. Anina was the next act to present votes from Northern Norway. Unsurprisingly, the two brothers received the highest amount of votes from the region they come from. The third region to announce their votes was Western Norway, with Martin Blomvik announcing the results. Miss Berger again came out on top with 14.558 votes going her way. The votes from Southern Norway were next to be announcedby Shackles. Again,I Feed You My Love came out on top with 16.621 votes. There was one remaining jury left – the largest region left, Eastern Norway. They were announced by Julie Bergan. Margaret Berger swept the floor with the competition, cashing ina total of 102,032 votes. Adelén came second with a very respectable 59,414 votes, with Sirkus Eliassen coming third on 41,447 votes and Annsofi coming fourth with 31,226 votes.
Norway at the Eurovision Song Contest:
Often riled and rarely celebrated, it seemed to take forever for Norway to notch up their first win at the contest with the jubilant Bobbysocks and La Det Swinge in 1985. A second win came ten years later with the Norwegian-Irish new age project Secret Garden and Nocturne. Since its debut in 1960 coming a very respectable fourth with Nora Brockstedt and Voi Voi, Norway holds records for extreme opposites – it has received the dreaded nul points no fewer than four times, has come last an unimpressive eleven times, also a record. However, on the other end of the scale, Norway can also boast the biggest win in the history of the contest, with Alexander Rybak gaining 387 points for his entry Fairytale in 2009. With a total of 51 entries, and in the years where the present day voting system has been used, Norway have managed to make the top five five times, but has also brought to the contest such cult favourites as Sámiid Ædnan (1980), Lenge Leve Livet (1984) as well as fan favourites such as Mitt Liv (1987) and I Evighet (1996).
You might also like to read: