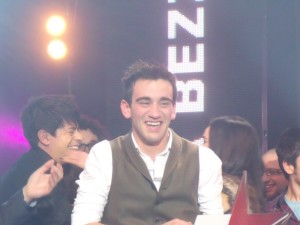 On Friday night, Malta narrowed a field of 24 songs down to 16, all vying to be the one to represent the island in the 2013 Eurovision Song Contest in May.  The final has now finished and Gianluca Bezzina has been chosen to fly the flag for the island nation in Malmö.  After a close race, Gianluca beat off competition from favourite Kevin Borg.
The Malta Eurosong national selection is a massive occasion and the two shows are the most popular TV shows of the year in the ratings.   Many familiar faces from previous Malta national finals competed against some up and coming popular singers.   The composers featured writers who have written songs for Malta in the past at Eurovision such as Phillip Vella, Gerard James Borg and Paul Giordimaina.  Also we had a song composed by Thomas G:son, the writer of Euphoria, last year's Eurovision winner.

The songs:
1. Scar – Superstar
The only band in the contest. this got the show off to a good upbeat start with the band seemingly enjoying themselves on the stage.
2. Dorothy Bezzina – Starting From The End
The first Bezzina sibling belted out this fine song which the crowd loved.  It is instant, and she has a lot of stage presence.  This song builds and builds and is in your head after hearing it. Dorothy has a fine voice. 
3. Corazon – My Strange Love
Corazon started at the piano and sold this ballad really well.  Maybe not the strongest song of the night but she had belief that it may do well.
4. Jessika – Ultraviolet
Flame-haired Jessika began this lively performance on the piano, before moving around the stage.  This song appeared to suit Jessika and she got a huge cheer at the end.
5. Gianni – Us Against The World
Gianni gave us a dose of soft rock after the upbeat song that had preceded it.  He was maybe ontop a bit of a loser with so many young performers in this show, but his experience in the music industry could pay dividends if this song were to do well.
6. Davinia – Betrayed
This song had Bond theme written all over it.  The soaring strings, the powerful vocals in the style of Adele.  It was a complete contrast to the previous song and could stand a chance.
7. Kevin Borg – Needing You
From the crowd's reaction Kevin was the hot favourite to win tonight's competition.  His classy ballad would win over everyone during its performance and we all knew that this would be in the running when the votes were called in.  He seemed comfident on stage and hit every note perfectly.
8. Richard Edwards – Fall Like Rome
Richard's first appearance on stage tonight was with the dramatic song that had a backdrop of Roman pillars.  He can easily sell a song and this was definitely one to watch.
9. Janice Debattista – Perfect Day
Janice gave us another strong power ballad which was full of emotion.  It really built and you could not help but like this song with its poignant lyric.
10. Deborah C – Love-O-Holic
After a couple of slower songs, Deborah upped the tempo with this instantly catchy number.  It was complete with a dance routine and juggling flames.  If Malta were to go for something with a dance vibe, this would be the one.  It was another one to watch.
11. Claudia Faniello – When It's Time
The ever-present Claudia was back with a song that opened in dramatic fashion.  It's midtempo and has the sound that would go down well anywhere.  She's tried to represent her country for several years so would she finally get the gig this year?
12. Gianluca Bezzina – Tomorrow
Our other Bezzina sibling sang a contrasting song to Claudia's. It was low key and instantly catchy and had a ukelele on stage.  It surprised everyone with the reaction it immediately got from the audience.  Suddenly we had a song that could beat Kevin Borg.
13. Chris Grech – Never Walk Away
Long-haired Chris really sold this midtempo song.  The fans in Malta really like it, and it could also score a surprise victory tonight.
14. Petra & Richard – Wonderful Today
Richard Edwards was back for the second time, this time duetting with Petra.  She performed most of the first verse before he joined her.  It started slowly but built towards the chorus. It was perhaps not the strongest entry of the night, but the two performers' combined fan bases made sure this had a big cheer.
15. Amber – In Control
This was another one of the pre-show favourites so could be up there at the end of the voting.  It was slightly jazzy, slightly swingy with a 1960s feel.  Her backing singers added to the overall effect and a song like this towards the end of the presentation will always be in with a chance.
16. Domenique – Too Little Too Late
Finally, a low-key and gentle ballad performed by Domenique. She is accompanied by a pianist who helps with this pleasant song.  It's maybe not a winner, but it's a great way to end a contest.

The show:
Presenters Elaine Saliba and Gordon Bonello took us through the show and did so very well.  There was some onscreen chemistry between them.  For one of the interval acts, TVM had flown over especially for the occasion one of the first acts to be selected for the Contest in Malmö.  Heilsarmee were here to perform their song You and me, and to give a little insight into the competition the winner tonight would be up against.  We also saw performances from last year's entrant Kurt Calleja and local act George & Paul.  They were dressed as Sergeant Pepper Beatles and gave us an upbeat song with a huge amount of dancers on stage.

The voting:
The voting is a combination of televoting and jury. In all, eight sets of votes would be called in – one for the televoting and one each for the seven jurors.  These jurors were in the entertainment industry and came from all over Europe.  Among them was Alexandr Kostadinov, who's been involved with Eurovision in his native Croatia for many years.
The televoting public also saw Kevin Borg as their favourite, earning him the maximum 12 points.  Gianluva Bezzina got the 10 points and Chris Grech the 8.  Then, one by one, the jurors gave their votes which led to an exciting two-horse race.  Keving Borg was doing well, picking up high votes from everyone, but one song was picking up the twelve points from across the board.  That was Tomorrow by Gianluca Bezzina. 
At the end of the last votes, Kevin could still win.  But as with most of the other jurors, the final 12 went to Gianluca Bezzina.  This proved a very popular result, and Malta could indeed do well in May. 
Malta at the Eurovision Song Contest

Malta's first appearance in the Eurovision Song Contest was in 1971 in Dublin.  Their record, however, was poor and after three attempts did not compete again till 1991.  Since 1991, Malta has achieved two second places, in 2002 (Ira Losco and Seventh wonder) and 2005 (Chiara and Angel).  Chiara herself is one of very few artists to have participated in their own right in three contests.  She also came third in 1998 with The one that I love and 22nd in 2009 with What if we.
in 2012 in Baku, Kurt Calleja made it to the final with This Is The Night, finishing 21st.
You may also wish to read: