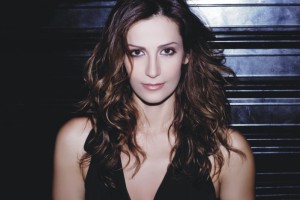 CyBC, the broadcaster from the island nation of Cyprus, has given us the name of their representative in Malmö: The bestselling artist Despina Olympiou who will sing in Greek language. This announcement puts an end to an internal selection marked by controversy and rumours.
The choice of the Cypriot representative for this year's Eurovision Song Contest has been a media saga full of rumours which announced the confirmation of an artist but later all of them were denied referring to all kinds of excuses as scheduling problems, contractual requirements or even a political conspiracy. But today, thankfully, finally the rumors are over and we have the official name of the candidate who will represent Cyprus in Malmö.
Despina Olympiou was born in Limassol, which is the second-largest city in Cyprus, and she studied piano and music theory at the Trinity College of London. She took her first steps into the professional music world twenty years ago working together with other Cypriot and Greek artists such as Michalis Hatzigiannis, who represented Cyprus at the 1998 Eurovision Song Contest, with whom she had a long professional and personal relationship.
Her first album called Ton Mation Sou I Kalimera was released in 2000 and from then most of her albums and songs have been very successful becoming one of the most important artists both in Greece and Cyprus. In 2012, she collaborated with Stereo Mike, 2011 Greek Eurovision representative alongside Loucas Yiorkas, on the hit single called Den s' afino Apo Ta Matia Mou. Her upcoming album, the seventh of her career, which will be entitled Mikra Mistika, is expected to be released in 2013.
About the song she will sing in Malmö, we already know the names of the authors and they are Andreas Giorgallis (who was the author of Mono Gia Mas, the song performed by Constantinos Christoforou at the 1996 Eurovision Song Contest) and Zinon Zintillis. It has been confirmed that it will be a ballad sung in Greek language and the live presentation of the song is expected this month.
Since the introduction of the semi-final system, the Mediterranean Island of Cyprus has only been present in the final Eurovision stage for four times including last year thanks to Ivi Adamou and her entry La La Love.
You might also want to read:

Below you can watch the videoclip of Den s' afino Apo Ta Matia Mou featuring Despina Olympiou and Stereo Mike.