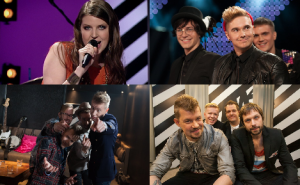 With two heats already over, and four of the spots in the final already occupied by strong contenders, the heat is on as the temperature rises with six acts battling it out for the last remaining spots in the final that are up for grabs. Eurovisionary tuned in to see just what was on offer from Helsinki tonight.
YLE have really pulled the stops out this year, with a national selection that has had an unparalleled level of quality in the entries submitted. With six acts lined up tonight, two will leave empty handed, while four acts will be awarded a place in the final on the 9th of February. But what will the general pubic go for? We're truly spoilt for choice tonight, with many strong entries on offer.
The songs: 
Song 1:  Last Panda – Saturday Night Forever (M & L: Henry Tikkanen / Aapo Immonen)    
The semi final kicks off with something of a bang as the curiously named Last Panda take to the stage with their pop-rock entry Saturday Night Forever. The song is a slice pf pure energy, combining simple guitar riffs with punchy lyrics and an irresistible party atmosphere. A very solid, spirited performance from Last Panda tonight, with the vocalist in fine voice. The group were kitted out in trendy alternative punk rock outfits, black being the principal colour and the singer sporting a baseball cap and a jacket with studded lapelles. Both guitarists leapt and bounded around the stage, which came alive with dazzling beams and a flashing backdrop, a wall of matrix effects on huge led screens. The guitar break was used to shout a message from the stage in Finnish by the lead singer. 
Song 2: Elina Orkoneva – He's Not My Man (M & L: Elina Orkoneva)    
Act number two is up and all eyes are on the pretty Elina as she shimmies away with the best of them with the wonderfully sassy He's Not My Man. The three minutes romp by as she pays tribute to many a Motown artist and oozes attitude. Wow! The sassy performance was also reflected in her choice of wardrobe – a black panama hat paired with a shimmering gold sequinned floor length dress that any of the Supremes would have sold their souls for! Elina sashayed around the stage with great command, giving such a soulful performance.  Primary colours of black, white and red striped in the background added to the retro sixties feel. Let's face it, this was well rehearsedand she totally nailed it; all the moves were in place, she even managed to fit in a soul growl which any diva would have been proud of. The jury seemed to love it and so did the audience. Good show!
Song 3 : Rautakoura – Ilmalaivalla (In a zeppellin) (M & L: Lauri Häme)  
A starker contrast could not be found tonight, as we move from sixties soul with a modern twist to the bluegrass effort Ilmalaivalla performed by quartet Rautakoura. Close your eyes picture bails of hay and practically smell the sawdust under your feet as the foursome perform their number – things don't come as authentic as this! All members were sporting checkered shirts under blazers tonight, with two of the members wearing caps. Their staging was the same basix black stage, this time lit up with moving red patterns. The song flowed well and the performance was enthusiastic, with quite a few of the jury members tapping their feet along. With a guitar, banjo and contrabass on stage, choreography options were naturally limited, but that still didn's stop the chemistry of the band from shining through. Rough and ready, with a real jolly, carefree vibe, you really couldn't fail to be seduced by this happy little ditty.
Song 4 : Great Wide North – Flags (M & L: Kaj Kiviniemi / M: Mika Kiviniemi)    
Echoes of the banjo can be heard in the next entry too, as Great Wide North bring their entry Flags to the stage. A driving beat, underpinned by the banjo and a hint of American rock meets country provide a sound that should go down very well indeed. Piercing yellow rays against a red and white backdrop provided their setting. The lead singer was in an original (aherm) outfit tonight, blue chequered pants and a denim jacket paired with white shirt and bow tie all topped off with a quiff not seen since the late fifties. Their perfomance rollicked along; a faultless vocal performance which projected extremely well from the stage, all the notes were hit, including the trickier higher ones. Some fantastic vocal harmonies and a really uplifting performance that almost lifted the roof off the venue!
Song 5 : Iina Salin – Last Night (M & L: Iina Salin / M: Tommi Gröhn)  
Iina Salin brings a powerful soul/club number to the semi in the shape of her stomper Last Night. Heavy beats ooze with funk and attitude as she purrs and growls with the best of them. But something's not right here: the whole package just looks odd., but in a good way. A whiter than white Finn, with a truly black sounding voice that would rival the likes of Anastacia! A predominantly yellow background again with white downlights were the primary colours for Iina's number. She was supported by three musicians, a keyboardist, a bass gituarist, and a drummer who really looked as if they were enjoying themselves. She slinked and slentered back and forth in a thigh high black sequinned sleeveless dress, with short, blonde curls. Her vocal performance was on the whole extremely polished, although not as strong as on the studio version, sounding a little strained in places. But the girl certainly had a warm, inviting voice and had the whole house rocking along to her soulful groove. A feisty little number!
Song 6 : Lucy Was Driving – Dancing All Around The Universe (M: Lucy Was Driving / L: Otso Koskelo)
Tonight's semi final is brought to an extremely pleasant finish (no pun intended) by bizarrely named band Lucy Was Driving, performing the equally bizarrely titled Dancing All Around The Universe. This is catchy stuff, with some rather fetching guitar harmonies and a punchy chorus that viewers should lap up. Another red and black background for the final performance of the evening. The lead vocalist wore a blue leather jacket, with the other members kitted out in various variations on a black theme. Two guitarist interacted well on stage, with all members waving and clapping as the song kicked into it's final run through of the chorus. The vocalist slipped up a few times, bombing on some of the notes, but the vibrant performance made for an unbeatable atmopshere and so these minor faults went largely unnoticed. They were given some mixed feedback from the jury as Aija's first comments were met with quite large boos from the audience.
The show:
Hosts Ile Uusivuori and Anne Lainto welcomed us to the packed Circus Club venue in Helsinki where we joined an extremely enthusiastic audience. Both hosts were elegantly attired in complementing outfits; Ile sporting a very sharp black velvet blazer with trim and white shirt with black tie, and Marja wearing a classy black dress with intricately woven detail on the shoulder straps and showing just the right amount of cleavage! She was also sporting a pair of the biggest earrings not seen since Bebi Doll's performance in 1991!
All acts were introduced with short postcards showing each act in their loal environment. As in previous shows, a jury consisting of four members – Toni Wirtanen, Aija Puurtinen, Tomi Saarinen and Redrama oversaw proceedings and were on hand to give their opinions on the acts on show tonight. Once all acts had performed, a recap gave us the chance to review all performances once more. A male duo then appeared on stage, one dressed in medieval trubadour costume the other wearing some kind of combat costume topped by a chain mail hood, and carrying a bow and the other carrying a lute! Once the hosts had said their piece, the twosome took us down from the stage and into the venue to take in the vibe  and the ambience, in the thick of things among audience members. After a brief break for the news, we were welcomed back by ecstatic cheers from the crowd.
The voting / result:
First up were the jury members announcing their votes. Points were divided among the performing acts with Great Wide North geting Toni Wirtanen's top score of ten points. Next up to deliver their scores was Aija Puurtinen with Great Wide North once again bagging her top score of ten points. Tomi Saarinen was the next jury member to award his points, and his fat ten points once again went to a jubilant foursome who had already received two lots of ten points. Redrama was the final jury member to show us how he had voted, with his top score going yet again to the unbeatable foursome. By the time the jury's votes were cast, the standing was as follows:
Great Wide North 40 points, Elina Orkoneva with 32 points, Last Panda, Iina Salin and Rautakoura all on 24 points and Lucy Was Driving trailing with 22 points. With three acts tying on 24 points, it was clear that votes from the audience would be decisive here to decide the outcome.
Before the public votes were added to the jury votes to give us a final result, the group Elonkerjuu providing us with a musical interlude. 
And now, for the serious matter. what a nail biting few minutes until the final results were announced. Acts were invited back onto the stage in pairs. First out were Great White North and Last Panda in what looked like a face off. Both acts had managed to get to the final. Next up was Elina Orkoneva and Iina Salin, with Elina snapping her final spot. Last out were Lucy Was Driving and Rautakoura, where the former seized the very last place!
The four qualifiers from the semi final are:
– Great White North
– Last Panda
–  Elina Orkoneva
– Lucy Was Driving
Finland at the Eurovision Song Contest:
Finland is one of the eldest members of the Eurovision family, having competed a total of 46 times. Rarely bothering the top ten with their entries, the Finns however kept on persevering and their grit finally paid off in 2006, when Lordi finally made many a Finnish dream come true, with their novelty stage show and the rock number Hard Rock Hallelujah. Finland has entered some truly bizarre songs (remember Pave's Yamma Yamma from 1992 and Nuku Pommiin by Kojo in 1982 anyone?), others have gone on to become massive fan favourites and Finnish evergreens, such as Vicky Rosti in 1987, finishing 15th with Sata Salamaa or Sonja Lumme and her strong contender from 1985 Eläköön Elämä. Finland have finished in the top ten eight times, and have come last nine times, so they certainly don't do things by halves. Following Lordi's victory, a new trend started, with the Finns sending rock to Eurovision – rock always goes down well in Finland, but have in later years favoured quiet, understated ballads, making it to the finals five times since semi finals were introduced back in 2004.
You might also like to read: