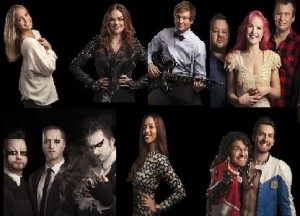 Saturday sees the last semi final from Larvik, before the grand final in Oslo Spektrum the following Saturday. Will the brothers in Sirkus Eliassen manage to mobilize all of the fans that bought their last few hits? Or will the goth group Gothtastic pull out all the stops and give us a spectacular stage show that will have the votes pouring in?  
If truth be told, all of the acts have the potential to reach the final in each their own way. It's anybody's guess as to who will nab one of the three remaining spots in the final from these seven acts.  Eurovisionary would like to invite you to get to know the seven hopefuls who we'll see on stage in Larvik this Saturday a little better.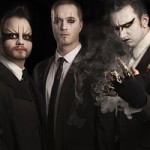 Song 1 : Utopia – Gothminister (L & M: Bjørn Alexander Brem)
The quartet Gothminister was founded in 1999 and consists of frontman Gothminister (Bjørn Alexander Brem) on vocals, Chris Dead (Christian Svendsen) on drums, Icarus (Glenn Nilsen) on guitar and Turbo Natas (Ketil Eggum) also on guitar. Their brand of music is best described as gothic metal with an industrial edge. Their breakthrough came in 2003, following an appearance at the music festival By:larm. It didn't take long before the band was making a name for itself in Europe, particularly in The Netherlands and Germany, where they have had a string of top ten hits on the alternative charts since their debut single Angel, released in 2002. They have released no fewer than four albums and eight singles and EPs during the course of their career, with their latest album, Anima Inferna released in 2011 reaching #6 on the German alternative album charts.
Their popularity has taken them across the globe, touring in more than 28 countries, including a headlining tour in the USA in 2007. They have performed in front of crowds as large as 15,000 as part of the M'era Luna Festival in Germany. The band are renowned for their theatrical stage act, which often features numerous pyrotechnic effects and fantasy figures. Besides making their debut at Melodi Grand Prix this year will also see the release of their horror-concert movie Utopia, a unique crossover film, mixing a music concert with a feature movie, telling of Gothminister's struggle against inner demons.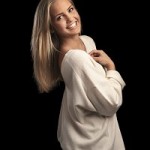 Song 2 : Bombo – Adelén (L & M: Ina Wroldsen / Quiz / Larossi)
Fresh faced Adelén is the youngest contender in this year's selection, aged only 16. The youngster hails from Horten and has a Spanish mother and Norwegian father, a background which is perfectly suited to her entry Bombo, a pop number with clear Spanish influences. What the budding young artist may lack in experience, she certainly makes up for in backing, with a team whose clients appear to be a who's who list from the music world.
Ina Wroldsen, a talented young songwriter was born in Sandefjord 1984 and has spent the last few years in London, where her career is based. She has expereienced a meteoric success, writing material for the likes of The Saturdays, Alexandra Burke, Britney Spears and One Direction. She was also behind the single released by the recent X-Factor winner in the UK, giving a number one hit. Wroldsen has teamed up with the Swedish duo Quizz and Larossi to write Bombo. As with Wroldsen, the duo also have an enviable CV, having written for the likes of Diana Ross, Il Divo and Westlife.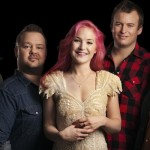 1Song 3 : Sweet & Heavy– Lucky Lips (L & M: Malin Pettersen)
Lucky Lips are an up and coming band that have played together for over five years. Malin Pettersen is the striking, pink-haired vocalist and she is accompanied by Stian Jørgen Sveen on guitars and backing vocals, Erlend Støylen Hølland on the contrabass and backings, Even Reinsfelt Krogh on the banjo, and Pål Emil Berg on percussion.
During the course of their career, the band have released two albums, Life Without Parole, which was released in 2011 and Mountain Dust, which came the following year and received glowing reviews. Lucky Lips have toured extensively, both at home and abroad, and they will feature in the By:larm festival in Oslo after their participation at Melodi Grand Prix. They have made quite a name for themselves abroad, after having won the prize for "Best European Bluesgrass Band" in the Netherlands in 2011.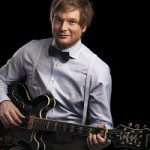 Song 4 : Awake – Gaute Ormåsen (L : Gaute Ormåsen / Jesper Borgen / M: Fredrik Borgen)
Gaute Ormåsen was born in 1983 in Brumunddal. He first came to the attention of many after having taken part in Idol in 2003, where he came second. His music career really took off following the exposure, with a #1 single, Chasing Rainbows and a #2 album New Kid In Town. He took a long break away from the spotlight after the success to hone his talents and didn't reappear until three years later with his album G for Gaute in 2006. By then he had switched to writing and recording almost exclusively in Norwegian.
A stint starring in a popular Norwegian soap opera, Hotel Cæsar, followed in 2008 and the same year he released his third studio album, Drømmesang (Dreamsong). 2010 saw Ormåsen make his debut at Melodi Grand Prix with Synk Eller Svøm (Sink or Swim) which took him to the Siste Sjansen round. His fourth album Oss Imellom (Between You and Me) appeared at the same time. He released his latest album and single last year.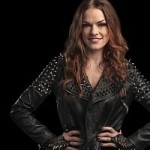 Song 5 : The Young– Anina (L & M: Anine Stang / Mattias Frändä / Johan Åsgärde)
Anina was born Anine Victoria Stang in Oslo in 1985. She always knew she wanted a career in the music industry and so her passion took her to Sweden, where she graduated from the songwriting academy Musikmakarna in 2007. Later that year, her ambitions took her stateside, to Los Angeles to be more precise, where she spent three years developing her talents and gaining both exposure and experience. She made the move back to her native Norway in 2010, when she managed to clinch a deal with the Univeral Music record label. Three singles followed – Trying You On, with a video that got celebrity blogger Perez Hilton extremely hot under the collar, followed by the singles Dinnertime and Christmascard.
2011 was a year filled with reality TV participation for aspiring artist Stang. She made appearances in no fewer than five series, including the hit TV music series Det Store Korslaget, keeping herself firmly in the spotlight. The same year, she released her next single, Dominoes, which brought her further acclaim, nominated for three prizes overseas, and winning two prizes at the L.A. Movie awards last year. She currently resides in Stockholm, Sweden where she is working on new material due to be released on her own record label, Electric Stardust. A taster of her new work appeared last year in the shape of single release Brain Break.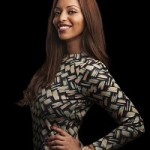 Song 6 : Not Afraid –  Winta (L : Winta / Beyond 51 / M:Beyond 51)
Winta is another artist who has slowly but surely built herself a considerable career in her native Norway as a soul and r'n'b singer. She was born in Oslo in 1984 as Winta Efrem Negassi to Eritrean parents. Her first foray into the music industry came aged just 18, with the release of her debut single, Emotions in 2002. She has amassed a total of 15 singles and 2 albums during her career. Her debut album, First, was released in 2004, with regular single releases following until 2007. To further her career and education, the starlet moved to London and returned to the limelight in 2010 with the single Nails on a Chalkboard. Six subsequent singles were released during the next two years, including the single and album My Life in 2011 and her latest single No Last Regrets which appeared last year.
The team behind Winta's entry Not Afraid are none other than Beyond51, who have tasted success previously with the monster hit Haba Haba which took Stella Mwangi to the Eurovision Song Contest in 2011 and the song Crush by former MGP junior winner Malin, which made the finals of Melodi Grand Prix last year.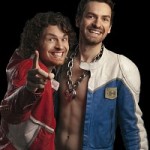 Song 7 : I Love You Te Quiero – Sirkus Eliassen (L : Magnus Eliassen / Erik Eliassen / M: Magnus Eliassen)
Sirkus Eliassen are two brothers, Magnus and Erik Eliassen who have experienced nothing short of an explosive rise to fame. The duo hail from Northern Norway, Bodø to be precise, and their songs are sung in their local dialect. Their first encounter with the music industry came in 2003, with thre release of the Magnetisk Nord EP. Fast forward seven years later and Erik enjoys a stint in Jamaica, where he is taken under the wing of a local music producer.
In 2011, the duo took the Norwegian music scene by storm with the release of the single Hjem Til Dæ (Back To Yours), racking up sales in excess of 50,000. A follow up single, Opp Ned Bak Frem (Upside Down, Back to Front) was released that same year, also achieving enviable sales, selling to double platinum. In early 2012 they experienced what it was like to have a monster hit on their hands with the single Æ Vil Bare Dans ( I Just Wanna Dance), which spent an astounding 28 weeks on the charts. Their collaboration with DJ Ben Kinx sold ten times platinum, shifting a staggering 100,000 copies in a country with only 5 million inhabitants!
You might also like to read: