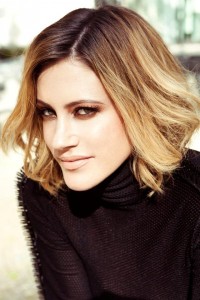 Today the Slovenian broadcaster RTVSLO announced that Hannah will be representing the country at the 2013 Eurovision Song Contest in Malmö. Her song will be revealed on February 14th. Five composers have submitted possible entries for her.
Hannah Mancini will be the Slovenian representative at the 2013 Eurovision Song Contest in Malmö. This announcement was made by the broadcaster RTVSLO today. Her song for Malmö will be presented on February 14th. Five composer have submitted possible entries.
Hannah is originally from the USA, but has been living in Slovenia for the past six years. In 2011 she already took part the Slovenian selection for the Eurovision Song Contest together with Sylvain and Mike Vale and the song Ti si tisti.
Throughout her musical career Hannah has performed on stages all around the world like the Radio City Music Hall and the Universal Amphitheatre. She has worked together on several Disney films with music producers like Todd Chapmann and Lerry Klein.
Slovenia will perform during the first half of the first semi-final on May 14th. Last year the country failed to qualify for the final with Eva Boto coming only 17th in her semi-final with Verjamem. The last time Slovenia reached a Eurovision final was in 2011 when Maja Keuc finished 13th with No one.
You might also like to read: