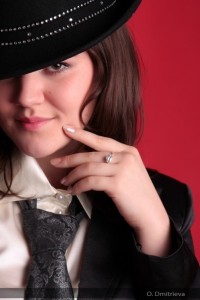 Despite holding a national final last year and coming second with the Buranovskiye Babushki, Russian broadcaster Channel One has opted this year to choose their entry by means of an internal selection, presenting an intriguing name this morning: Dina Garipova.
Did Channel One opt this year for an internal selection because they are feeling the pinch just like almost everywhere else in Europe? Or were they simply afraid of having another upset of such huge proportions, when the grannies managed to usurpe former silver and gold medallist Dima Bilan and win the rights to represent their country last year? Whatever the decision, Dina Garipova is surely up to the task of representing the largest country in the Eurovision family this year.
Garipova's is a true comet in the Russian entertainment business after she emerged as winner of the reality talent show The Voice (Голос), with Dima Bilan as one of the four coaches. This year's Russian entrant hails originally from Zelenodolsk in Tartarstan. The 22 year old has been fascinated by music since early childhood, after watching her older brother Bulat perform. Her passion led her to enter more and more competitions and festivals such as The Golden Microphone, Constellation-Yoldyzlyk, Breakthrough and Moscow-Transit eventually leading to her convincing victory in The Voice.
Russia are looking to host country Sweden for assistance this year in making a hit for Eurovision, drafting in Swedish producers Gabriel Alares and Joakim Björnberg to work alongside Russian rock-pop artist Leonid Gutkin. The result is What If, which, according to Dina's website will be made available there shortly together with concert information and a promotional video.  You can hear her version of fan favourite and 2008 Armenian entrant Sirusho's Qele Qele below.
You might also like to read: