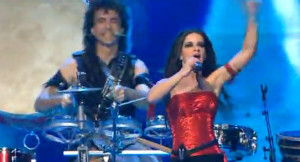 Today Elitsa and Stoyan presented the three songs shortlisted by the broadcaster BNT that will take part in the song selection show scheduled to take place on the 3rd of March where it will be decided, which one of them is the Bulgarian Eurovision entry for 2013.
Elitsa Todorova and Stoyan Yankulov have been internally selected and a week ago their names were officially confirmed as the Bulgarian representatives once again after having represented the country in 2007.
This afternoon, on the BNT's live show called "Nedelya x 3" they have sung in public for the first time the three candidate songs that they will perform again in the national final where the audience and a jury will pick the song they will perform in Malmö. The audience will be able to listen to the songs since they will be aired on various radio stations and the videos will be broadcast repeatedly in the coming days on BNT's channel.

The songs are:
Dzupai Libe Boso (written by Elitsa Todorova and Tsvetelin Grudaiski).
It features two more artists, the rapper Jahmmi and the beatboxing specialist Skiller. This song has some nice keyboard touches and some reggae smooth overtones. They also adopt a vocal style somewhat inspired in reggae but the song has their own style and substance.
Kismet (written by Elitsa Todorova and Bistrishkite Babi).
The song starts with Stoyan playing drums and a couple of female backing singers who with their harmonized voices are the real protagonists in the first thirty seconds of the performance until Elitsa joins them. It includes some ethnic touches with the sound of the bagpipe that melds the rhythm with a hypnotic effect. Of course there is a certain repetition, but the arrangements of each section of the song have a certain variation within the same musical concept. It is an interesting composition.
Samo Shampioni (written by Elitsa Todorova and Kristian Talev).
This one is an upbeat song whose performance is quite a exhibition of their talent for traditional percussion played in a most non-traditional way. This song also features the sound of the bagpipe and some electronic elements and techno influences. The result is fascinating.
You can listen to them in the videos below: