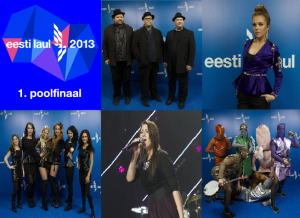 Tere õhtust, Eesti! The attention of the nation was focused on the capital Tallinn tonight, as the first five finalists were selected for Eesti Laul 2013. Ten hopefuls fought for a place in the final which will take place at the Nokia Concert Hall in Tallinn on the 3rd of March.
Tonight's first semi really was an excercise in survival of the fittest, with only a 50% chance of making it to the grand final in two weeks time. Estonia has unfortunately had rather mixed results at Eurovision lately, a far cry from their glory days from 1996-2002. The smallest of the Baltic countries seems to be back on the right track however, making the final in three of four attempts following the introduction of the Eesti Laul format back in 2009. Eager to keep up the trend, broadcaster ERR has a varied line up on show tonight with some truly eclectic acts hoping to be among the lucky five finalists.
Tonight's semi final has a slight whiff of controversy about it, with the first act Armastus taking the place of vocalist Tauri, who was disqualified by ERR in December amid claims of plagiarism surrounding his entry Miljoni Roosiga Kaardi Sul Saadan. Tonight's contenders is a mixture of artists representing various genres, with over half of the competitors tonight having taken the first steps of their careers from the talent show Eesti Otsib Superstaari. Glorified karaoke singers or bona fide performers worth their salt? All ten acts will soon get to prove themselves once they take to the stage.
The songs:  (You can read more about the participants in our Get To Know article)
Song 1: Young Girl – Armastus (L & M: Jaan Tätte junior / Taavi Tulev)
The first act to take to the stage is Armastus, with their slightly surreal, floating, dreamlike entry Young Girl. It has bags of originality, but their vocals sound rather menacing in places and sung over a light, tripping guitar make for an extremely wacky combination indeed. The duo brought a whole new meaning to flower power, wearing pale blue and green shirts, their guitars festooned with plastic flowers. A dancer in a retro shirt stood to the side of the stage with moves you would normally see at a junior school concert. Although both were in fine voices, with no choreography or gimmicks to speak off, the harsh brutality of the song was all too evident. Not the best of openers, but seemed to go down very well with the audience.
Song 2: Moving To Mmm – Marilyn Jurman (L & M: Marilyn Jurman / Karl Kanter)
Next up is one of the bigger names in tonight's semi with an uptempo pop tune, with the bizarre title Moving to Mmm. Backed by a keyboardist, two guitarists and a drummer, Marilyn took centre stage sporting washed out denim hot pants and a black top, looking as if she hadn't been out of bed for very long. Somewhat bland, the song threatens to break loose but never quite makes it. This paired with weak vocals to say the least results in a mediocre performance that no amount of bounding around the stage towards the end of the number will change. Listing countries and places does not an entry make. Extra points for the inclusion of a trumpet, though.
Song 3: Meiecundimees Üks Korsakov Läks Eile Lätti – Winny Puhh (L & M: Silver Lepaste / Indrek Vaheoja)
The bizarre takes a turn for the worst, as the next act, Winny Puhh take to the stage. You can't really call this a song, or the words screeched vocals. They get the prize for most original outfits of the night though, which, in green, metallic, brown and orange latex looked as if they were leftovers from some wacky sci-fi movie, with what looked like a large inflatable penis wandering around the stage. The lead "singer" looked as though he was wearing a dead fox around his wrist. Highly repetitive, it's hard to figure out why ERR included them in this first semi for reasons other than shock value. Seriously, this almost made my ears bleed and had me reaching for the mute button. This was the first time tonight that ERR had done any form of effects with the stage, dimming the lights and introducing flashing white rays.To say this was unique doesn't even do it justice.
Song 4: Taevas Valgeks Läeb – Sarah (L & M: Sirli Hiius / Mathura)
Ah, a welcome return to normality restored as Sarah strode on stage to perform her acoustic ballad in Estonian Taevas Valgeks Läeb, with what could be claimed to be one of the more distinctive voices on show tonight. she looked a treat in a long, sapphire blue dress with ornate necklace, the colours tying in well with the water rippling effect projected onto the stage. The song is extremely well crafted and builds well, as the piano led intro flows into guitar heavy choruses. A confident performance, with acceptable vocals and lots of circling camera motions that must have made viewers dizzy. Plenty of dramatic gesturing from Sarah, she came across as considering herself as a bit of a sex kitten. Not a bad effort. 
Song 5: Ring The Alarm –  Teele & Tuuli & Ula (L & M: Priit Uustulnd / Teele Viira)
Teele & Tuuli are the fifth act out tonight with their Ring The Alarm. In theory it has a lot of potential, with the same levels of sassiness as Russian Serebro a few years ago, as they snarl and exalting themselves. Sadly however, the duo are nowhere near – the song has some distinctive qualities to it, but the little melody that is present becomes extremely tedious and there really is no need to resort to expletives in the chorus. Black and gold are their outfit colours for the evening, with fur trimmed arms, and teeny tiny skirts. They are backed bytwo female drummers and twi female backing singers at each side of the stage. The stage is suddenly bathed in purples with flashing green lights. Teele & Tuuli performed well together, pouting and posing amidst the smoke on stage. It came across a lot better than the recorded version, with a very energetic performance, and the audience loved it. By far the biggest reception of the night.
Song 6: Follow Me – Rosanna Lints (L & M: Rolf Roosalu / Kristel Aaslaid / Mattias Hapsal)
Rosanna Lints brings one of the strongest voices out as her weapon tonight with her soulful number Follow Me. Electronica fused with hand clapping erupts into a chorus of pure, unadulterated pop with a melody you can actually hum along to. She walked out on stage in a flowing, fetching beige number. Backed by three male dancers in black avantgarde outfits, aas well as two female backing singers, she wasted no time in exerting her pipes to their full extent. The dancers threw themselves around the stage behind her with great gusto and a breathtaking performance. A catchy enough tune, her voice carried well from the stage and was definitely one of the ones with most substance heard so far.
Song 7: Päästke Noored Hinged – Grete Paia (L & M: Grete Paia / Sven Lõhmus)
Grete Paia is another aspiring singer choosing to perform in Estonian tonight. A darkened studio comes alive with shimmering blue light effects and the audience clutching red lanterns. Grete sits at an irridescent synthesizer grand, dressed in purple with silver detail. Päästke Noored Hinged is something of a musical Kinder surprise, with elements of three songs thrown into one. What promises to be a ballad with a piano opening soon evolves into a much rockier number, with thumping rhythms and electric guitars, before rhythms change and we suddeny find ourselves in clubland. Not the most immediate chorus on offer tonight, but by no means the worst and top marks for originality.The vocals given by Grete tonight were patchy to say the least. She got up from the piano and walked towards the fron of the stage iin an effort to reach out to the audience and seemed to be enjoying herself. Her performance was bafflingly met with screams, she must have had her fan club in the house tonight.
Song 8: Enough – Elina Born (L & M: Stig Rästa / Fred Krieger)
Vocally somewhere in between Pink and Natasha Bedingfield, young Elina is next in line to perform for us her emotive appeal about a failing relationship. Enough has a definite Swedish sound to it, which is not a bad thing – jangling guitars lead into an infectious chorus and the overall result is extremely melodic. Purple is her signature colour on stage, complementing her outfit nicely, which consisted of a long, burgundy taffeta skirt and lack top. She was accompanied by rwo backing singers, two guitarists and a drummer on stage. Her performance was one of the more inspired this evening, despite shaky vocals in places. She had enormous stage presence, and sinking to the floor at the end of her number added intensity to the performance.
Song 9: Suuda Öelda Ei – Kõrsikud (L & M: Andrus Albrecht / Alari Piispea / Lauri Liivak / Jaan Pehk)
The trio Kõrsikud's entry Suuda Öelda Ei is certainly easier on the ear than they are on the eye. Slightly folksy, their entry is brimming with the sound of summer, exactly what the doctor ordered for a cold night in Tallinn. They took to the orange backlit stage to many cheers from the audience. Dressed in what can best be described as casual, the trip played the guitar, eukelele, accordion and xylophone. This has a retro vibe to it in places and a pleasant enough chorus, their voices working very well together.  Decidely older than the rest of the participants, the trio gave an accomplished performance which certainly had me tapping my feet in time to their entry. Another big reaction from the audience to this one. 
Song 10: The Missing Thing – Anisa (L & M: Alar Kotkas / Pearu Paulus / Ilmar Laisaar / Jana Hallas)
A stomping dance number to round of proceedings comes in the form of Anisa with her Missing Thing, and that's exactly what the semi line up has been lacking up until now, a bona fide dance number. A catchy uh-oh, uh-oh chorus doesn't turn too inane, instead combining nicely with a competent melody and driving beat. Anisa shimmied her way around the stage wearing a yellow shoulderless top paired with a vibrant skirt, set off even more by the blacks and yellows of the stage backdrop. She was accompanied by two female backing singers, a keyboardist and a drummer. Hers was one of the more perfected vocal prestations of the evening, flrting heavily with the camera and looking very much at home on stage. Quite a simple, stark arrangement, which combined with it's start number, should be enough to make this stick out. 
The show:
All ten acts came into the studio and were introduced to much applause before we mt with our host for the evening, the rather boyish Anu Välba, wearing a shocking pink jacket over a black top with mirrored earrings. there were some bizarre men dressed in white gimp suits and crash helmets scattered around the studio. Each act was introduced by their name and the title of their song being sung in a wierd jingle. Once finished, they reentered the green room area and were given a short interview by Anu. After song five, the ten strong jury were introduced. They would make up half of the result tonight.The interval act featurd Maarja Liis Ilus singing a rather out of tune prerecorded spoof version of her 1997 entry Keelatuud Maa.
The voting:
Lines were opened as soon as the final entry had been performed, with viewers given fifteen minutes to cast their vote. Jury results were still announced while the televoting was ongoing. The jury results were combined and the following five acts were voted to the final by the jury:
Kõrsikud
Elina Born
Winni Puhh
Teele & Tuuli & Ula
Armastus
Once the public vote was combined with that of the jury, would the chosen five be greatly altered? Would the taste of the general public differ greatly from those who claim to be in the know? Before the revelation, we were given a sneak peek at next week's ten semi finalists. Following the combination of both jury and public votes, the following five took their places in the final of Eesti Laul in two week's time:
Grete Paia
Kõrsikud
Teele & Tuuli & Ula
Winni Puhh
Elina Born
Estonia at the Eurovision Song Contest :
Estonia may be a rather recent addition to the Eurovision family and one
of it's smallest members, but what it lacks in size, it more than makes
up for in quality. An impressive track record includes eighteen
participations, eight top ten placings and one win. They made their
debut in 1994 with the rather underwhelming Nagu Merelaine by Silvi Vrait,
failing to set the scoreboard alight. It was back to the drawing board
for Estonia and they seemed to have cracked it the following year with Kaelakee Hääl by Maarja-Liis Ilus and Ivo Linna managing the top five. A string of decent placings followed, including fan favourites such as Ines' Once In A Lifetime in 2000 and Sahlene's Runaway in 2002. The small Baltic nation went all the way in 2001, bringing home their only victory so far with the party song Everbody, sung by Dave Benton and Tanel Padar. A drought with successively low results followed until 2009, when Rändajad and Urban Symphony finally brought Estonia back into the top ten again, placing sixth. This feat was also replicated by last year's entrant Ott Lepland with the emotive entry, Kuula.