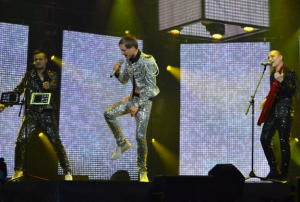 The Latvian national final in Ventspils has just concluded, with PeR beating off the competition to sing for their country in May with the song Here we go.
Latvia's national final again came from the Baltic Sea resort of Ventspils.  Two semi-finals had determined the 12 finalists we would see tonight.  Some familar names were among the writers, and one act would perform two songs.  
1. Niko – One (writers Johnny Andersson, Michael James Down, Hanif Sabzevari Hitmanic)
Niko was dressed in a dark suit with white shirt and black twi, and accompanied on stage by three make dancers in black baseball caps.  It had echoes of recent songs by Eric Saade and Tooji.  During the song two large drums appeared which he proceeded to hit.  It was very busy and maybe just a little bit out of tune.  There also seemed to be slight problems with the microphone levels.  But being on first is no easy ride and he got a big cheer.
2. Dāvids Kalandija & Dināra – Fool In Love (writers Jonas Gladnikoff, Camilla Gottschalck, Christina Schilling, Liza Petersen)
Dinara sang first, and was in a long salmon pink dress.  Davids then joined her.  He was in a white suit.  This was a far better performance and they were very assured.  There also seemed chemistry between them, even they were at opposite ends of the stage.  There was even a wind machine for the final chorus.  This could do very well when the votes start to come in.  
3. Antra Stafecka – When You Are With Me (writers Schillebeeckx Raph, Verresen Karen, RF Smith Bruce)
The pace changed with this song, and it was a lot darker, more in the style of Fever by xxx.  Antra paerformed this sultry number dressed in black and white.  She had to cope with an interesting dance routine but managed to keep it all together.  It was not your usual song and may be fiferent enough to get some votes.  
4. PeR – Sad Trumpet (writers Ralfs Eilands, Arturas Burke)
PER are a male duo and performed their first song sat on two stools.  It was simply staged with a vocal and a hand-rubbing technique not seen very often. The 'sad' trumpet in the title kicked in during the chorus and really suited the song.  It ended slightly anticlimactically so ti remains to be seen whether Latvia 'got' it.
5. Pieneņu Vīns – The One (writers Jurijs Koškins, Evilena Protektore)
After a short ad break, we were back with our first band of the night.  Led by a female lead singer, this had a very powerful chorus.  It was very assured and didn't linger on the chorus for too long.  The vocal was clear, the accent was neutral and generally hit all the right buttons.  This would do very well, judging by the big cheer it received at the end.
6. Marta Ritova – I Am Who I Am (writer Marta Ritova)
Marta accompanied herself at an illuminated upright piano for this upbeat song.  She was in a long black dress for the first part of the song, beffore leaving it to move to the front of the stage.  She sold her self-composed song very well. It was another song that ended very suddenly.
7. Liene Candy – Higher And Higher (writer Christof Straub)
Blonde Liene was in a long yellow dress, backed by a dark stage.  So the immediate effect was very striking.  This was another solid performance and more than the others this was a song you could see on stage in Malmö.  This did get the biggest round of applause so far.  Most definitely a contender.
8. Samanta Tīna – I Need A Hero (writers Johnny Sanchez, Michael James Down, Marcus Fernell, Beatrice Eriksson)
A ballad followed next, performed by Samanta in a long white dress.  She was lucky to have a song that she could belt out and use her full vocal range.  It built well, and the dry ice on the stage added to the effect.  It surprisingly didn't have a key change that you may have expected from a song like this, and ended powerfully.
9. Ieva Sutugova – Cold Heart (writers Jānis Miltiņš, Ieva Sutugova)
This had a very 1920s vibe, possibly out of something like Bugsy Malone.  Red-clad Ieva was accompanied by a four-piece band – piano, double bass, drums and guitar.  It was a foot-tapperbut maybe not quite a winner.  It was different which was good to see.
10. Headline – Love (writers Mārcis Rēdmanis, Lauris Busulis)
Our next band was a five-piece and this was slightly more rocky in sound.  It was very contemporary and very slick in performance.  It was easy to listen to and there was another very credible English accent.  It could be a floor-filler and the audience reaction at the end reflected its potential.  
11. Sabīne Berezina – Upside Down (writers Filip Lindfors, Bertel Österberg, Kristoffer Eriksson)
The first thing you noticed about this was the bright colours worn by Sabine and her backing singers/dancers.  She would not have looked out of place in the 1980s.  This was a happy, slightly cheeky song with a memorable hook and simple chorus.  The dance routine was very polished and it had a vibe about it that could earn it a lot of votes.  
12. PeR – Here We Go (writers Ralfs Eilands, Arturas Burke)
Finally, PER from earlier was joined by a third band member and performed a very upbeat song compared with their earlier effort.  It was loud and bouncy with an instant chorus.  It was maybe, however, just a little repetitive.
The show
Our three hosts welcomed us before it was straight into a song called Atvedi mami maidina played on traditional instruments. Martins Meiers, our principal host, then introduced the performers.
Once the twelve songs had been performed, the phone and SMS (text) lines were thrown open.  The voting would be 50/50 jury and televoting.  We had an extensive chat with the performers in the Green Room, where they got to pick fortune cookies.
After a break, Cieme Aristokats sang their latest song.  This got the crowd going, and they were al dancing in the aisles. 
The lines closed and while the votes were counted, Beat Heaven performed the Beethoven composition Dagamba on cellos, drums, and keyboards. The piece includes the familiar Ode to Joy, the unofficial anthem of the European Union.  This was followed by blonde female vocalist Vineta Elksne performing the gentle ballad Lidotajs.
After the super-finalists were revealed, Jānis Stībelis performed Summer city. This was, as the name suggests, an upbeat summery song.  He's a veteran of many Latvian national finals, dating back to 2000.
Once the voting was opened, we cut to the Green Room where our presenters interviewed Jānis Stībelis (in Latvian) and Ott Lepland (in English).
We saw the the three super-finalists Marta, PeR and Samanta, and while voting was proceeding, last year's Latvian entrant Anmary sang Your voice again, a song composed by Shay Healy (writer of What's another year in 1980). 
With the voting lines closed a second time, LTV treated us to clips of the songs chosen from Ukraine, Malta, Lithuania and Finland.
Our next interval act was Māsa upe by Dons.  This was a downbeat number and Dons was dressed in a white shirt, jeans and black bow tie.  We then went classical with a Beat Heaven style quartet Melo M performing a traditional Latvian melody Tūdaliņ būs tāgadiņ. 
We saw him earlier in the Green Room, but next on stage was Ott Lapland singing the 2012 classic Kuula. 
The voting
Three songs of the 12 would make it through to a super-final.  All the acts were called up on stage.  Before this, Niko and Headline were given special prizes by the sponsors of the show.  The three were announced as Marta Ritova, PeR (Here we go) and Samanta Tina.
The votes were completely reset, so these three acts were starting fron scratch.  While the three songs were performed, we could coulad actually see how many televotes each song was receiving.
The three acts were called up on stage and after a short word from a representative of LTV, the winner was announced.  It was… 
PeR with Here we go 
Latvia in the Eurovision Song Contest
The Baltic nation's first outing at Eurovision was in Stockholmn in 2000, when Brainstorm sang My star and finished a very respectable third.  Two years later in Tallinn, Latvia took a surprise victory after a close finish with Belgium.  Marie N sang I wanna, a cabaret-style song that featured costume changes and lots of dancing.
Since that high point, Latvia's success has been patchy.  The last time they qualified for a final was in 2008 (Wolves of the sea by Pirates of the sea).  Only one entry has been in the country's native Latvian language (Dziesma par laimi by Fomins & Kleins) – English, Italian and Russian have always been used instead.  In Baku in 2012 Anmary represented her country with Beautiful song.  It sadly failed to make it out of the semi-final, finishinf 16th with 17 points.