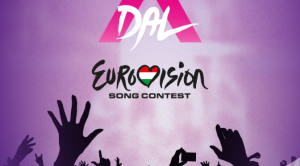 Tonight, the first semi-final of the Hungarian national selection, A Dal 2015, took place place in Budapest. Nine entries which previous have qualified from the preliminary three heats, fought for one of the four places that goes to the final. Two weeks left before we will find out who will win the euroticket in Hungary.
3 Heats have already taken place in the last 3 weeks where 30 songs were reduced to 18. Nine of them competed tonight and the remaining nine will compete in next week's second semi-final. The voting procedure was the following:
Round 1: First 2 songs qualified from the votes of judges, SMS and App votes
Round 2: Another 2 song qualified from the remaining 6 from SMS and App votes only
The panel of judges was made up of four judges: Pierrot (composer/performer/songwriter/producer), Jenő Csiszár (tv and radio host), Magdi Rúzsa (singer-songwriter & Hungarian representative at the Eurovision Song Contest 2007) and Philip Rákay (MTV programme director).
The 9 competing songs were:
Ádám Szabó – Give Me Your Love- 47 points
Boglárka 'Boggie' Csemer – Wars For Nothing- 47 points
Karmapolis – Time Is Now- 36 points
New Level Empire – Homelights- 33 points
Pankastic! – Kicsi A világ, De Nagy Világ- 34 points
Spoon – Keep Marching On- 41 points
Timi Antal – Woke Up This Way- 39 points
Vera Tóth – Gyémánt- 32 points
Zoltán Mujahid – Beside You- 43 points
The points next to each entry is the total amount of points from the 4-member jury and the app votes.Maximun of points is 50.  
The two songs the quallified from the first round of the voting were:
The two song that quallified from the second round of the voting were: 
Watch the second semifinal of A Dal 2015 next Saturday at 20.25 CET here and find out the last songs that will quallify to the hungarian final.