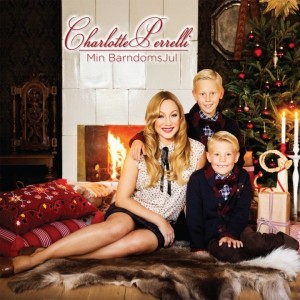 Seasonal albums are all part and parcel of being a recording artist in Scandinavia and two times Swedish Eurovision entrant Charlotte Perrelli is no exception. Not only does she have the annual Christmas present list to take care of, but she's also working hard on promoting her upcoming album, due for release next month.
Hits such as The Girl and Hero have been stashed away like a summer jacket, and Charlotte Perrelli has put on her winter coat, in the form of her latest album, Min BarndomsJul (My Childhood Christmas), which has been given a release date for the 20th of November. The album will be given both a physical and digital release, and during the coming week fans will be able to place a preorder for a signed edition of the album.
Min BarndomsJul will feature thirteen seasonal tracks and two of Perrelli's children, Angelo and Alessio have also helped their mum out on her latest project by contributing vocals, something she is extremely proud about. According to the singer, she wanted to give the album a personal title because it is "just about as christmassy as it gets. I love the old, traditional kind of Christmas music, which haasn't been messed around with in any way. It reminds me of childhood and that's why I chose to call the album Min BarndomsJul." Excerpts from the forthcoming album will be published on her blog during the next few days.
The complete tracklisting is as folllows (well known English language Christmas Songs are featured in brackets:
1. En Barndoms Jul
2. Bjällerklang (Jinglebells)
3. Mössens Julafton (The Mouse Song)
4. Nu Tändas Tusen Juleljus
5. Hej, Mitt Vinterland
6. Nu Står Jag Vid Snöig Port
7. Jag Såg Mamma Kyssa Tomten ( I Saw Mommy Kissing Santa Claus)
8. Når Juldagsmorgon Glimmar
9. Rudolf Med Röda Mulen (Rudolph The Red Nosed Reindeer)
10. Jul, Jul, Strålande Jul
11. När Det Lider Mot Jul
12. Siste Dagarna Före Jul
13. Nu Är Julen Här Igen
Perrelli has also announced a string of concert dates the length and breadth of the country in order to promote her upcoming album. The mini tour will kick off on the 2nd of December in Borås and come to an end on the 21st of December, in Överluleå. The complete list of tour dates is shown below:
02.12 – Gustav Adolfs Kyrka, Borås
08.12 – Ljungby Missionskyrka
09.12 – Hovmantorps Kyrka
10.12 – Maria Kyrka, Helsingborg
15.12 – Hille Kyrka Gävle
16.12 – Säbrå Kyrka
17.12 – Bureå Kyrka
20.12 – Arvidsjaur Kyrka
21.12 – Överluleå Kyrka
Tickets can be purchased through the Ticnet.se website and cost SEK 320. This is Perrelli's second seasonal album, following the release of Rimfrostjul back in 2008.
You might also like to read:
Links