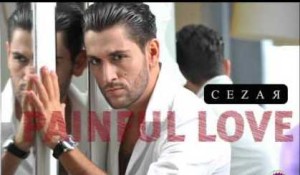 Cezar caught the attention of everyone with his falsetto and operatic vocals at the 2013 Eurovision Song Contest with It's My Life for Romania. He is back with a new song. This time he gives us Painful Love and he has also presented a promotional video for the track.
Cezar (whose full name is Florin Cezar Ouatu) in operatic terms is known as a countertenor, which means his vocal range is like that of a female contralto and mezzo-soprano singer.
He transferred his operatic background to the Eurovision stage in Malmö this year with his pop/opera dance song, It's My Life. He took Romania to 13th place in the final with 65 points.
Cezar's latest song is called Painful Love and it is a dramatic pop ballad where again we hear his operatic falsetto vocals. The song is composed by Serban Cazan (music) and Ioana Sihota (lyrics). The song and promo video are a Cat Music Romania production.
You can see more of Cezar's music videos at his official You Tube channel and you can see the video for Painful Love below. 
You may also like to read: