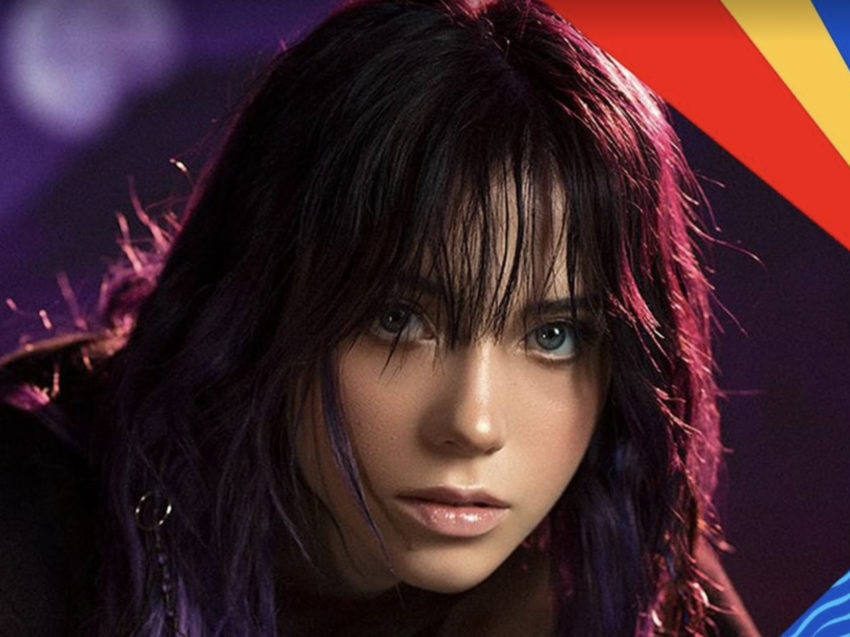 Roxen represented Romania at the 2021 Eurovision Song Contest. Unfortunately her entry 'Amnesia' failed to qualify to the final. This was probably a low point of her career, considering how much success she had with her debut release 'Ce-ți Cântă Dragostea'.

Ce-ți Cântă Dragostea was Roxen's debut release in her home country and ended up topping the Romanian airplay chart. The title translates to What Does Your Love Sing.
The song was written by Theea Miculescu and Andreea Moldovan with added lyrics by Roxen herself. Seven mixes of the song were made available internationally. The song gave Roxen a great start to her career, as it ended up at Number One in Romania.
Ce-ți Cântă Dragostea – opinions from fans
In order to find out what Eurovision fans think of this song from (artist), we asked our Eurovision Fan Panel. It includes team members as well as fans from all over the world.
Doina A. – She is such an amazing presence on stage, having a nice voice with special vocal inflections. The lyrics are so warm, illustrating a beautiful love story: "you'd like to repeat tommorow my song…" The message is simple, but it melted my heart and "goosebums" all over. Roxen shows such a lovely naturalness, an enjoyable and pleasant appearance. Hope she'll have a special musical career.
Josef S. – I really feel like repeating myself, but again I have to say that singers sounds much better when they sing in their native language and here Roxen is no exception. On top of that, I think that this song is so much better than Amnesia. Maybe she should bring something similar to Ce-ti Canta Dragostea to Rotterdam. She is not bad singer, but I think this song is not as vocally demanding as Amnesia so maybe she would have scored better with it.
Gunec G. – I like the song. It's got rhythm which promises hope despite Roxen's melancholic voice. A perfect summer song. I think this would have done much better than Amnesia.
Paul K. -It wouldn't be a lie if I said Roxen is one of my favourite artists. Her music is very diverse, edgy, modern and definitely enjoyable (well to me anyways), this song isn't an exception. It's not my favourite from her but I can just listen to this when I'm chilling at the end of the day or even when hanging out with friends and chatting. I really like it
Michael O. – I find this song quite enjoyable, as I did Amnesia in small doses. This song is less dramatic and easier on the ear, thus allowing for repeat listening. Roxen has a unique but pleasing singing voice.
Mihai D. – I will provoke many negative comments with my opinion. But Roxen is not a singer to my taste. I have a problem with her voice type. A nasal vocal emission, (does it have polyps ?), a cloudy and incomplete phrasing. She has a touch of affectation and intermediate breaths, where she should not breathe and where she should carry her musical phrase continuously, to the end. Is this a new, modern and current style of interpretation? I do not know. Is a part of the style of the image she wants to convey? I don't know that either. The music she sings is ordinary, played by at least 5-6 singers every day on the radio. Nothing special, nothing wow, one of the singers of the moment.
Pascal W. – I enjoyed listening to this different and more upbeat song by Roxen. This perfectly shows how versatilely she is able to use her voice in many different styles of music. Also I'd prefer her to sing more in Romanian in the future than in English.
Wouter V. – Sorry, I refuse to watch or give too much attention to propaganda for cigarette smoking.
Mauricio V. – I like this song very much – it's got a chill vibe to it, with sweet yet dark undertones. It's a more up-beat song than her Eurovision 2021 entry, which I liked. I can see myself listening to this song on my walks and runs.
Charlotte J. – I was hoping for a song better than her Eurovision entry Amnesia, and I did get that here, although not a lot better. This is still, in my opinion, a bit too boring. I do like though that it's not in English. It suits her well to sing in Romanian.
Enjoy Roxen's Ce-ți Cântă Dragostea in the embedded video. Below the video, you can read more about Roxen.
Roxen- a mini biography
Larisa Roxana Giurgiu, known as, Roxen was born on January 5, 2000 in Cluj-Napoca, Romania. Cluj-Napoca is Romania's fourth largest town.
At the age of 19, she was the vocalist on Sickotoy's song, You Don't Love Me, which saw her signing to Global records.
Her debut song, Ce-ți Cântă Dragostea topped the charts in 2019. Her third release Spune-mi did the same.
In between these songs, she released Alcohol You, which would have been her Eurovision Song Contest 2020 entry.
In 2020 and 2021 Roxen continued to release songs, and featured as a guest artist on others releases.
Finally in 2021 she released the Romanian Eurovision entry, Amnesia. Unfortunately, Roxen became the third Romanian act in a row not to qualify to the final, when she ended up 12th in her semi final.