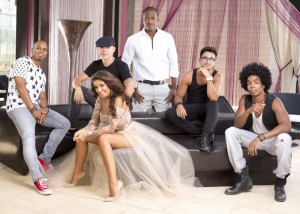 The popular latino influenced group, Mandinga, are back with a new single called La vita è bella. The Romanian 2012 Eurovision act performed Zaleilah in Baku and have since gone on to worldwide success with their music and stage performances.
Mandinga took Zaleilah to 12th place at the 2012 Eurovision Song Contest held in Azerbaijan.  The song proved a popular hit, not only with Eurovision fans, but also for dance and latino listeners around the world.  The song also became hit in various dance charts and was played with heavy rotation on the British music channels Clubland tv and Chart Show Dance.
The latin sound of Mandinga first became to the spotlight in 2003 with the album, de corazón. The lead vocalist at that time was Elena Gheorghe (who sang The Balkan Girls for Romania at the 2009 Eurovision Song Contest in Moscow).
In 2006 Elena Ionescu took over as lead vocalist with the band.  The other members are Chupi, El Niño, Omar, Zach and Tony.  The group have released several albums including Club de Mandinga in 2012 which featured Zaleilah as a radio edit and also a remix.  The band have also released a couple of singles earlier in 2013. First up was The Mac Mac Song and then Bling that featured Muneer.
The latest single is La vita è bella. The song is composed by Cazan Serban Ionut, Morosanu Elena, Maria Andrei Tiberiu, Sihota Ioana and Suteu Ligia Claudia.  The video has a summer vibe that reminds us of summer.
You can read more about Mandinga at their official website.  The video for La vita è bella can be viewed below.

You may also like to read: